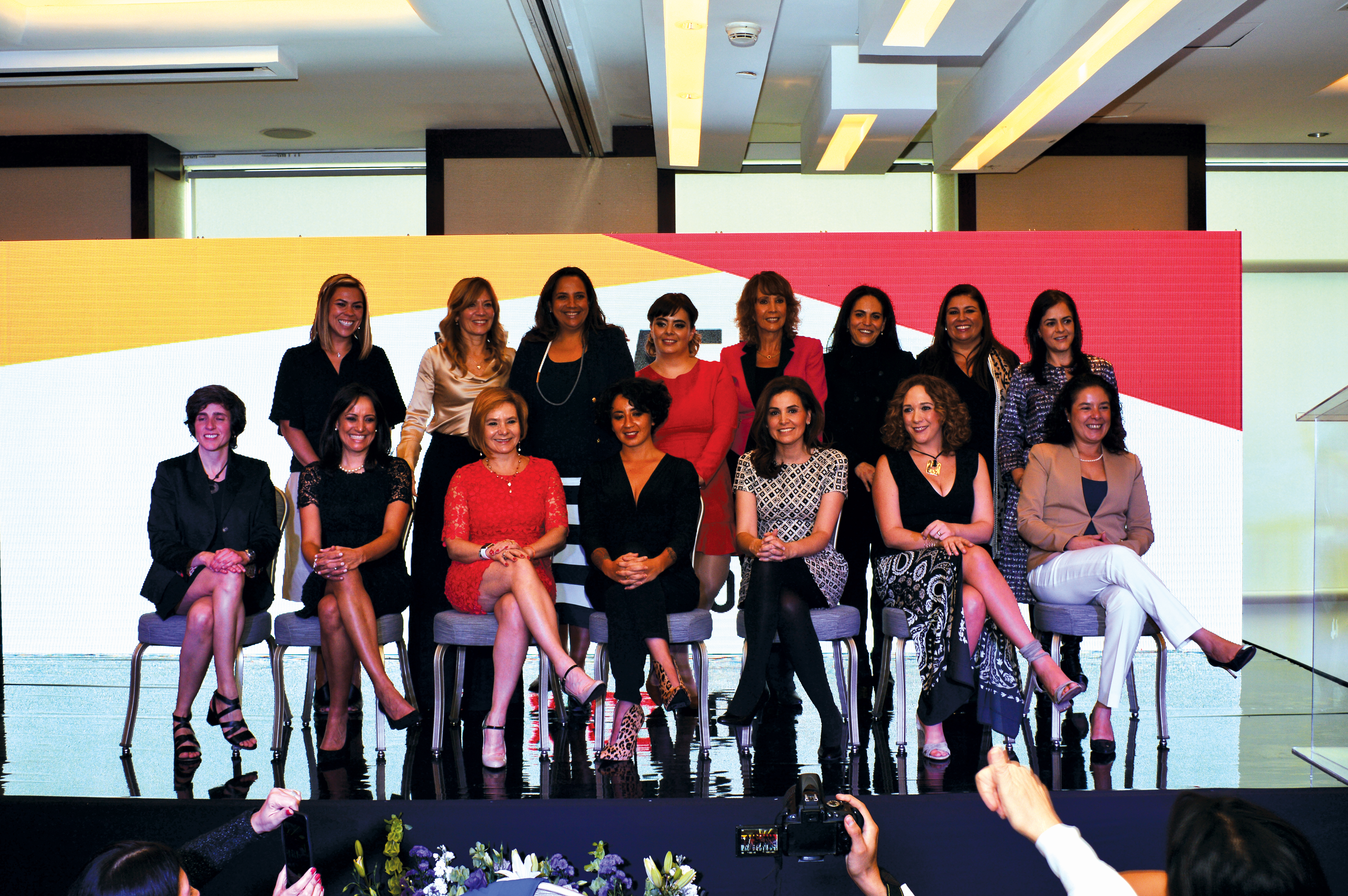 (Bottom row, from L) Xiomara Martin Matos, Unilever; Liliana Inigo Elias, Citibanamex; Rocio Elizondo, Havas Health Mexico; Paola Figueroa, Flock Linked by Isobar; Marta Ruiz-Cuevas, Publicis Media; Sharon Zyman, Turner; Rosenda Martinez-Ramirez, GNP. (Top row, from L) Esperansita Bejnarowicz, FCA Mexico; Lourdes Berho, Mexico Tourism Board; Claudia Contreras, Samsung; Mariana de Pina, Grey; Sylvia Sanchez Alcantara, Marketing LAB; Alejandra Villarreal, Henkel; Olga San Jacinto, Google; Ana Paulina Velazquez, Kia. Credit: CUMP
Ad Age's second annual Women to Watch Mexico event honored 15 outstanding women in marketing, advertising and media at a luncheon Nov. 14 at Club 51, on the 51st floor of the Torre Mayor, the third-tallest building in Mexico City. The event was organized by Adlatina, Ad Age's partner in Spanish-speaking Latin America.
This year's honorees, who spoke at the luncheon attended by almost 200 people, are leading change in a fast-moving world.
Liliana Inigo Elias brought a wealth of experience to Citibanamex when she joined as chief marketing officer four months ago. She started in packaged goods at Procter & Gamble and then Nestle, became the marketing head for a number of Walmart businesses in Mexico, then entered financial services at MasterCard. "The speed of retail is one of the most important things I learned," she told Ad Age.
She oversaw the rebranding of Mexican bank Banamex as Citibanamex in October, and is involved in Citi's transformation to digital banking, opening three digital branches in October, with more to come.
Paola Figueroa is one of the rare female creative leaders in the digital realm, overseeing 50 creatives -- half of them female -- as creative VP at Flock – Linked by Isobar. She became a digital specialist just two years ago, after developing a longtime interest in social media and joining Flock last year, shortly before the independent digital shop was acquired by Dentsu Aegis Network.
"I arrived with humility to say I don't know everything, but understand the integration of ideas," Ms. Figueroa told Ad Age. "Clients started to see us as not just a digital agency but as an integrated one."
Other agency honorees include Rocio Elizondo, an entrepreneur who brought Havas Health to Mexico, and Marta Ruiz-Cuevas, chosen to bring together all Publicis Groupe's media brands in Mexico under the new Publicis Media.
"We moved 500 people in a month," Ms. Ruiz-Cuevas told Ad Age.
A number of this year's honorees have international roles. Lourdes Berho, who became CEO of the Mexico Tourism board this year at the invitation of Mexico's tourism minister, said she is restructuring the country's international campaigns, based on a recent segmentation study in North America that found that 18 million people were interested in traveling to places like Mexico. "We'll identify what drives them to travel and what distribution channels we need to use," she said. A similar segmentation model is coming up for Europe.
Known for mining strategies for both brands and buyers of Unilever's products as consumer marketing insights director, Xiomara Martin Matos is responsible for 15 categories in 15 countries in Latin America. She was one of several honorees to allude to the recent U.S. elections, saying that "a door has opened to hatred and validating sexism." She said three things are clear: "Believe in ourselves; have clear objectives; and unite, not just as women, but as Mexico."
Alejandra Villarreal, a Unilever and Danone veteran, joined Henkel a year ago as director of marketing, for laundry products such as detergent brand Persil and homecare in Latin America, which includes markets like Guatemala, where she says many women still wash clothes by hand. She works with Greenpeace and children's groups such as UNICEF and her job at Henkel, which she says takes corporate responsibility seriously, aligns with her core values. "In Latin America, it doesn't matter if you have the resources, you are resourceful," she said.
At Women to Watch events, many honorees come with family members as well as colleagues. Olga San Jacinto brought her 13-year-old daughter Sofia, with whom she made a joint decision to move to Mexico two years ago for Google, after working with Google Maps in New York and earlier being part of Google's initial launch team in Europe. In Mexico, her role is to accelerate revenue growth, including mobile. "That includes helping Mexican companies to sell in other countries digitally without opening physical stores," she told Ad Age.
Esperansita Bejnarowicz's mother and sister flew to Mexico City from Toronto for the event. Ms. Bejnarowicz, a Canadian, moved to Mexico from Detroit six years ago to introduce digital initiatives for Fiat Chrysler Automobiles Mexico and now oversees all advertising for the company's seven brands. (A house ad in the Women to Watch Mexico program by FCA agency Richards/Lerma salutes Ms. Bejnarowicz, below a snapshot of her with her two small sons, for managing FCA advertising, a family and a career at 200 kilometers an hour.)
Ms. Bejnarowicz, better known as Es, made her remarks at the event from her perspective as an amateur boxer: "When a blow lands, there's a way to receive it. If you're ready, you use the energy to hit back harder."
Another honoree from the auto industry, Ana Paulina Velazquez, was hired away from Renault last year to help launch the Kia brand, a latecomer to Mexico, and has already been promoted.
As proof that Mexico's honorees are truly women to watch, half of the 14-person inaugural Women to Watch Mexico class from 2015 has already been promoted or changed companies since last year's event in Mexico City. Maria Teresa "Mariate" Arnal, who was leading digital transformation as CEO of JWT Mexico, joined Twitter in September as director general for Spanish-speaking Latin America. Former Saatchi & Saatchi CEO Analu Solano has been general manager of Cheil Mexico for the past three months. Regional Coca-Cola Co. creativity and content exec Marta Fontcuberta has been promoted to a global Coke role in Atlanta, and Magdalena Ferreira Lamas has gone from VP-marketing at Avon to general manager. Laura Tapia, director of marketing capabilities for Latin America, has left P&G to be a consultant. And Carolina Arana, a former swimmer, took very early retirement from Kellogg to run and grow three swimming schools she started with her husband. Up next, starting Dec. 1, agency veteran Lourdes Lamasney is leaving Richards Lerma Mexico to work on the client side for the first time, as global marketing manager at Grupo Bimbo.
Women to Watch Mexico caps Ad Age's 2016 Women to Watch program, following the launch of Women to Watch Europe in London, and new classes of honorees at events in Argentina, Brazil, Colombia, the U.S., and last week in Turkey. The 10 honorees in Istanbul at Women to Watch Turkey, organized by Ad Age's local partner MediaCat, were from Google, L'Oreal, MullenLowe Istanbul, Unilever, Wanda Digital, local agencies Rafineri and DirectComm and local companies Opet, Betek Group and Yasa Holding.
Here is the complete list of this year's 15 Women to Watch Mexico honorees. Congratulations to:
Esperansita Bejnarowicz, advertising and digital marketing manager, FCA Mexico (Fiat Chrysler)
Lourdes Berho, CEO, Mexico Tourism Board
Claudia Contreras, marketing director, Samsung Electronics Mexico
Mariana de Pina, business unit director, Grey Mexico
Rocío Elizondo, general director, Havas Health México
Paola Figueroa, creative VP, Flock - Linked By Isobar
Liliana Iñigo Elias, CMO, Citibanamex
Xiomara Martin Matos, consumer marketing insights director, Mexico, Caribbean & Middle Americas, Unilever
Rosenda Martinez, communications and corporate image director, GNP
Marta Ruiz-Cuevas, CEO, Publicis Media
Olga San Jacinto, division director, Google
Sylvia Sánchez Alcántara, President, Marketing LAB
Ana Paulina Velázquez, senior marketing manager, Kia Motors Mexico
Alejandra Villarreal, director of marketing, Latin America, Henkel
Sharon Zyman, VP, ad sales, Turner