Unclassified Topic
Famous Faces, Adland Pasts
Think Advertising Isn't the Fast-Track to Celebrity? Think Again
Think advertising isn't the fast-track to getting famous? Think again.
From famous Hollywood actors and directors to bestselling authors, these celebs prove that getting your start in advertising can lead to fortune and fame.
ACTORS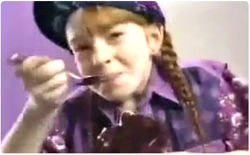 Lindsay Lohan: Jell-O (1996): The troubled singer/actress made her mark in her dual role as twins in 1998's "The Parent Trap", and as a teen ingenue in 2004's "Mean Girls." But as a child, she did plenty of commercial work, like this ad starring Bill Cosby.

---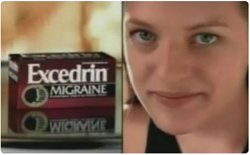 Elisabeth Moss
:
Excedrin
(2005) The actress shot this ad, which is now back in rotation, while featuring in "The West Wing " and the short-lived "Invasion" -- not long before landing her role as Peggy Olson .
---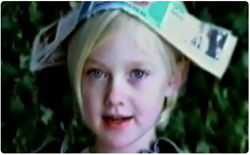 Dakota Fanning
:
Tide
(Late '90s): The child star showed acting chops opposite Tom Cruise in 2005's "War of the Worlds," and she's made a big impression since, but she started on the small screen in this soap ad.
---
Leonardo Dicaprio
:
Bubble Yum
,
Fred Meyer
(1980s): The actor who went on to play J. Edgar Hoover started his career off strong with roles in "Marvin's Room" and "Romeo & Juliet"—also, a little film called "Titanic." Still, his fresh face was still unfamiliar in his early commercial work.
---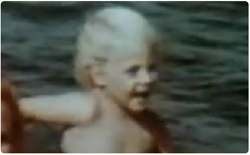 Jodie Foster
:
Coppertone
(1965): She grew up to win Oscars and hearts with roles in "Taxi Driver" and "The Silence of the Lambs," maybe thanks to a career head start -- at age 3, she was already stealing scenes in ads as the Coppertone Girl.
---
John Travolta
:
Safeguard Bath Soap
(1970s): Before America was sweating to "Saturday Night Fever" or getting to know the "Urban Cowboy," its dreamy star was catching his big break in this soap ad.
---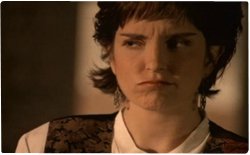 Tina Fey
:
Mutual Savings Bank
(1995): Liz Lemon isn't the only one with an embarassing commercial on her resume. Tina Fey, creator and star of "30 Rock," starred in this bank ad before rising to fame (and glamming up) on "Saturday Night Live."
---
Ben Affleck
:
Burger King
(1989): Less than 10 years before he and Matt Damon won the Oscar for best screenplay, the "Daredevil" himself paid the bills with commercial work, including this Burger King ad.
---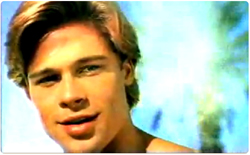 Brad Pitt
:
Pringles
(1989): The megastar of "Moneyball," father of six and male half of Brangelina got his start flashing his multimillion-dollar smile in commercials more than 20 years ago.
---
Steve Carell
:
Brown's Chicken
(early '90s): His career highlights include "The 40 Year-Old Virgin" and, of course, a six-year stint as the cringeworthy Michael Scott on "The Office." Those roles make this ad, for a Chicago chicken chain, look like almost like a parody.
---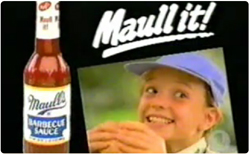 Britney Spears
:
Maull's BBQ sauce
(1990): Before her star rose and fell and rose again, Southern pop starlet Britney Spears was a hit on the cast of
Disney
's "The New Mickey Mouse Club" -- a role she leveraged into commercial work for Maull's.
---
Drew Barrymore
:
Pillsbury Chocolate Chip Cookie Dough
(1979): Sure, the star of "Charlie's Angels" and "Ever After" star got an early start on film in "E.T." at age 5, but that wasn't her first job. She pouted and smiled in this Pillsbury ad at age 4.
---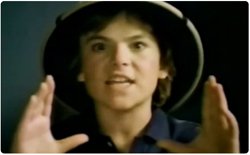 Jack Black
:
Atari
(1980s): The comedic actor rose to fame over the past decade thanks to roles like "Nacho Libre" and "School of Rock," but he starred in this video-game ad when he was much younger.
---
Joseph Gordon Levitt
:
Pop Tarts
(1991): He may have gotten his start in small-time ads for this famous breakfast pastry, but the young actor won over the hearts of millions of girls (and critics) for his work in "500 Days of Summer" and "Inception."
---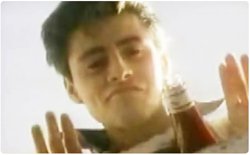 Matt LeBlanc
:
Heinz Ketchup
(1987): He's best known for his role as Joey on "Friends" but the actor's good-looks landed him early work as a face of "America's Favorite Ketchup."
---
Keanu Reaves
:
Coca-Cola
,
Corn Flakes
(1987): Even before "The Matrix," he was proving to commercial casting agents that he was "the one." His early work as a memorable face in ads led to A-list status with blockbusters like "Speed" and comedies like "Bill and Ted's Excellent Adventure."
---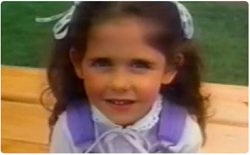 Sarah Michelle Gellar
:
Burger King
(age 4): Now queen of the nerds thanks to a seven-season stint as TV's "Buffy The Vampire Slayer," Sarah Michelle Gellar has had a busy hear leading the CW's "Ringer." But her career got started at age 4 in this spot.
---
AND A FEW MORE...
Salman Rushdie
: copywriter at Ayer Barker,
Ogilvy & Mather
John Hughes
: copywriter at Leo Burnett
James Patterson
: CEO of J. Walter Thompson North America
Terry Gilliam
: copywriter, animator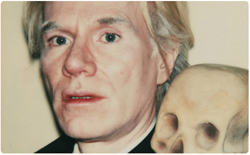 Andy Warhol
: Illustrator for I. Miller shoes
Kurt Vonnegut
: copywriter, publicist at G.E.
Helen Gurley Brown
: copywriter
Joseph Heller
: copywriter
Bob Newhart
: copywriter
F. Scott Fitzgerald
: copywriter
Mark Foster
(Foster the People): composer
Ridley Scott
: director of Hovis Bread commercials
Now that you've tested your trivia skills, let us know if we've left any off the list in the comments section.