Each year, the Bureau of Labor Statistics conducts its Consumer Expenditure Survey -- a comprehensive exploration of precisely how Americans spend their money. And each year, our team at the Mendelsohn Affluent Survey reanalyzes unpublished data from the Consumer Expenditures Survey to detail the buying power of Affluent Americans across more than 140 different product and service categories.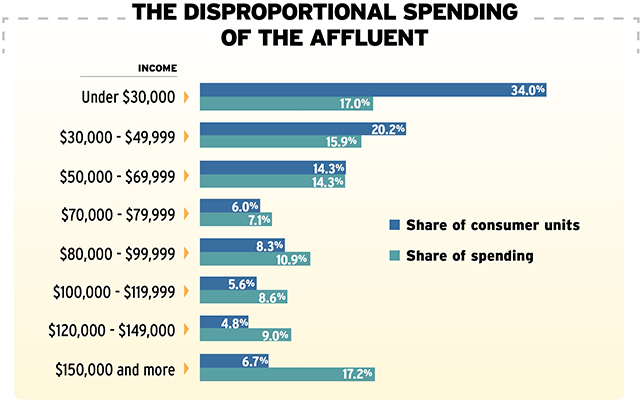 Ad Age analysis of Bureau of Labor Statistics data
The results underscore the role of Affluents as the "spending engine" that drives today's consumer economy. Ipsos Mendelsohn defines Affluents as the 58.6 million adults living in households with at least $100,000 in annual household income. We find that Affluents constitute 25% of American adults, and 21% of American households. The Bureau of Labor Statistics uses a slightly different measure ("consumer units"). But in the 142 categories we examined, Affluents account for at least half of consumer spending in 38 categories, and at least one-third of consumer spending in 112 categories.
For example, Affluents account for…

76% of spending on cruise-ship fares, and 51% of spending on airline fares and trip lodging
70% of spending on second homes
68% of cash contributions to churches and religious organizations, and 59% of cash contributions to general charity
66% of spending on men's suits, and 61% on women's suits
61% of spending on kitchen appliances such as dishwashers, garbage disposals, range hoods
59% of spending on what the government (somewhat archaically) calls "personal digital assistants"
58% of spending on motorboats
57% of spending on watches, and 51% on jewelry
Affluents also account for a disproportionate, if more modest, amount of spending in categories one wouldn't necessarily associate with the Affluent, including online gaming services (Affluents spend 37% of all dollars), newspaper/magazine subscriptions (34%), and cosmetics, perfumes and bath products (32%).
Also telling are some of the categories in which Affluents do not spend disproportionately more than their non-Affluent counterparts. For example, Affluents account for 24% (comparable to their percentage in the population) of all spending on cable and satellite TV services. In today's entertainment economy, cable and satellite are apparently "must-haves" across most of the income spectrum.
Finally, there are only two categories in which Affluents significantly "under-spend." Affluents spend just 16% of the total dollars spent on radios (not to be confused with the 34% of the money they spend on satellite radio service), and just 11% of all the dollars spent on smoking accessories.
We have described before the disproportionate role Affluents play in earning income and accumulating wealth -- Census data reveals that Affluents account for roughly 60% of all household income earned in the U.S., and hold roughly 70% of the privately held wealth in the U.S. Our analysis of the Consumer Expenditure Survey above underscores a similar dynamic in a broad array of consumer spending categories.
ABOUT THE AUTHOR
Stephen Kraus
is chief insights officer of The Mendelsohn Affluent Survey, which has tracked the lives, lifestyles and media habits of Affluent Americans for 35 years. Steve is author of three books on success and affluence in America, and holds a Ph.D. in social psychology from Harvard University. The Affluency column appears monthly on AdAgeStat.