Unclassified Topic
Which Markets Busted the Brackets on NCAA Ratings?
By Final Four, Many in New York and L.A. Had Tuned Out
Bracket mania might have swept the nation for the month of March, but as far as TV ratings go, NCAA men's basketball fever grips the smaller markets most tightly. By the time the Final Four and championship game were played, the major markets had largely tuned out. Of more than 50 markets examined by the Television Bureau of Advertising, using Nielsen data, New York and Los Angeles wind up in the bottom five based on both ratings and share.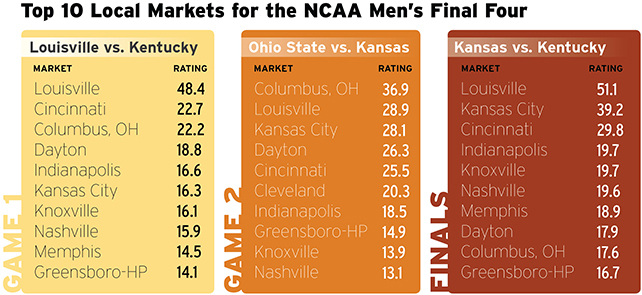 Source: TVB Analysis of Nielsen Data
Markets with teams still in the hunt tuned in at absurd levels. Louisville registered a 74 share for the Final Four match-up with cross-state rival Kentucky. Columbus, Ohio scored a 56 share for Ohio States' Final Four game. Louisville fell to a 66 share (51.1 rating) in the championship match-up -- presumably losing some bitter Kentucky fans -- while Kansas City posted a 55 share.
The rest of the top 10 markets for these games was dominated by nearby markets in the region.