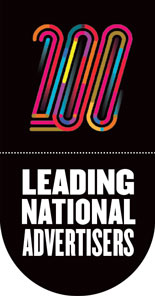 Total U.S. ad spending for the 200 Leading National Advertisers rose 3.6% in 2015, with vitality in digital making up for a decline in TV and other traditional media.
Total U.S. spending for the top 200 advertisers reached a record $142.5 billion in 2015 as growth picked up from 2014's slim 2.0% gain.
The LNA 2016 report, including rankings and a database of the top 200 advertisers, is available online to Ad Age Datacenter subscribers. A summary of Ad Age's 61st annual LNA report appears in the June 27 print edition.
Measured vs. unmeasured spending
The nation's 200 biggest advertisers last year reduced measured-media spending by 2.3%, with cuts in every major medium except cable TV networks and radio.
The 200 LNA boosted spending on other forms of marketing by 9.1%. Ad Age refers to spending on other forms of marketing as unmeasured spending, a bucket meant to capture the difference between measured-media spending figures and a company's total U.S. advertising and promotion outlays. Digital is driving growth in unmeasured spending.
The measured-media drop and unmeasured-spending gain add up to a 3.6% increase in 2015 total U.S. ad spending for the 200 LNA.
Total spending consists of measured-media spending, calculated by WPP's Kantar Media for 18 forms of traditional media, plus Ad Age Datacenter's estimate of unmeasured spending, which includes internet and mobile media (search marketing, internet display, social media, online video and other digital media), promotion, experiential marketing and direct marketing.
Internet display advertising, which was broken out among measured media in previous LNA reports, now is included in Ad Age's unmeasured bucket.
Unmeasured spending continues to take a bigger slice of marketing budgets, capturing 54.7% of the 200 LNA's ad and promotion spending last year. That's up from 52.0% in 2014.
Colgate-Palmolive Co. is among the companies dialing up digital. "A lot of our consumer engagement, particularly given the changing demographics in the world, is now with digital advertising," Chairman-CEO Ian Cook said on an April earnings call. "Digital advertising is more efficient than the traditional print, television, radio, billboard type of advertising."
The 200 LNA are a big deal for traditional media: The top 200 advertisers accounted for more than half (52.6%) of all U.S. measured-media spending in 2015.
If you're in the TV business, the 200 LNA is your hot list: This blue-chip roster in 2015 accounted for 80.7% of broadcast network TV advertising and 65.2% of cable TV network advertising.
The top 200 are under-represented in other (non-TV) measured media, making up well below 50% of spending. For example, the 200 LNA accounted for 41.4% of measured spending in magazines and 23.1% of newspaper spending.
Among the 200 LNA, 133 marketers boosted total spending in 2015 while 67 decreased spending.
Forty-one marketers spent more than $1 billion on U.S. advertising in 2015, according to Ad Age Datacenter's analysis.
Average (mean) total U.S. ad spending last year for the 200 companies: $712 million.
Top 10 Spenders
Biggest U.S. advertisers in 2015. Amazon and Samsung moved into the top 10.
Rank
Marketer
2015 U.S. ad spending
2015 U.S. ad spending growth
1
Procter & Gamble Co.
$4.3 billion

-

3.8%
2
AT&T
$3.9 billion
0.2%
3
General Motors Co.
$3.5 billion
8.6%
4
Comcast Corp.
$3.4 billion
13.4%
5
Verizon Communications
$2.7 billion
8.8%
6
Ford Motor Co.
$2.7 billion
8.5%
7
American Express Co.
$2.3 billion
0.9%
8
Fiat Chrysler Automobiles
$2.2 billion
0.0%
9
Amazon
$2.2 billion
22.8%
10
Samsung Electronics Co.
$2.1 billion
0.9%
Source:
Ad Age Datacenter
estimates of total U.S. ad spending consisting of measured media (TV, radio, magazine, newspaper, outdoor and free-standing inserts, from WPP's
Kantar Media
) plus unmeasured spending (Ad Age's estimate of spending in internet, mobile, promotion, experiential marketing, direct marketing and other spending not captured in measured media).
There is a huge delta between No. 1 P&G (estimated 2015 total U.S. spending: $4.3 billion) and No. 200 Fitbit ($176 million), which appears in the LNA ranking for the first time.
The top 100 advertisers accounted for 42.0% of U.S. measured-media spending in 2015; Nos. 101-200 made up 10.6% of spending.
The top 100 increased their total U.S. ad spending by 3.3% vs. a 5.2% gain for Nos. 101-200, according to Ad Age's analysis. Total U.S. spending for the 200 LNA, as noted, increased 3.6%.
Biggest ad growth: pharma
Total spending last year for the 200 LNA rose in all marketer categories except food, where ad spending fell 2.7%.
The biggest gains were in pharmaceuticals (up 15.6%), followed by travel (10.1%) and apparel (6.9%).
Case in point: Bristol-Myers Squibb Co. last year poured $126 million into U.S. measured-media advertising for Opdivo, a cancer drug, up from zero dollars in 2014.
CEO Giovanni Caforio discussed that ad campaign on an earnings call earlier this year. "We made a conscious decision and an important decision to invest in DTC [direct-to-consumer] advertising for lung cancer, because we feel there is a long history of treatments that have not delivered significant value to patients with lung cancer," he said. "There is pessimism for many patients. … For the first time we've been able to offer a really meaningful opportunity through Opdivo to patients. … We felt it was important to invest in a campaign."
Bristol-Myers generated $823 million in U.S. revenue from Opdivo in 2015; the product launched in December 2014.
Bristol-Myers' overall U.S. measured-media spending last year soared 88% to $419 million, according to Kantar Media data.
Among the 200 LNA, five of the 10 marketers with the biggest percentage growth in total U.S. ad spending last year were pharma firms.
Pharma spending is good news for agencies. Healthcare marketing was the fastest-growing discipline last year for agencies, whose U.S. healthcare-related revenue jumped 8.7%, according to Ad Age's Agency Report.
Fastest-Growing Ad Spenders
Highest U.S. ad-spending growth rates in 2015 among 200 Leading National Advertisers. DraftKings and FanDuel, its rival in online daily fantasy sports, were the fastest-growing major advertisers in 2015. Both are making their debut in the 200 Leading National Advertisers ranking.
| Rank | Marketer | Business | 2015 U.S. ad spending growth | 2015 U.S. ad spending |
| --- | --- | --- | --- | --- |
| 1 | DraftKings | Daily fantasy sports | 567% | $238 million |
| 2 | FanDuel | Daily fantasy sports | 260% | $186 million |
| 3 | Fitbit | Health and fitness trackers | 225% | $176 million |
| 4 | Novo Nordisk | Pharma | 195% | $261 million |
| 5 | Valeant Pharmaceuticals International | Pharma, healthcare products | 88% | $441 million |
| 6 | GlaxoSmithKline | Pharma, healthcare products | 56% | $948 million |
| 7 | Liberty TripAdvisor Holdings | Online travel media | 49% | $268 million |
| 8 | Wayfair | Online retail | 47% | $264 million |
| 9 | Sanofi | Pharma, healthcare products | 47% | $901 million |
| 10 | Gilead Sciences | Pharma | 36% | $391 million |
Source:
Ad Age Datacenter
estimates of total U.S. ad spending consisting of measured media plus unmeasured spending.
Digital rules
Marketers continue to tout the benefits of digital as a better way to target consumers, reach younger prospects and increase return on investment for marketing spending.
"The age where agencies liked to be TV-led is dead," Clorox Co. CEO Benno Dorer said at a June investor conference. "We will, going forward, work with agencies that are agnostic to TV and that are going to be led by digital, and they're going to help us take our brands to new heights in a world where digital and social rules."
The consumer packaged-goods marketer put 41% of its working media budget into digital in the fiscal year ending June 2016, up from 34% last year and 22% three years ago, Mr. Dorer said at another investor conference earlier this year. He expects the percentage to grow in its new fiscal year. "We're not doing this because it's cool, but we're doing it because it improves ROI," Mr. Dorer said. "We are following the money."
Home Depot this year will spend more on digital marketing than on "traditional, old-school marketing," Kevin Hofmann, CMO and president-online, said at a March investor meeting. Home Depot Exec VP Ted Decker, speaking on a May earnings call, said: "As we have made strategic moves away from print and mass marketing to more targeted digital marketing, we have seen great results. Since 2010, our return on advertising spend has nearly doubled."
At cosmetics and personal care marketer L'Oréal, Chairman-CEO Jean-Paul Agon has championed a digital marketing makeover. "We recruited in the past four years or five years 1,000 people, everywhere in the world, in the branch, in the division, in the countries, everywhere to really transform our capacity … to create new digital marketing that will be the rule of the next year," Mr. Agon said at an investor conference earlier this year. He added: "It doesn't mean that we are doing digital on top of traditional marketing because this would be stupid. There is a new marketing, and digital is completely embedded in this new marketing."
Cosmetics marketer Estée Lauder Cos. is shifting its media mix, spending less on TV and more on digital. "Our magazine print advertising is more or less stabilizing, but our TV advertising is decreasing, and [spending] is increasing of equivalent or more [for] the digital, social media advertising," President-CEO Fabrizio Freda said on a May earnings call.
At Kimberly-Clark Corp., marketer of such brands as Kotex and Cottonelle, digital's share of marketing spending varies by category and brand. Chairman-CEO Thomas Falk said at a June investor conference: "If you think about where the incremental dollars [are] more likely to be spent, it's probably moving in [digital] because there's a lot more measurable ROI on that. And some of our brands, our fem-care business in some markets, we're 100% digital because the 18-year-to-24-year-old girls are not watching TV commercials anymore. They're on their devices. And so, if you want to reach them, you've got to do it through some kind of a digital connection."
Top marketers are shifting money from mass media into targeted messages. Retailer CVS Health Corp., for example, is looking for more ways to target the roughly 70 million members of its ExtraCare loyalty rewards program. "The idea here is to take essentially promotional dollars out of mass circulation and mass circulars and invest them back into a personalization to get our best customers to shop more completely at the store," Exec VP-Chief Financial Officer David Denton said this month at an investor meeting. "And then enhance that from a digital perspective, really taking that program and putting on the digital application."
Dick's Sporting Goods also has boosted its target marketing, according to Ed Stack, the retailer's chairman and CEO. "We engage [customers] with an increasingly personalized message through highly targeted direct-to-consumer channels, direct mail, email and our mobile app," Mr. Stack said at a March investor conference. "We've done this in a very targeted way, and have significantly reduced our newspaper advertising as a percent of our spend and meaningfully increased our digital marketing through mobile expertise, paid search and personalized in-home communications."
Non-digital marketing still works
Traditional disciplines still matter. L'Oréal's Mr. Agon in February told investors that digital accounts for 25% of the company's worldwide media spending, up from 16% in 2014. That leaves 75% for non-digital media.
Digital isn't necessarily cheaper than alternatives.
At Discover Financial Services, the "vast majority" of credit-card applications come in over the internet, President Roger Hochschild said at a June investor meeting. "In terms of what triggers the application, certainly digital is very important, whether it's banner ads, whether it's SEO [search engine optimization], whether it's paid advertising, whether it's some of our partnerships, but direct mail remains important. And then also, we do a significant amount of advertising on TV and elsewhere."
Compared to other marketing techniques such as direct mail, "I wouldn't necessarily say that digital is less" expensive in terms of the cost to bring in a new account, Mr. Hochschild said.
Direct mail "still works," he said. "People look at the mail. I think it was one of the big ironies that as you looked at the fintech [financial technology] players, not that there are necessarily a huge amount of lessons learned there, but they became bigger and bigger direct mailers. So, it still drives response. And our view is whatever works, however you can get exposure to customers and trigger an application, you got to keep going. Certainly, direct mail is on the way down. But I think as a channel, it has many more years of life in it."
Some marketers specifically call out the advantages of traditional media.
"TV for Olive Garden is still the best medium for us to spend our money," said Gene Lee, president and CEO of parent Darden Restaurants, speaking on an April earnings call. "We can see sales move week to week based on how many TRPs [television rating points] we're spending. And so we are transitioning some dollars from TV over to digital and social and some other things. But TV is always going to play a big part of the Olive Garden story until something dramatic changes with the consumer."
At Select Comfort Corp., "national television advertising remains our most productive form of media," President-CEO Shelly Ibach said on the mattress marketer's April earnings call. Still, Ms. Ibach said: "Building our digital media platforms to optimize individualized content message in audience in real time is our top priority."
Retail rivals Kohl's Corp. and J.C. Penney Co. extol the efficiency and effectiveness of digital marketing to attract younger consumers, but both note the importance of traditional media to reach older customers.
Penney CEO Marvin Ellison said on a May earnings call: "What we've tried to do, and I think we've done it successfully, is make sure that we are very focused on digital marketing and modernizing our one-to-one marketing to really address that millennial emerging customer, while understanding that traditional media still matters to the customer, that's our current customer."
At Kohl's, CFO Wesley McDonald told investors on a May earnings call: "We have made a pretty dramatic shift from print and direct mail into digital. That's definitely helped drive the digital business very well. We may need to rethink that mix to reach some more of our traditional customers that get their information from print." He added: "So at a high level, I would think we'd be trying to test a little bit more weight into print and direct mail and maybe pull back from digital a little bit."
A tech-centric newcomer to the 200 LNA, Fitbit, is a big proponent of traditional media. The marketer of health and fitness trackers didn't start spending a lot of money on both TV and print advertising until fourth-quarter 2014. Fitbit this year made its Super Bowl advertising debut. "In every [global] market that we launch these campaigns in both TV and print, we see a pretty direct correlation in terms of revenue and market share positioning," CFO William Zerella said at a December investor conference. "So we're going to continue to do that as long as that continues to generate ROI. But it's proven to be really successful for us."
Ad Spending Growth Over Time
Percent change in U.S. ad spending for 100 Leading National Advertisers.
Source:
Ad Age Datacenter
. Based on total U.S. ad spending consisting of measured media plus unmeasured spending for nation's 100 largest advertisers. U.S. ad spending growth for 200 Leading National Advertisers: 3.6% in 2015; 2.0% in 2014.
Ad spending forecast
What's ahead? Publicis Groupe's Zenith forecasts U.S. major-media ad spending growth of 3.8% in 2016 and 3.1% in 2017, vs. an increase of 3.6% in 2015. Spending this year gets a boost from elections and the Olympics.
A bigger portion of ad budgets could end up in media as marketers find ways to cut non-media marketing costs -- agency fees (consolidating rosters and pushing for lower fees), production costs (seeking efficiencies by producing ads that can be shared across geographic regions) and marketing overhead.
Food marketer Kraft Heinz Co., for example, this year expects to increase its U.S. media spending by about $50 million while cutting non-media marketing expenses, also known as non-working media. "We expect 2016 will be a strong marketing year for us, including a further shift of our advertising spend from non-working to working media," Chief Operating Officer George Zoghbi said on a February earnings call.
Marketers still believe in the power of advertising. "In an ideal world, you want total commercial investment spend trending up," said Justin Skala, Colgate-Palmolive Co.'s chief operating officer, North America, Europe, Africa/Eurasia and global sustainability. "It has actually been trending up the last couple of years, and obviously on balance we would like to, as we are planning to do, put more back in to the advertising spend line." Mr. Skala made his comments at a March investor conference.
But some big marketers, including Fiat Chrysler Automobiles, are tightening budgets.
"Advertising was a tool that was used extensively and effectively I think between 2009 and now," CEO Sergio Marchionne said on an April earnings call, referring to the period after Fiat took control of then-bankrupt Chrysler. "I don't think we need to over-commit as we have done in the past, but I think you'll see more discipline coming through. … The advertising spend will match product introduction, which is pretty intense over the next 2.5 years, but we are going to become more parsimonious. … We don't need to be spraying the world with advertising. I think we've made enough noise out there. People know who we are."