Agency News
Effects of FX: How a Strong Dollar Sliced Global Revenue
Immense Shifts in Exchange Rates Reduced 2015 Revenue (in Dollars)
Omnicom Group's global adventures last year sliced $1 billion off the company's revenue, the result of immense shifts in exchange rates as major currencies fell sharply against the dollar.
New York-based Omnicom reported worldwide organic growth—growth in revenue after factoring out currency fluctuations, acquisitions and divestitures—of 5.3% in 2015. But its official reported revenue fell 1.2%, reflecting the massive impact of foreign exchange and minor effects of acquisitions.
In contrast, currency changes added 823 million euros ($913 million) to the revenue of Paris-based Publicis Groupe, an 11.3% boost to its top line even as organic growth came in at just 1.5%.
Exchange rates last year had an outsize impact on revenue of global agency companies as reported in home currencies. At Omnicom, foreign exchange movements reduced worldwide revenue by 6.6%. In a typical year, Omnicom expects exchange rates to boost or shrink revenue by 1% or 2%.
Last year's foreign exchange effects, or FX effects, were the result of a strong dollar and weak currencies elsewhere, in part reflecting the relative strength of the U.S. economy compared with some other markets.
"Substantially all currencies have weakened against the U.S. dollar," Omnicom noted in its February 2016 annual report filing, "with the most significant impacts resulting from the weakening of the euro and British pound, as well as the Australian dollar, Brazilian real, Canadian dollar and Russian ruble."
Imagine if an Omnicom agency in Europe generated 100 euros of revenue in 2014 and 100 euros in 2015. Omnicom reports revenue in dollars, so it would end up with revenue in the range of $132.93 in 2014 but $111.08 in 2015, based on average annual exchange rates—a 16.4% drop, reflecting weakness in the euro (see "The Buck Stops Here" table, lower in this article).
Now imagine if a Publicis agency in the U.S. generated $100 of revenue in 2014 and $100 in 2015. Publicis reports revenue in euros, so it would end up with revenue of 75.36 euros in 2014 and 90.17 euros in 2015, based on the company's reported exchange rates—a 19.7% gain, reflecting the strength of the dollar.
The effects of exchange rates can be seen most prominently in the below table's "Rest of world" section: The world's five biggest agency companies all generated positive organic growth, but ended up with a drop in rest-of-world revenue when figures are shown in U.S. dollars.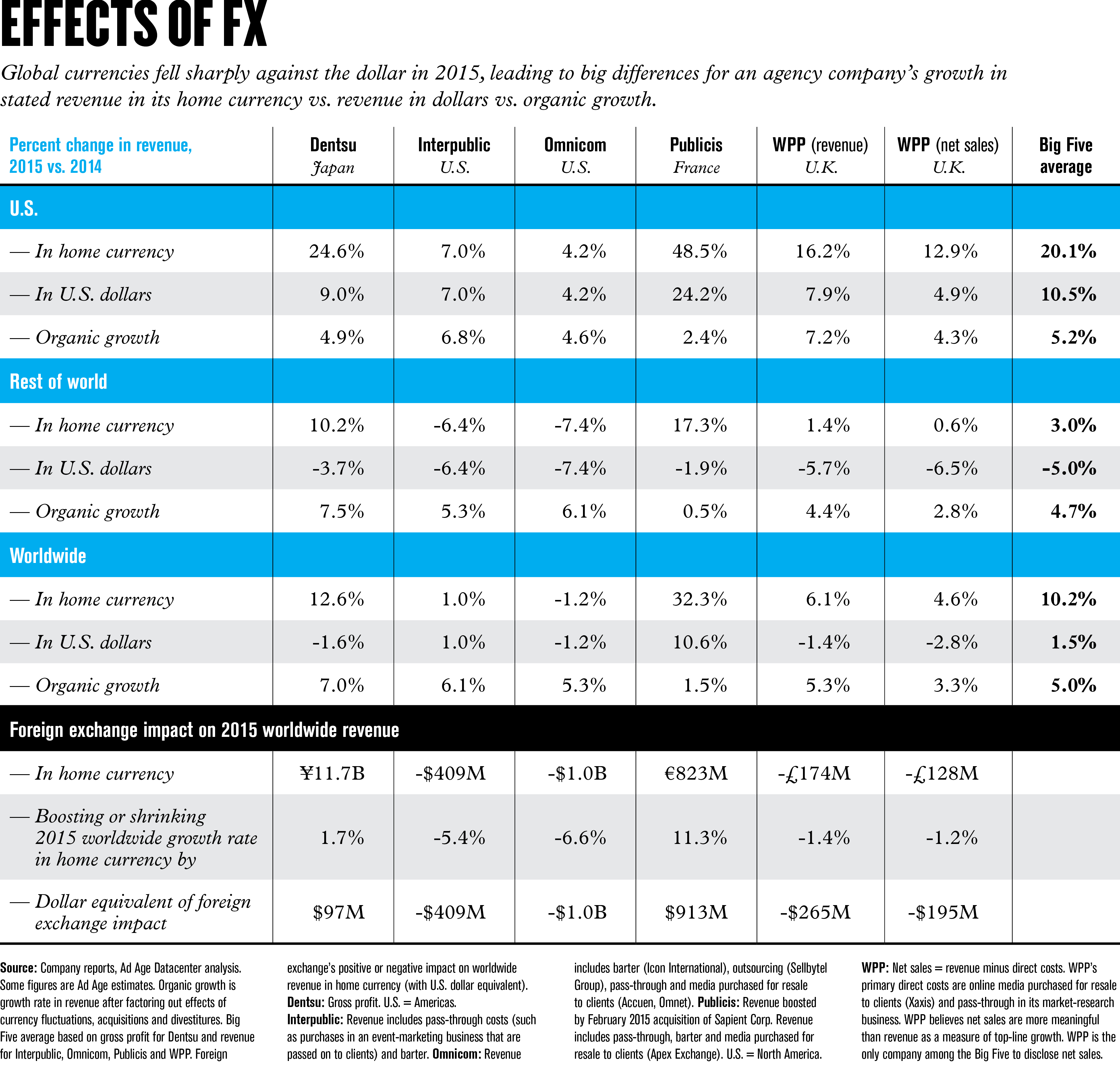 A similar effect played out in the Ad Age Agency Report worldwide rankings of agency companies, agency networks and individual agencies as weakness in global currencies depressed 2015 non-U.S. results, including agencies that had strong organic growth.
Ad Age ranks agencies based on revenue in U.S. dollars, translating currencies at average annual exchange rates; 2015 figures are based on 2015 exchange rates, and 2014 figures are based on 2014 exchange rates.
The largest publicly traded agency companies choose not to disclose revenue for individual agencies, so Ad Age Datacenter estimates revenue for many agencies (and gives companies an opportunity to offer input).
Ad Age's goal is to treat companies and agencies equally regardless of their domicile so that revenue figures shown in the Agency Report can be compared across companies.
Most major currencies in 2016 have improved against the dollar by varying degrees, so the impact of exchange rates is likely to be smaller in full-year results than in 2015.
Philip Angelastro, Omnicom's chief financial officer, said on the company's April earnings call that "negative impact of FX on our reported revenue may continue to moderate, reducing revenue by about 1.5% during the second quarter and approximately 1% for the full year." But he added, "It is exceedingly difficult to estimate what will happen to FX rates over the remaining eight-plus months of the year."