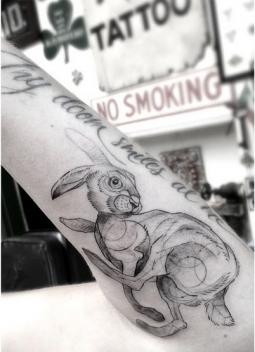 Katie McHugh, interactive designer at Wieden & Kennedy Portland, is obsessed with tattoos and follows hundreds of artists on Instagram and around the world. For this particular tattoo, she booked an appointment a year in advance with the artist Dr. Woo to create a rabbit underneath an existing phrase she had on her arm: "My doom smiles at me," a Charles Bukowski quote about being obsessed with creativity. The rabbit represents the thought "I am the hunted," she explained. "Or I hope to always be. Silly as it sounds, it helps to remind me to stay true in creating, even if I work for an ad agency."
"Whether you hate or love tattoos, they always have a story," she said. "I have become friends with perfect strangers over my tattoos. I do what I do because I love the storytelling. And it's the same reason I will share my own flesh with other artists."
See more agency tattoos in the gallery.