Photo Credit: Max Ahlborn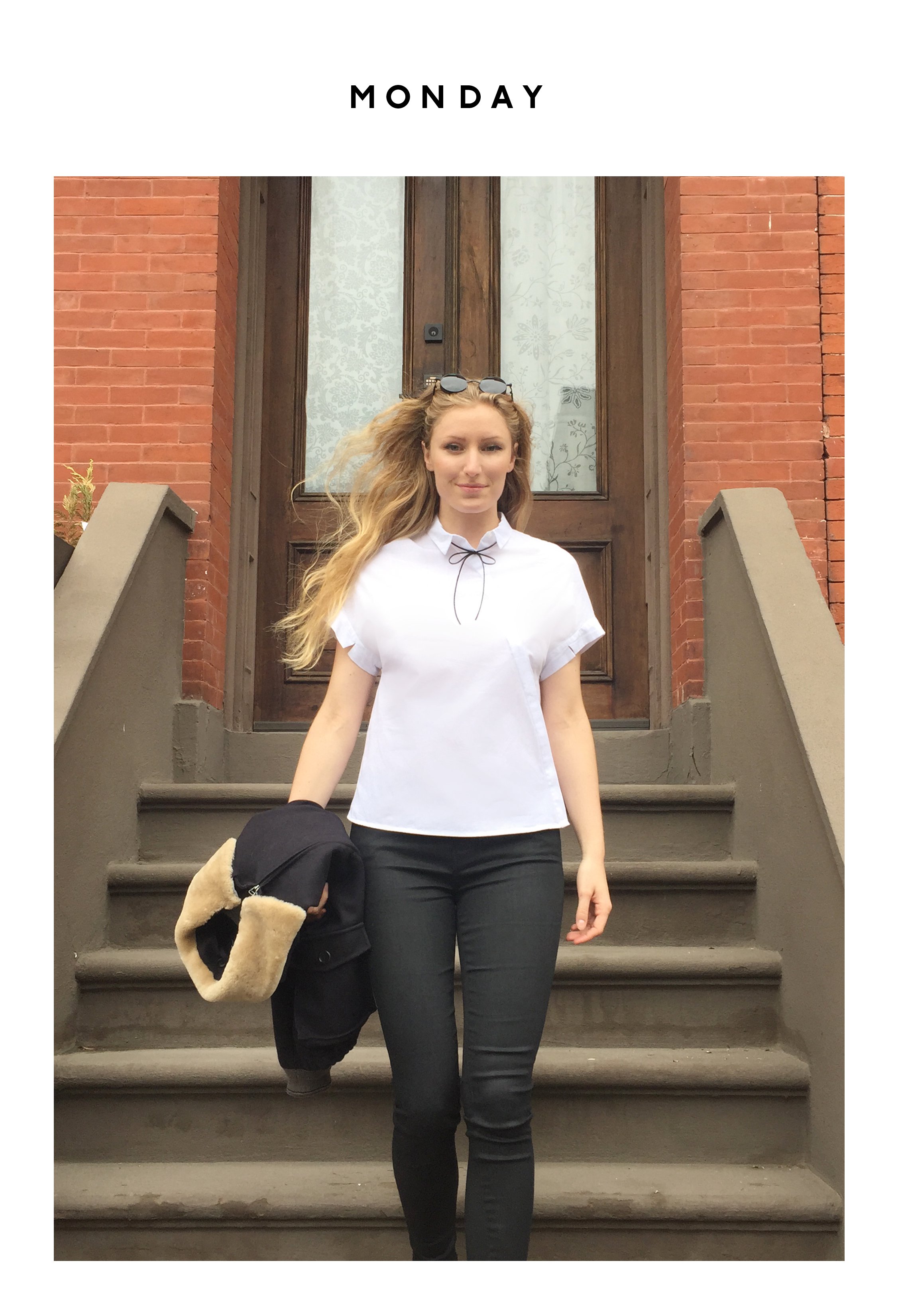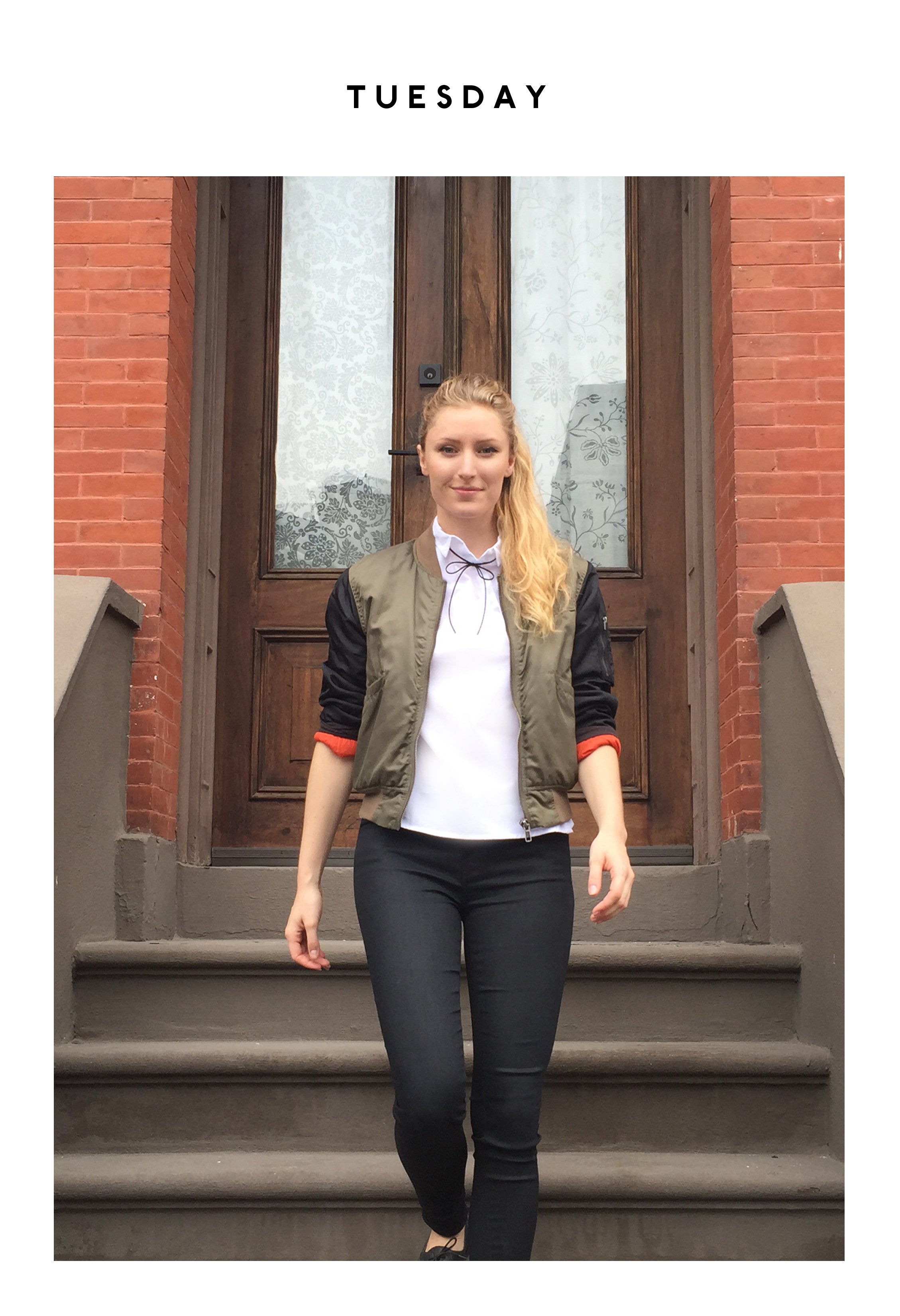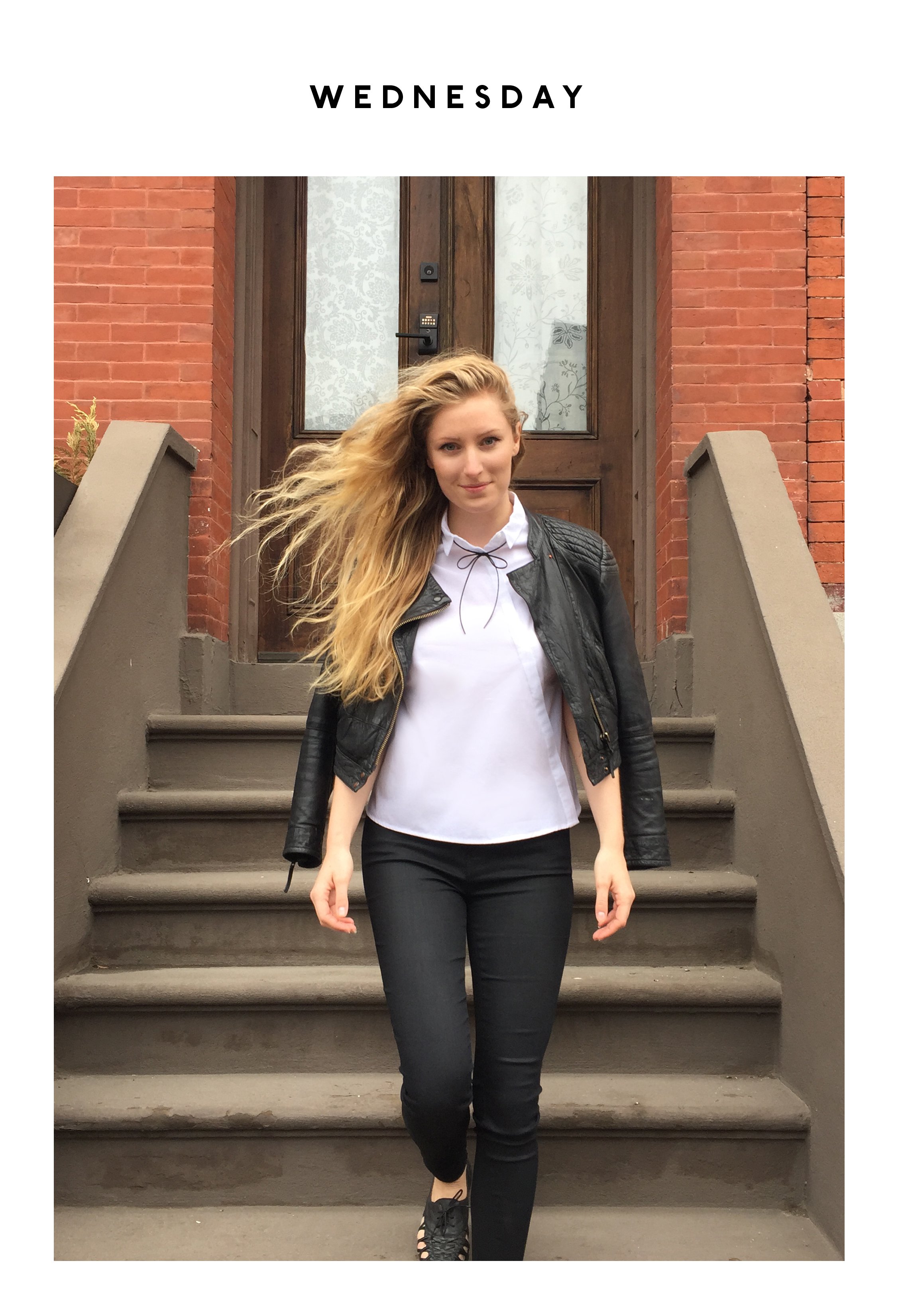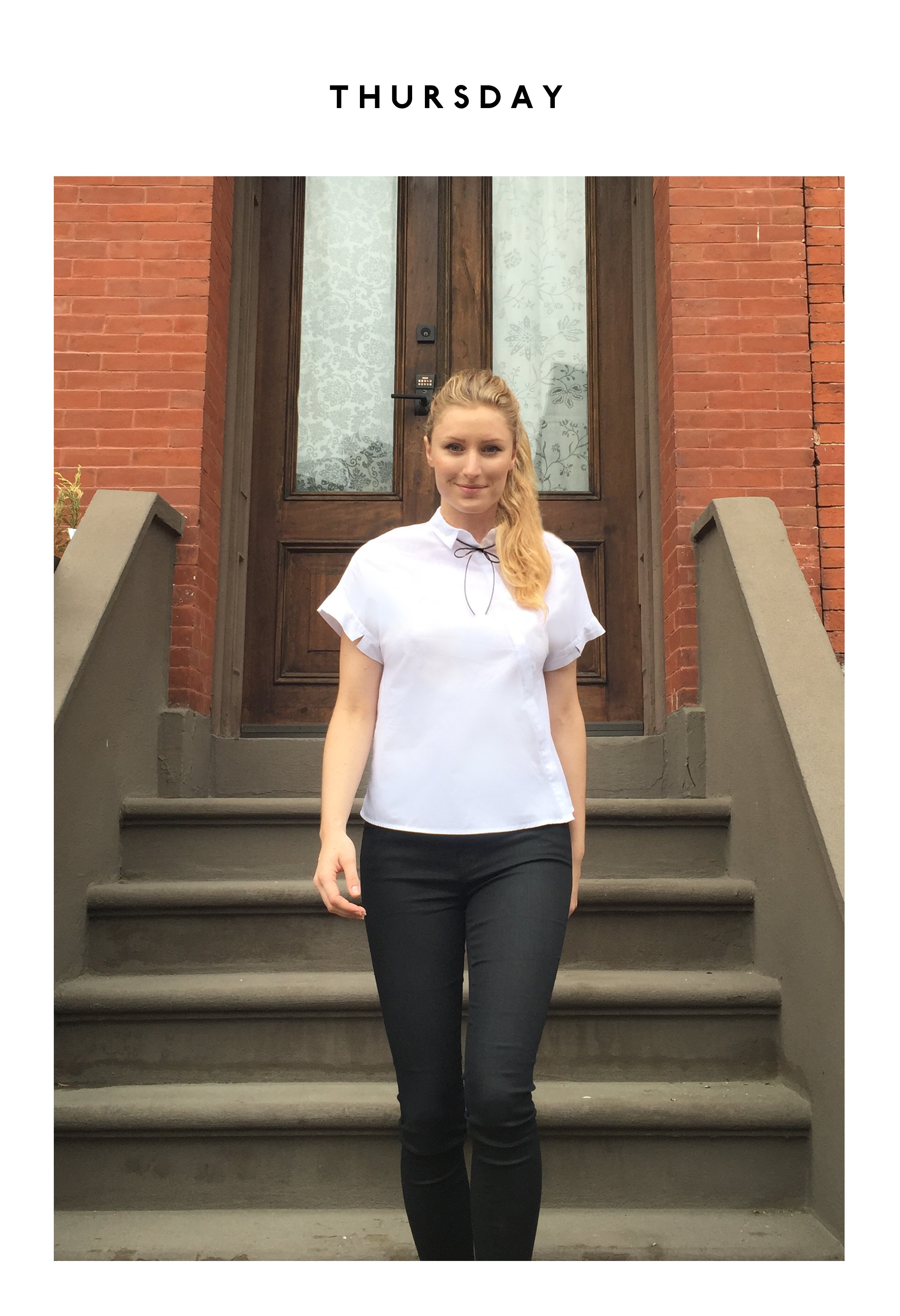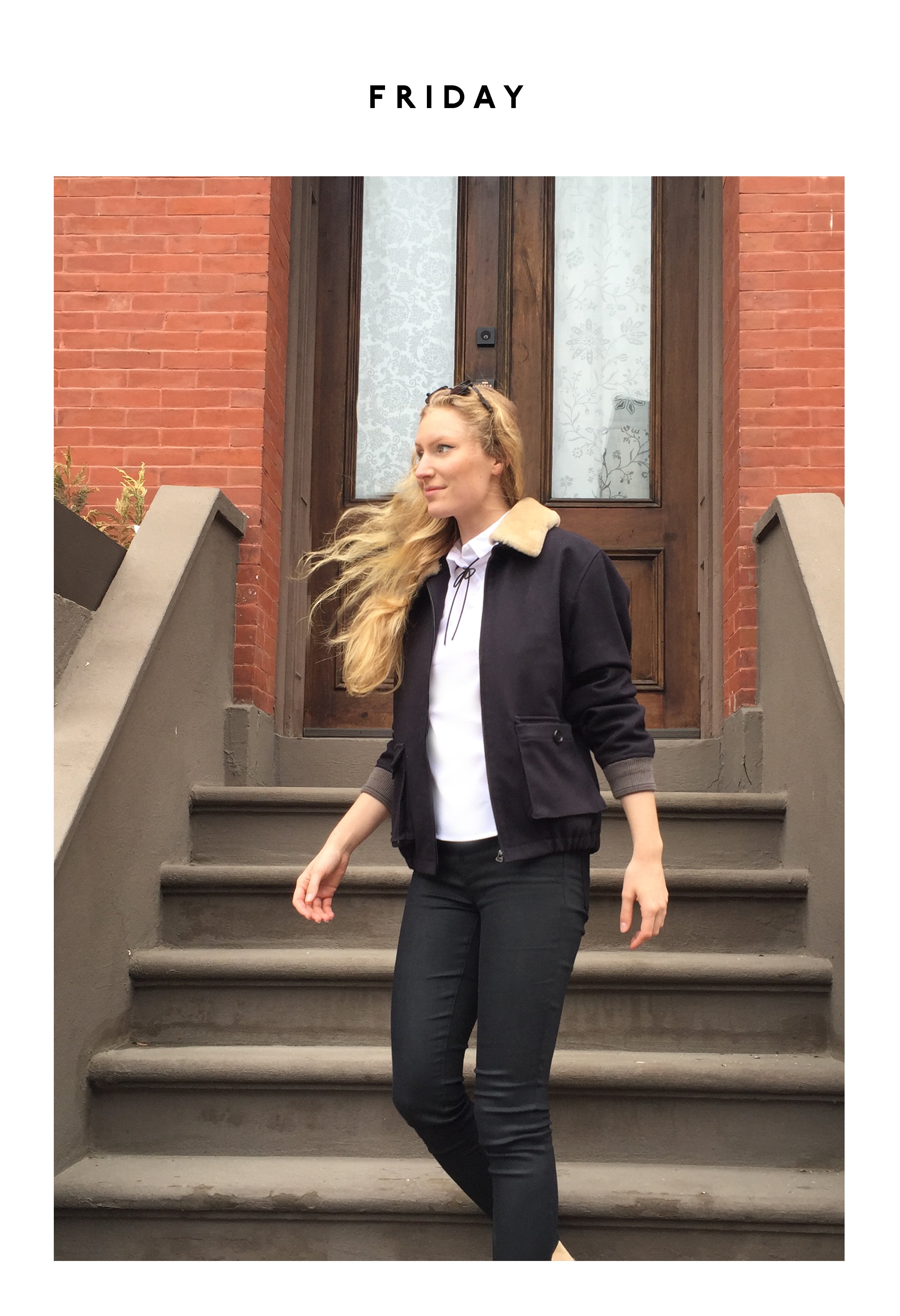 Photo Credit: Max Ahlborn
Saatchi & Saatchi, New York, Creative/Art Director Matilda Kahl has worn the same outfit to work for the past three years. The self-inflicted uniform -- a white silk shirt, black trousers, a black blazer (when it's chilly), plus a simple adornment of a leather rosette -- drew attention from fashion followers when Ms. Kahl wrote about it in Harper's Bazaar last week in a piece that's already earned more than 33,000 shares.
Ms. Kahl had made her decision after one stressful morning before an important meeting, when she worried over the correct thing to wear: "'Is this too formal? Is that too out there? Is this dress too short?'" she wrote. "I finally chose something I regretted as soon as I hit the subway platform."
The anxiety intensified when she arrived late and her male co-workers were already having a "brodown" with their boss. "I just stood there -- paralyzed by the fact that I was not only late, but unprepared. And my sweater was inside out. I had completely stressed myself out, and for what? This was not the first morning I'd felt this unnecessary panic, but that day I decided it would be the last."
Ms. Kahl shared more about her uniform story with Ad Age and Creativity, and how factoring fashion out of the equation has helped propel her career.
Ad Age: How long have you been wearing the uniform? What kind of reactions have you received at your workplace?
Matilda Kahl: I've been wearing the uniform for almost three years now, starting back at my previous gig at Y&R. The reactions have come in many different sizes and shapes. The first week when I started to wear the outfit, I didn't really tell anyone about it and almost no one said anything. It wasn't until we worked over the weekend sometime a few months later when I came in as a civilian that some people almost shouted at me in the corridors, "What!? Where is the uniform? Are you OK?" It was interesting to see that people felt like bringing it up only when I took something away that they were used to.
Over the years though, the most common reaction I've gotten is "Why do you do it?" Sometimes this leads to lengthy lunch discussions on feminism and the objectification of women, but more often than not we just get into the more practical side of things and how this has saved me countless hours in the mornings. And dollars.
Ad Age: Do you ever think of changing it up? Have you ever changed it up?
MK: Honestly I don't. The reason I started with the outfit came from that exact expectation, that I as a woman have some kind of innate urge to dress up and to always want to look my best. Maybe I'm alone in feeling this way, but when it comes to work days, I rarely feel like putting my outfit in the spotlight. I obviously want to look professional and approachable, but I have so many work-related issues to focus on that what I'm wearing falls far down on my list of priorities.
Ad Age: You're a creative. Don't you ever get bored of the monotony?
MK: That's what one might think, but it's in the nature of my line of work to be innovative and create things that have never been seen before. I guess that brings me more than enough variation and excitement to be happy to have at least one part of my life running on autopilot.
Ad Age: Some -- women as well as men -- would argue that clothes can be empowering and the ability to dress in a unique way can give you confidence in the workplace. Would you disagree with that?
MK: Oh not at all. Putting on that special outfit when you have an important meeting coming up can sometimes give you the confidence boost you need to perform your very best. It's a big part of who we are, who we want to be, and how we want others to see us. That being said, I feel like my uniform does that, and maybe even more for me. I feel both professional and personal wearing it. I no longer spend time on choosing clothes nor do I get self-conscious in meetings, which would happen occasionally before. I just keep on with my day without my mind wandering, thinking about if my skirt is too short or my t-shirt too casual. To me, that is empowering.
Ad Age: Do you wear the exact same white shirt and exact pair of pants and blazers -- or are they different brands, silhouettes, etc.? If they're the same, who is the designer on them?
MK: No cheating! They are all exactly the same and have been for almost three years, up until a week ago. The shirts had gotten worn out, others stained, and a few of them died tragically on the ironing board. So last weekend I spent two days on a rather intense hunt for a new hero shirt. I finally found it at Zara. I fell in love with the diagonal line of buttons and the cuts in the sleeves. I spoke to the store manager and ordered 15 of them, negotiated down the price (as one always should) and walked home with my wardrobe for next year's 254 working days.