Anselmo Ramos and Gaston Bigio, the David co-founders who announced last November that they'd be departing the WPP shop, have opened Gut, an independent global creative agency based in Miami and Buenos Aires.
The name speaks to their intended mission, according to Ramos, co-founder and chief creative officer at the new agency. "It's our philosophy," Ramos says. "We really believe it embraces, in three letters, what the company needs to be about—and that's bravery. Bravery is the one thing that drives real growth in terms of business—when you and your client can click in terms of being brave, when clients share with agencies their deepest problems and are brave enough to try to face them in different ways."
The founders say the approach has helped them with clients in the past, having scored both creative and business success working for marketers including Burger King, Kraft Heinz and Budweiser while at David. Prior to David, Ramos was chief creative officer of Ogilvy & Mather Brazil and Bigio was regional creative director of Ogilvy LatAm, where their work included the Titanium Grand Prix-winning "Real Beauty Sketches" for Dove.
Yet "it's not just about the work," says co-founder and chief creative officer Bigio. "It's about the results that the work creates. When you see how Burger King has grown in the last few years, that was not about creative awards but about how you can build brands and grow business when you do something new in communications."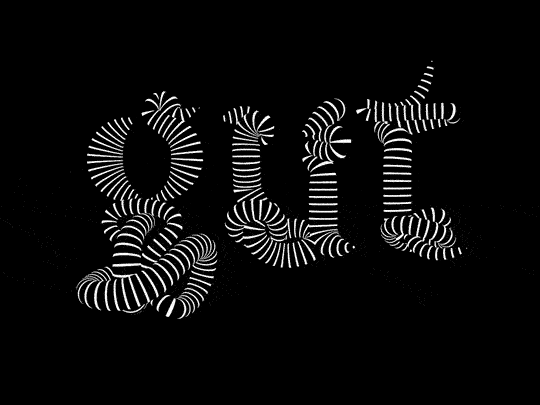 The GUT logo. Credit: Sagmeister & Walsh for GUT
Gut, whose logo is an unconventional, squiggly "spiral intestines" mark designed by Sagmeiser & Walsh, is funded entirely by Ramos and Bigio. "Ever since college I've always wanted to have an independent agency," Ramos says. "David was the closest I got to that, but it wasn't 100%. We learned a lot and it was crucial in building our reputations, but now, we felt it was time."
The founders left their former shop when David was at a high point. This year it earned Ad Age's Innovator of the Year award, following a year of creative home runs and a pair of Grand Prix for Burger King, in both print and direct marketing.
Gut is working on projects and is in discussions with a number of of global clients that it cannot yet disclose. It opens with offices in Miami and Buenos Aires, but the founders plan to expand it into a "mini" network that will include other offices in Latin America, Europe and Asia.
Currently the agency is home to a dozen staffers, a mix of senior talents and what Bigio calls "young, scary" ones. It's also in talks to soon bring in a senior team member to lead on data. "We believe in following your gut, but that doesn't mean we don't like data," Ramos adds. "If you have the right data, it's inspiration for doing something brave."
As for how they're positioning their model to address what many perceive to be the hurdles of the current advertising landscape, they say they will continue to try to find clients that are willing to dig deep on their problems and address them in unconventional ways.
"In the past few years, all the problems everyone has been talking about, how clients are pushing down the business in terms of money and creativity—luckily, it's never happened to us," Bigio says. "We truly believe there are a lot of brands and clients who want to do great work and pay a fair amount of money and make this business and industry shine more."