Agency News
Marketers, Agencies Locked in a Data Tug of War
Ownership Issues Arise as Media Shops Optimize Buys, Try to Lead Strategy
Even though it was many years ago, HTC Senior Director of Global Media Arlene Villanueva vividly remembers engaging in a data tug-of-war while working at a different company.
"My team and I successfully negotiated the retrieval of our data [from our agency], but it was incredibly arduous and painful," she said. "Post-negotiations, the receipt of the data was no better. It was delivered as an Excel data dump and, frankly, became unusable."
It's a struggle marketers and agencies are becoming more and more familiar with now that data is today's hot marketing currency. Who owns the data that agencies store and crunch for clients? Agencies will likely say their client. But the issue is not so cut and dried, because with data comes power, and agencies often have both. Media agencies -- and other types of shops -- are reluctant to share their clients' data with the clients' other roster shops. And they don't necessarily have to. Although agencies work for clients, the agencies often ink the contracts with the digital vendors that generate client data and insights. And client data is often stored so deep in agencies' technology systems that it can be less efficient for the client to transition the account to another agency than to stick with its shop. That wrinkle gives agencies leverage to hold on to business.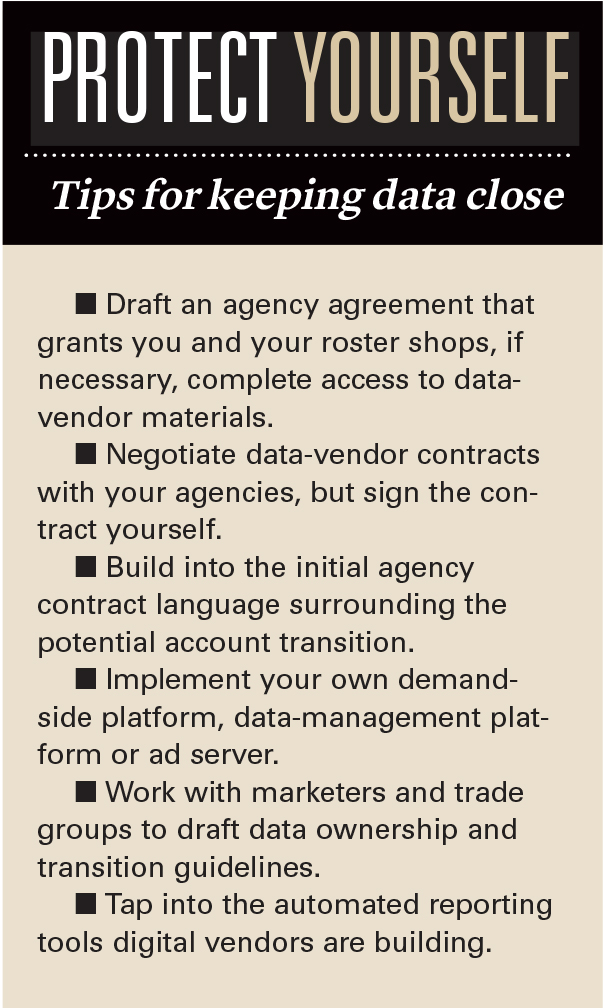 But agencies must ask themselves: Is wrangling over the rights to data generated on a client's dime worth angering the client, especially at a time when marketers can build their own trading and data-management tools?
"There's a bit of fear," said one marketer who wished to remain anonymous, noting that because data analytics now drive most strategies, every agency is attempting to be the keeper of it. The marketer said that when a team asked its media agency to share the data it generated through a third party management vendor with another firm the client worked with, the media agency said no. The shop argued that because the agency was the one on the contract with the data-management vendor, the client's data was sealed. It took the client a number of months to win back full access -- and that happened only after it threatened to end its relationship with the agency. 
"It became a nightmare to manage my agencies, which ended up not playing nice together," the marketer said.
"What's fascinating is how many clients have given away license to their data without knowing it," said Andrew Swinand, a former media-agency exec who is a partner at Abundant Ventures, which owns analytics firm Cardinal Path. "Agencies own the data and the tag-management platforms. They might say they need to protect rates because it's a source of competitive advantage, and that's why they can't share [their intelligence] with anyone else."   
Most agencies say that they never hold client data hostage, but they acknowledge it happens. "It's not good business," said Michael Brunick, VP-strategic solutions for IPG's Mediabrands Audience Platform. "Clients should own their data, and we should have the rights to use that data on the clients' behalf."
It's clear the client owns its data only if "[the agency] buys third-party data segments and the client is funding the purchase of that; the data lives on the client's own [platform]; or the client owns the contract with the ad server."
The ownership line blurs when an agency uses its clients' data to create its own intelligence, noted a few executives, which is why some large marketers are building their own in-house digital-trading and data platforms.
Gary Laben, CEO of Wunderman's KBM Group, which is part of WPP, said that when a contract ends, a client might want access to third-party software that the agency used for intelligence. "We have to clarify ... what components of that solution they do have access to."
Scott Hagedorn, CEO of Omnicom data-marketing group Annalect, said that to avoid any confusion, his agency sets up digital-vendor contracts so they can be independently accessed and "so we're not mingling multiple clients' accounts."
The move is also top of mind for digital-marketing vendor Turn, which is developing a system that allows agencies to share new automated data reports with individual clients without compromising the proprietary data of the agency's other clients on the same contract. "When we talk to agencies about the future, it's not about ownership," Joshua Koran, senior VP-product management, said. "It's about access."
Mr. Hagedorn said that the industry might move toward a "federated data model" in which data lives with the client but the client uses agencies' software to generate results. In the future, "I might not ever see a client's data," he said. "I might just have a downloadable app that's configured in the client's environment. The clients would be running our apps."
As for HTC's Ms. Villanueva, her experience had a specific outcome, or as she puts it: "Lesson learned."
Today, all her agency agreements contain "explicit language on data ownership, management and/or transfer of," she said. Years earlier at another job at another company, she made sure that the advertiser -- not the agency -- was the signatory of the digital-vendor agreement. "Moving forward, large corporations will likely go that route," she said.
In her role at HTC, Ms. Villanueva said she's less worried about data management and more focused on "understanding the money shuffling behind demand-side-platforms." DSPs are chock-full of audience data.