Focusing your entire holiday strategy around Thanksgiving weekend? It's time to step back and look at the (much) bigger picture.
The holidays present the most critical window of the year for retailers (hence, the origins of the term "Black Friday"), but consumer shopping habits during this season aren't what they used to be. Since the internet opened the floodgates for online product discovery and e-commerce, people have started researching and shopping for holiday gifts much earlier than late November, extending the season by several weeks and painting a more complicated landscape for marketers to navigate.
To better understand the extended holiday shopping season across key categories, we dug into our vault of first-party data that spans 5,000 brand and retail websites to discover what you need to know for 2017.
Here are three major insights we uncovered by looking at last year's holiday data.
Don't go chasing traditional seasonality patterns
Seasoned marketers will know that this is not the holiday season you remember from your earlier days in retail. The growth of e-commerce and smartphone technology means that people will begin researching, and sometimes buying, holiday gifts much earlier than Black Friday. In fact, depending on the category, shopping can kick off as early as October.
Consider consumer electronics, for example. Thanks to a series of "early bird" promotions from major retailers in 2016, shoppers began researching, comparing, and shopping for products a full week (or more) before Thanksgiving weekend. Marketers can expect more of the same in 2017 and should consider pushing some of their promotions up accordingly.
Consumer electronics patterns are especially interesting in the context of another big category of the season: toys and games. When placed against the trendline for consumer electronics, toys demonstrate a markedly later spike, on and around so-called "Panic Saturday," or the weekend directly before the December holidays. This is likely due to the fact that toys are more closely linked to December holidays. Or perhaps, parents and relatives won't know what toys and games the kids in their families want until they write their wish lists in December. Marketers should take note of the role this category plays when it comes to last-minute gifting and plan their media budgets accordingly.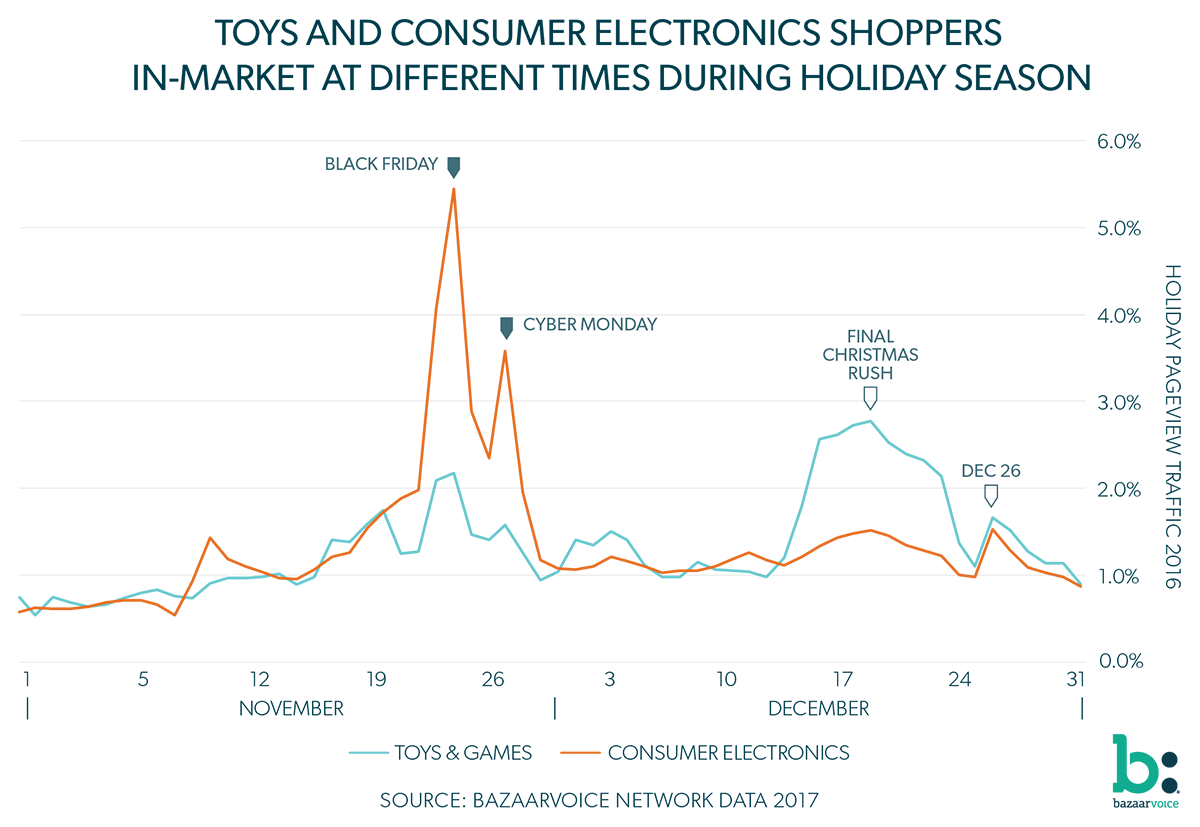 Furthermore, the season continues past the major December holidays into the new year as people head to their favorite online stores to spend gift cards or gift money on themselves, which leads us to the next insight.
Cater to a culture of self-gifters
As holiday shoppers battle the crowds to find gifts for their loved ones, they're also looking out for No. 1. In fact, per the NRF, self-gifters admit that about 20 percent of their total holiday shopping budget goes to themselves! Because self-gifters are also open to recommendations, retailers should create personalized calls to action and special promotions for shoppers who are "treating themselves."
As our Holiday Headquarters showcases, the days immediately following Christmas Day demonstrate a large spike in pageview traffic as consumers research product pages for potential items to pick up with store gift cards and gift money. Another reason for the traffic spike is the rush of bargain-hunters who head to e-commerce websites to capitalize on post-holiday deals.
Specific categories where self-gifting behavior is significant include apparel & accessories, beauty, and consumer electronics. Marketers promoting products in these instances might consider utilizing creative and messaging that give a wink and a nod to shoppers who might be browsing the aisles or the web for gifts for themselves.
Keep an eye on hot "non-gift" categories, too
Finally, while most retailers' efforts will focus on the big categories for holiday gifts, such as consumer electronics, toys, and apparel, there are other types of products that will be in high demand this holiday season. Consider consumer packaged goods, for example—and, more specifically, disposable kitchen products like paper plates and plastic cutlery. These products will be in heavy use for entertaining at parties and family gatherings. As the chart below shows, shopping for these products come well-before the big sale days as consumers get ahead of the rush to stock up on holiday hosting essentials.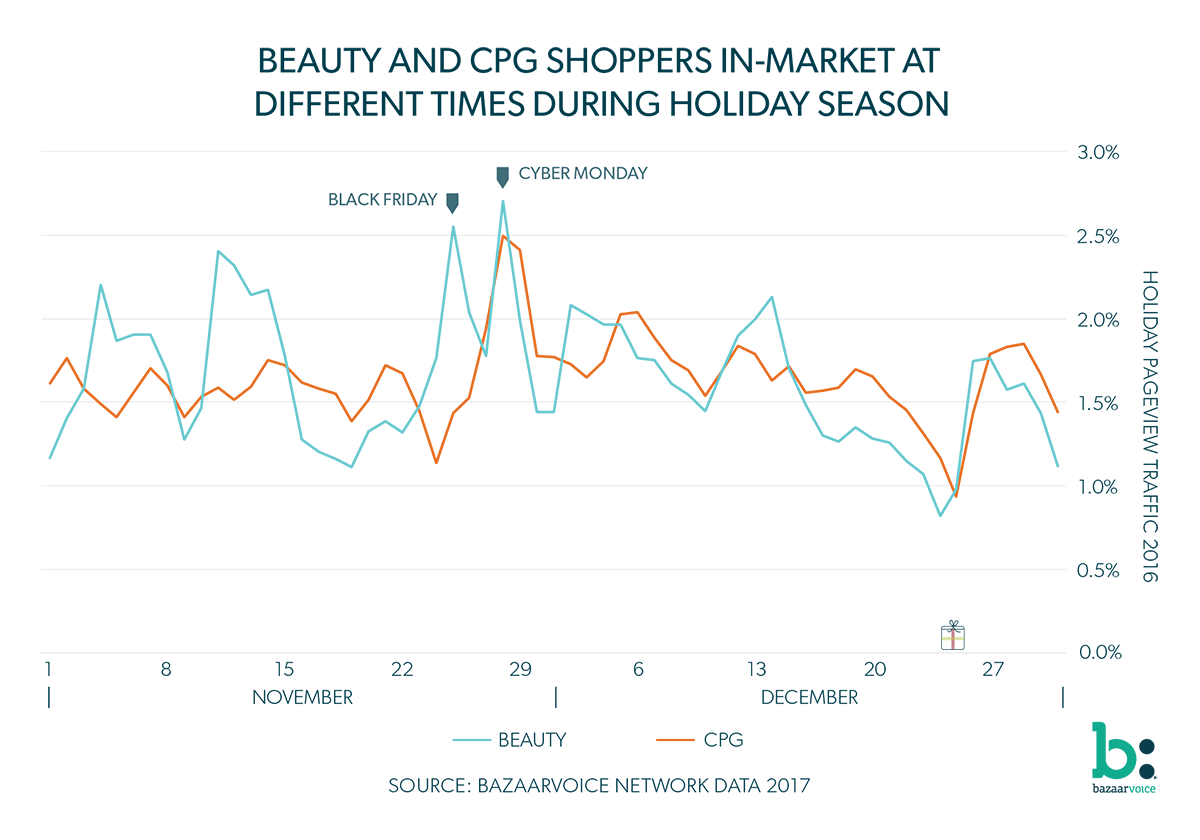 Another trending category, spurred by the self-gifting phenomenon, will be beauty and personal care--and similar to CPG, the shopping windows for these products will not follow the general post-Thanksgiving traffic trends. This is likely due to the personal nature of beauty products and the likelihood that shoppers will take advantage of gift cards and gift money to buy these for themselves in late December. Moreover, towards the end of the month, beauty research picks up as people begin to prepare their New Year's party looks.
Finally, the rise of "pet parenting," or childless millennials who are treating pets as a member of the family, continues to make the holiday season a hot time for the category. Fifty percent of households have pets, and as more millennials wait to have children, pets are becoming critical members of the family. Now that millennials make up a large part of the consumer base, advertisers should revamp their approaches to attracting pet parents during the holidays.
Technology and shifting consumer behaviors have upended the retail industry, with unprecedented shopping patterns specific to the holiday season taking shape to provide new opportunities, and challenges, for marketers. The key to winning this season will be analyzing and using fresh, first-party data to target shoppers when they are in-market for your specific category.
In summary, here are the biggest considerations for modern-marketers to keep in mind:
Plan for an extended shopping season that starts earlier, ends later, and includes longer consideration phases thanks to the accessibility of ratings and reviews.
Understand the changing nature of the holidays, which has become just as much about finding the best deal or bargain—and even shopping for oneself—as it is about finding gifts for others.
Marketers in categories like pet, CPG and personal care, which aren't usually associated with holiday shopping, should consider reaching consumers whose data has shown are in-market during this time.
To learn even more holiday insights, head over to the Bazaarvoice Holiday Advertising Headquarters.