Rockstar Games's "Grand Theft Auto V" (GTA 5) is poised to be the most successful video game ever based on initial sales, and that's largely due its intricately drawn setting. The game takes place in Los Santos, a faux Los Angeles so detailed that video game website IGN called it "an extraordinarily well-realized world" unto itself.
That realism is only heightened by the game's abundance of fake, yet recognizable, brand names.
But GTA 5's brands don't provide flattering representations of their real-life counterparts. Instead, the game's parody brands provide a cutting satire of American consumerism and how it pervades our culture.
GTA 5 characters can go to their local 24/7 (7-Eleven) to pick up a Sprunk (Sprite), a Blarney's (the game's Irish beer brand) or a Barracho (a beer brand which plays on the word for "drunk" in Spanish). There's a jewelry brand called Vangelico whose tagline is "Replacing Charm Since 1852." The local burger chain is Up-n-Atom Burger, a spoof on In-N-Out Burger, this being a fake Los Angeles after all. For gamers who prefer Yum Brands fast food, Los Santos has a Cluckin' Bell (KFC) and Taco Bomb (Taco Bell).
"I think it's a really interesting and great thing for the companies overall," Chet Gulland, head of digital strategy at ad agency Droga5, said. "I tend to believe that when it comes to parody, being parodied is one of the greatest signs a brand has influence on culture."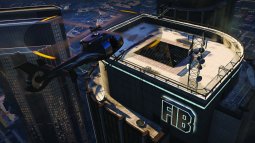 Gamers can find stock listings for these brands on the Libery City National Exchange Index or Bawsaq. In this YouTube video, a player invests in Taco Bomb and manipulates its stock price by violently disrupting Cluckin' Bell's logistics operations. The video does not go on to say whether the gamer was subsequently investigated by the Los Santos division of the Federal Investigation Bureau for white collar crime.
GTA 5 is particularly harsh on the tech and media industries. Game characters can use their iFruits (iPhones) to take selfies at different landmarks in the game -- such as the Vinewood (Hollywood) sign -- or to access micro-blogging service Bleeter (Twitter). The "Friend Request" mission involves helping kill Jay Norris, the young founder-CEO of social network Lifeinvader (Facebook), while he's onstage unveiling a Lifeinvader mobile device. The event is televised live on Weazel (Fox) News.
"That's the one example where I would have a hard time saying I would embrace that," Mr. Gulland said.
Rockstar, which declined a request to comment, even created a commercial for a Lifeinvader tablet and a "real" Lifeinvader website to market the game. A Lifeinvader page for Elitas Travel, an airline, pokes fun at Business Insider founder Henry Blodget.
Facebook declined a request to comment.
"If it becomes clear that it's satire, parody or somethign criticizing that brand, there are protections for that," Jack Lerner, professor at the University of Southern California Gould School of Law, said. "Rockstar Games is going to be on very firm ground."
Mr. Lerner referenced a previous lawsuit in which a strip club sued Rockstar Games for using the club's likeness in "Grand Theft Auto: San Andreas." The judge ruled in favor of Rockstar Games saying the parody was protected under the First Amendment, Mr. Lerner said.
Rockstar even took time to make fun of its own industry. In one cut scene, a father tries to pry his son's attention away from a violent video game. When his efforts prove unsuccessful, the father smashes the TV screen to bits.