A new food news survey found the evolution of fast food breakfast was the biggest story of the year as interest in food news in general continued to climb.
An annual study from Hunter Public Relations, which counts food and beverage marketers as clients, asks consumers to select the top three food stories from a list of 20 big, national food-related stories. This year's top story was fast food breakfast, a topic that was in the news plenty, given McDonald's launch of All Day Breakfast and new items at Taco Bell such as the biscuit taco.
The study showed 45% of Americans believe food and nutrition stories are more important than other news stories, up from 40% in 2014 and 32% in 2013. Among Millennials, the youngest group surveyed in this study and a key group for marketers, that importance jumps to 54%.
"Millennials want information about food, the good, the bad, the ugly. They're voracious. Why? Because food is a part of their culture," said Grace Leong, Hunter's CEO and leader of its food practice.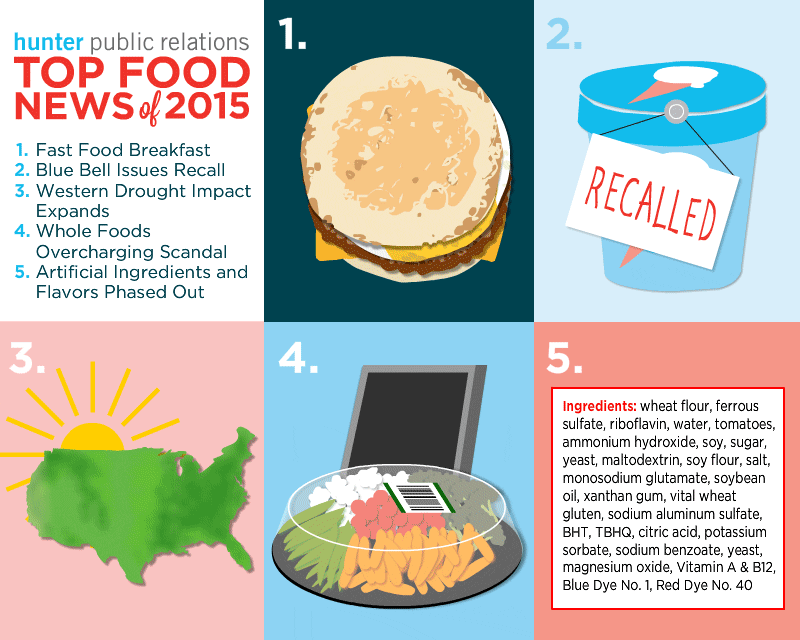 Credit: Hunter Public Relations
The fact that fast food breakfast topped the news list also signals how many consumers were happy to see McDonald's respond to their cravings for Egg McMuffins and other items beyond 10:30 a.m., an idea the company itself confirmed soon after the launch. After months of McDonald's news revolving around weak global results and even a CEO shakeup, the All Day Breakfast push showed that the company was listening to customers.
"They're giving people what they want," said Ms. Leong. "It was fundamentally not something you would expect for them to do, this big giant, to turn on their heels, but they did it."
After fast food breakfast, issues important to consumers included the big recall of Blue Bell ice cream due to listeria issues, which ranked No. 2, followed by the expanding impact of the drought in the western U.S. on the food industry.
Food safety was ranked as the most important food topic, followed by nutrition. Also, 41% of those polled said they are trying to waste less food even though food waste was relatively low on the list, coming in as the No. 8 story of the year.
"More than half of Americans have noted that they're making changes based on the food news that they're consuming," Ms. Leong said.
Hunter has done the study since 2002 and for the past three years it has been conducted with Libran Research. The 2015 survey of 1,001 people covered stories for the 12 months ending in October, which means it excluded recent headlines such as the E. coli and norovirus outbreaks tied to Chipotle.
The online survey was conducted Oct. 28 to Nov. 2. Worth noting, McDonald's began All Day Breakfast on Oct. 6, with a large amount of marketing leading up to and after the launch.
Two other restaurant stories were in the top 10: Domino's setting up ordering via the pizza emoji at No. 7, and alcohol becoming available at fast-food restaurants such as some Starbucks and Taco Bell locations at No. 9.
The study also looked at where people get food news and information. Websites remained the top place for recipes and nutrition information and TV is still where people turn most for general food news.
Looking ahead, 35% of respondents said they resolve to try to lose weight by eating better in 2016, while 33% said they want to eat less processed food. Nearly one-quarter of respondents said they did not have a New Year's resolution related to food or nutrition.
Hunter got its start doing work for the McIlhenny Co. Tabasco brand, which remains a client. Its roster of food and beverage-related clients also includes Diageo, Gallo, Kraft, Mondelez International, Mrs. T's, Outback Steakhouse, Pompeian, Post, Red Bull and Smithfield.