CMO Strategy
See the Most Interesting Man in the World's Greatest Hits
As the Dos Equis Campaign Makes Big Transition, We Look Back at Classic Ads
When he was not appearing in Ad Age, the Most Interesting Man in the World, played by Jonathan Goldsmith, starred in some of the most memorable -- and copied -- ads of the last 10 years. As the Dos Equis campaign enters a new phase with another actor replacing Mr. Goldsmith, we take one last look at some of the ads that had drinkers everywhere repeating his famous catchphrase, "Stay thirsty, my friends."
And for a behind-the-scenes look at what went into creating the ads, hear from the original team that created the campaign.
Here is the very first ad, which was first shown at a beer distributors meeting in 2006 and then ran regionally in 2007:
See that bear in the ad? It got loose on the ad shoot:
There was the time he swam with snow monkeys.
….which looked a lot like this GE ad.
The campaign also did well on radio. Here is the first audio spot:
There were interesting outdoor ads, too, like this mural that was erected in Las Vegas and offered an "interesting time" for people dialing the number.
Credit: Dos Equis
For scenes set in the '60s or '70s, a younger actor, Claudio Marangone, replaced Mr. Goldsmith. That is him at left, during a 2012 shoot for a scene meant to depict 1970s-era Spain in which he runs not with the bulls but against them.
There was sword fighting …
… and a live pommel horse
...and handball
People finally got a chance to mingle with the Man himself and the characters of his colorful world (even a leopard) in a Virtual Reality experience tied to the brand's Mardi Gras Masquerade event.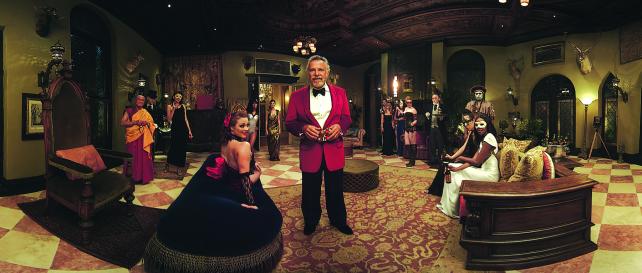 Credit: Dos Equis
He ambushed the Olympics in 2014 with this ad that represented the first time actors delivered the punchlines, rather than a voiceover.
He regularly campaigned for "Dos de Mayo."
And he was often parodied, copied and mimicked, including by this Chicago rib joint.
… until he was sent on a one-way trip to Mars last week.
Contributing: Ann-Christine Diaz