If there was any doubt that the future of local advertising is digital, the latest local ad revenue forecast from BIA/Kelsey confirms that revenue from local-focused online ads will exceed that of traditional ads aimed at local audiences by 2018.
It's part of a digital transformation of local-focused ads in communities across the country, and risks sidelining traditional print ads.
2017 U.S. Local Advertising Revenues - $148.8 Billion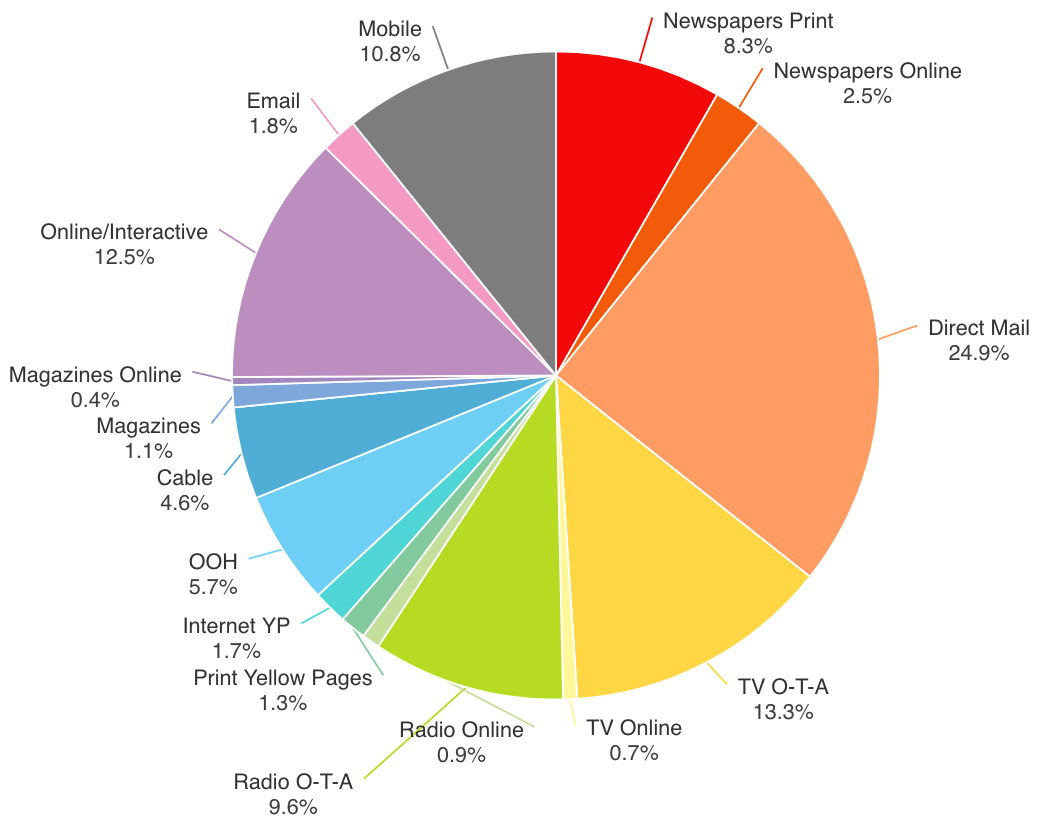 Source: BIA/Kelsey
BIA/Kelsey forecasts that in local markets, digital advertising, including mobile, will grow from $44.2 billion in 2016 to $50.2 billion in 2017 -- a 13.5% increase. Meanwhile, the use of traditional media for local ads is expected to drop by 2.4% from $101.1 billion in 2016 to $98.6 billion in 2017. Local ad revenue from all platforms is expected to rise to $148.8 billion in 2017, a modest increase of 2.4% compared to this year.
"A large part of that is because of a decline in revenue going to print media, including newspapers, magazines and direct mail," said Mark Fratrik, senior VP-chief economist at BIA/Kelsey, noting that the company expects digital local ad share will exceed that of print media by 2018.
The overall increase in local ad revenue is the result of an improving U.S. economy, increased spending by national brands and local media channels, huge growth in mobile and social advertising and continued growth of other digital and online platforms, noted BIA/Kelsey in a statement.
A decline in ad revenue for traditional media may be the outgrowth of a downturn in the nation's newspaper sector. A Pew Research study in June of this year suggested that the industry experienced a recessionary phase in 2015, with advertising revenue facing its greatest dip since 2009.
Within the digital advertising sphere, however, Mr. Fratrik said mobile is expected to grow at a compounded annual growth rate of just over 21% over the next five years. Direct mail still forms the largest tranche of traditional advertising, comprising over 70% of the traditional advertising market share.
The move towards digital platforms for targeted local ads does not signal the death knell of traditional ads, said Mr. Fratrick, as marketers will continue to use a range of media tools to reach local markets.
"Even though online digital is growing as a share and more and more national and local advertisers are making use of it, advertisers aren't abandoning other platforms including over-the-air broadcasts like television, radio, billboards, taxi cabs and elevators." he said. "It's mixes of advertising that national and local companies use to have successful campaigns."