Regan Aliyah is a Mouseketeer. Yep, they still exist. More precisely: They were recently reborn.
She knows about Justin Timberlake and Britney Spears, two former Mouseketeers who rocketed to superstardom after their childhood careers. And, at just 18, Aliyah can tell you about Annette Funicello. She even evokes the old Mouseketeer ears, wearing her curly hair fit neatly into two buns.
Aliyah is part of a new generation of talent that Walt Disney Co. introduced last September. Instead of creating an old-school TV show (or rather, recreating one that's been dormant for more than 20 years), Disney has made the latest incarnation of "The Mickey Mouse Club"—now dubbed a marginally hipper-sounding "Club Mickey Mouse"—entirely for Facebook and Instagram.
"Disney has never done this before," Aliyah says during an interview in between sponsorship gigs and attending the NAACP Image Awards. "Just like 'Mickey Mouse Club' was its first-ever TV show, this is its first-ever digital series. Everything is online."
"Club Mickey" is made for younger generations. Many episodes run under a minute in length, and none has reached five minutes. "Our attention spans are shorter," Aliyah says. "So you watch it on the go. It travels with you."
Disney intends to create a lot more like it.
Protection money
Disney, like most studios and networks, has seen audiences hit play on digital screens and back away from the cable box. Since 2012, for example, the Disney Channel's pay-TV subscribers has fallen 12 percent to 90 million from 102 million. Sibling ESPN saw the same percentage drop. And the consumers that Disney wants to sign up for the new "Club Mickey," members of Gen Z, represent—along with younger millennials—half of the "cord-never" population, meaning they have never paid for cable, according to SNL Kagan's market intelligence report from 2017. It's no wonder that Disney would experiment with new ways to present its content.
What's striking is Disney's commitment to Facebook, a platform that can drive publishers crazy with its ability to mediate their access to digital viewers. Meanwhile, Disney could benefit from the arrangement, taking what it learns from Facebook and its mastery of data, and applying this to its own digital properties, like the streaming service it's launching to rival Netflix.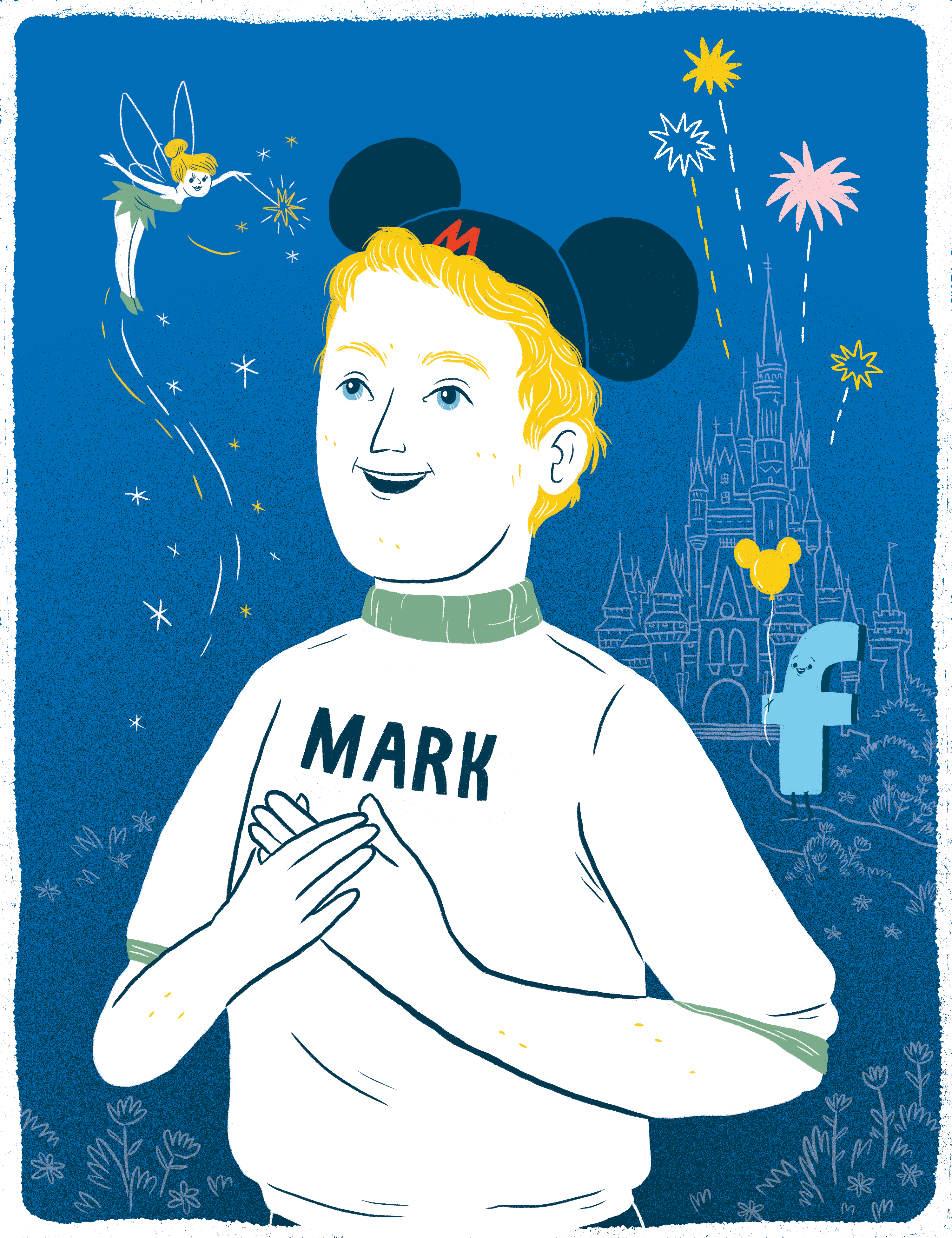 Credit: Audrey Malo
"We were very early partners at Facebook," says Andrew Sugerman, executive VP of Disney Consumer Products and Interactive Media. "We had to really figure out how does a large media company partner with a social platform."
Disney has become the most prolific publisher in a Facebook program called Anthology, which started in 2015 with a handful of media companies testing a new way to make money from the social network. It calls for participating publishers, which have also included Vice and Funny or Die, to include advertisers in the production process (for example, have product placements within the shows) and rely on those benefactors to boost the content via Facebook advertising.
Anthology has been a tough sell for many media companies. The videos come with high production costs and are expensive enough to produce that early partners struggled to make money. Facebook is asking networks and publishers to create shows that can attract advertisers that would spend at least $3 million promoting the videos on the platform, according to people with knowledge of the program, which can be an expensive proposition.
"Not many campaigns focused on digital-only reach that kind of spending in one campaign," says one TV executive who heard Facebook pitch Anthology last month in Park City, Utah, during the digital storytelling portion of the Sundance Film Festival. "That kind of limits the possibilities."
But Disney has firepower few can match. HP signed on to sponsor the first season of "Club Mickey Mouse," which follows Aliyah and seven other newly minted Mouseketeers as they essentially put on a new-media variety show, goofing around, dancing, shooting music videos and using an HP Sprocket portable printer to print selfies.
An 18-second installment called "Pop, Lock, and HP Sprocket" uses the printer to make photos for a flipbook effect showing a dance move. By Facebook's count, it has 1.8 million views.
"You work with a partner like Disney for a
number of reasons," says Kieley Taylor, head of paid social at GroupM, the media buying conglomerate. "They can be the tip of the spear to drive innovation and original thinking on top of the technology platform."
Others are more skeptical about the power of Anthology. "I wasn't that impressed with what they had to say, actually," says the network exec who met with them at Sundance. "The executions they showed with Disney were sort of interesting and they said they were really successful. But no one had heard much buzz about them."
Anthology also plays into a chief criticism of Facebook: The only way publishers can protect themselves against its unpredictable algorithm changes, which can tank referral traffic overnight, is through Facebook advertising. Indeed, Anthology insulates participating media companies from Facebook's whims by baking in advertiser support: Sponsors pay Facebook to promote the videos.
It's easy to see the difference between "Club Mickey" videos that have received HP boosts and those that haven't. With it, they consistently generate more than 100,000 views—sometimes more than a million. Without brand support, they usually don't crack 10,000.
Meanwhile Facebook's algorithm changes continue. Most recently, the company said it would limit the exposure of media properties in its News Feed, the content stream users scroll through on the social network. To combat misleading news, bad actors and an atmosphere of negativity, Facebook would promote more posts from friends and family, and encourage more "meaningful interactions," as the company said.
A Facebook spokeswoman reiterates that Anthology is basically inoculated from the changes. "Anthologies appear on Facebook primarily as branded content [ads] from a partner's page," the spokeswoman said by email. "So recent changes should have little to no impact on ads, as our ads auction already optimizes for user value."
Beyond Facebook
Disney is investing more than ever in Anthology, both as a way to revive classic brands—it has a second season of "Club Mickey Mouse" coming—and to market newer properties like "The Incredibles," the 2004 Pixar release that has a sequel due this summer. The Muppets are also about to get a digital refresh from Disney, according to Sugerman, including an Anthology component.
Facebook says it has collaborated on more than 100 campaigns through Anthology. Disney plans to do a dozen in the next year.
"We published 1,200 assets as part of 'Club Mickey.' We effectively constructed a show to be built for the Facebook feed," Sugerman says. "It was a completely non-traditional approach and we're taking all those learnings and pulling them together as we're now mapping out our launch plans for Season Two."
Facebook has been evolving the services it offers companies like Disney, with an emphasis on consulting, leaning on what the social network knows about consumers and businesses to provide a roadmap for growth.
"We're not teaching Disney how to tell stories, we're teaching Disney how to tell stories on our platform," says Mark D'Arcy, chief creative officer at Facebook's Creative Shop, which is the group that works with publishers and brands to design Anthology programs and other ad campaigns. "Disney deserves an awful lot of credit for being a large company that moves so quickly and builds."
"There was 50 percent greater engagement on this content than normal organic Disney content," adds Keenan Pridmore, head of Facebook's Creative Shop Studio.
The details of Facebook and Disney's relationship were not fully disclosed, and they would not discuss any financial arrangements. However, Sugerman says Disney is particularly interested in learning from Facebook about what audiences want, and the types of videos they are interested in consuming.
And Disney's digital ambitions go beyond Facebook. They include the Disney Digital Network, which evolved from the video-celebrity farm Maker Studios, a 2014 acquisition that cost north of $500 million. Disney also plans to create its own streaming video network to rival Netflix.
Disney is growing like few other old-media brands could, from $35 billion in revenue in 2007 to $55 billion in 2017, on the back of hit entertainment properties, such as Star Wars and Marvel.
Disney also is on track to buy 21st Century Fox for more than $50 billion, which would give it even more blockbuster properties, such as "The Simpsons," "X-Men" and even National Geographic, which has lately found success on Facebook with a live-streamed safari show on Watch, the platform's nascent video hub.
Disney CEO Bob Iger has mused publicly about how well the nature programming fits with Disney's historic interest in the same subjects, producing wildlife documentaries and animal-themed characters and movies throughout the years.
For now, however, Facebook remains a gatekeeper between Disney's young talent and their fans. "I interact with everybody on social all the time," Aliyah says. "I really try to engage everybody because without them I have no career.
"We consider ourselves just influencers," she says. "We're not on a TV show playing someone else. This is a social media show, a group of influencers getting together being part of 'Club Mickey Mouse.'"
The next deal
In December, Disney and Facebook pitched nearly 200 ad buyers at an event at Lincoln Center in New York City, where they showed off a lineup of about a dozen potential new programs modeled on the "Club Mickey" format, all pairing properties like "The Incredibles" and the Muppets with advertisers.
Disney's done similar events before, but this year for the first time the whole Walt Disney Co. participated, including ABC and ESPN. Advertisers heard about new concepts for Facebook shows in which they could play a role—not just for kids' shows, but also Star Wars or ABC's "American Idol," "Black-ish" and even "Good Morning America."
Then it was off to Sundance to continue selling. But the latest News Feed algorithm changes were again on everyone's mind, the network exec says.
~ ~ ~
CORRECTION: An earlier version of this article attributed a quote about engagement for Disney's Anthology content on Facebook to Mark D'Arcy, chief creative officer at Facebook's Creative Shop. The quote should have been attributed to Keenan Pridmore, head of Creative Shop Studio.