Illustration by Doug Chayka
At the SoHo flagship of fashion designer Rebecca Minkoff, the shelves are stocked with XXS, the smallest size available. But the store is not sizeist—those floral dresses and blush-pink leather jackets aren't just for the petite. Consumers who grab a frock off the rack and carry it into a dressing room are encouraged to use a touch screen on the mirror to request the size of their choice, and are also presented with a host of other options to pair with the dress, which carries an RFID tag that triggers the "smart fitting room."
"We use technology to solve the pain points in brick-and-mortar shopping," says Uri Minkoff, chief executive and co-founder of the fashion brand—and Rebecca's brother—noting that the company aims to unite the in-store experience with the realities of shopping online. "This drives confidence. The woman doesn't have to leave the fitting room half-naked and put her jeans back on and have the door lock behind her. She can own the whole store from within the fitting room."
A few years ago, robots were shaking out to be the AI trend overtaking the retail floor. Brands like Lowe's and Uniqlo rolled out (literally) cute little bots reminiscent of R2-D2. But such innovation has now taken a backseat to the technology implemented by brands such as Rebecca Minkoff that are catering to customers who crave a balance between personalized service and an easy and efficient shopping experience. Rather than replace staffers, this new tech uses AI to help store employees improve their work. It arms them with back-end data and front-end recommendations for shoppers to increase their store spending. Some programming, like facial recognition to identify and effusively greet VIP customers when they enter a store, is also being used.
"We often tend to see AIs as bots to replace people," says Eric Gervet, partner in the retail and digital transformation practices of A.T. Kearney, a global strategy and management consulting firm. "It's also very much about fueling people with insights so they can do their jobs better."
AI is one of the top five tech priorities of retailers, according to analysis reported this year by Forrester Research, which found that some 28 percent of global data and analytics decision-makers are interested in or have implemented AI and believe it could increase operational efficiency. Yet brands are grappling with how best to incorporate such initiatives into the store format without alienating consumers with, say, a clunky robot that won't compute a "no thanks" response.
Some retail experts say that marketers should avoid chasing the trend and actually examine how beneficial machine learning can be for their operations, particularly in the physical store. Much of the technology is still in its early stages—we haven't replicated the eye-scanning lasers of the Gap store in "Minority Report," for example, and few consumers might want that level of analysis when their privacy is at stake. Furthermore, the innovation is expensive and a tough case to make to investors when sales results have yet to be proven. While self-checkout is now present at many grocery stores and pharmacies, pilots where consumers can check out with their own smartphones in stores is still a work in progress, according to Sucharita Kodali, VP and principal analyst serving e-business and channel strategy professionals at Forrester.
"The truth is that there's not a lot of space for artificial intelligence in the physical store," she says, noting the high costs of robotics and that most retailers settle on a chatbot instead. "When people talk about AI, there's a lot of probing around in the dark."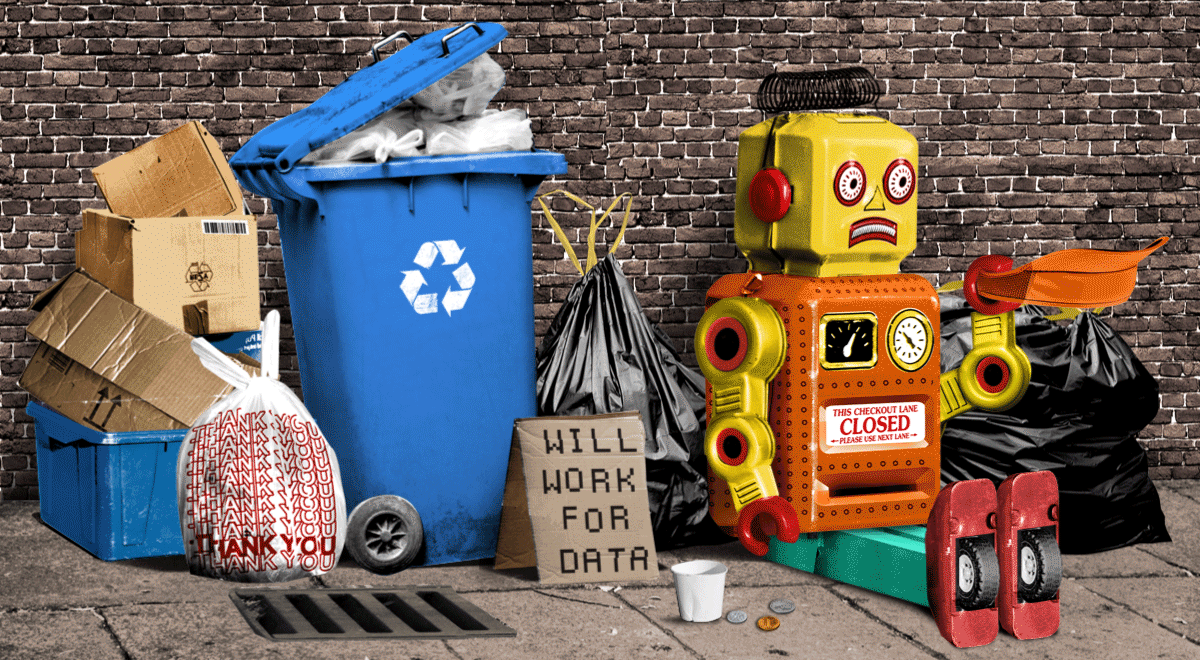 Illustration by Doug Chayka
Those retailers that have dabbled in robotics have pulled back from such investments. Two years ago, Kohl's was testing a friendly robot through its tech initiatives team, but such innovation barely reached consumer-facing levels. Executives at the Menomonee Falls, Wisconsin-based department store chain declined to comment on current robotic efforts. Walmart is piloting a shelf-scanning robot, the company said late last year, but the machine more resembles a vacuum than a contraption able to converse with customers.
Meanwhile, Target is in the process of installing automatic cash-counting machines, which it says will free up workers for an extra 90 minutes a day to better interact with customers.
The creep factor
Most experts say that customers, particularly in clothing stores, don't want to talk to robots; they prefer the empathy of a human touch. Besides, robots can be just plain unsettling.