D&AD, which grants the U.K.'s most prestigious ad prizes, celebrated its 50th anniversary last night with a London awards party, where the biggest names in advertising and design gathered to honor the greatest creative achievers of the past half century in those industries.
Companies and individuals who had won the most D&AD awards since 1962 were granted special-edition pencils. A lot of industry elders took center stage, as D&AD lured back famous faces including film directors Alan Parker and Hugh Hudson, who were there to see their former London agency, CDP, named best advertising agency of the past 50 years. CDP, founded in 1969, had its heyday in the 1970s, and everyone who was anyone, including Charles Saatchi, John Hegarty, Frank Lowe and Ridley Scott, worked there. (Later bought by Dentsu, CDP limped on as part of another agency until 2010, when the name disappeared.)
The best director award was split between Tony Kaye (whose work includes Volvo's "Twister" and Dunlop's "Unexpected") and Frank Budgen (Nike's "Tag" and Sony PlayStation's "Mountain"). Mr. Budgen also won for his role as co-founder -- with Chris Palmer and Paul Rothwell -- of production company Gorgeous Enterprises in 1997.
Mr. Rothwell said he was glad to get the D&AD pencil after receiving two "lifetime achievement" honors this year from other groups. "I absolutely hate lifetime achievement awards," he said. "It's fine if you're retired but I don't feel we have at all; I feel like we've just done Phase A for the last 15 years and now we're starting Phase B. I'll be telling you more about that in two weeks' time; it's quite an exciting thing."
He added that this next phase will be "American."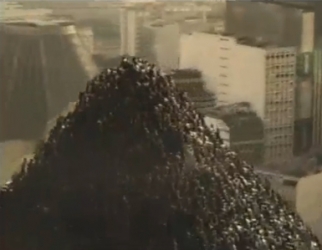 The moment in Phase A when Mr. Rothwell knew everything was coming together came at the creation of the 2003 "Mountain" spot for Sony PlayStation that he shot in Rio de Janeiro for TBWA London using 1,500 extras to form a human mountain (shown at left). The spot (below) won the 2004 Film Grand Prix at the Cannes Lions festival."It should have been impossibly hard, but it was just a job where everything went right," he said. "The time, the schedule, the budget -- it came together and it was a good end result. Looking at it, it should have been horrendous but it wasn't."
Mr. Kaye, who leaped around the venue and dramatically crawled onstage to accept his award, claimed that his best piece of work will be his next, which he is filming this week for De Beers diamonds, with London agency Lean Mean Fighting Machine.
Another former CDP creative, Mr. Kaye went on to direct movies in Hollywood. Known for his eccentric behavior, Mr. Kaye objected to edits of one of his Hollywood films and became embroiled in a legal battle with New Line Cinema, even taking out a full-page ad complaining about his movie. Mr. Kaye is also known for stunts such as staging the kidnapping of a Saatchi & Saatchi secretary, petitioning the Tate Gallery to exhibit his ad for Dunlop Tires and installing a homeless man as a work of art outside the Tate.
Mr. Kaye's latest commercial comeback with the De Beers campaign, he claimed, will set a world record. The plan is to shoot 100 commercials in the space of a day, celebrating a set of diamonds, with each having its own hallmark. "I've just recently got an insatiable new lease of life for this world," he said. "I've been around the block many times. And at times I've been very jaded and beaten up. But now I've got this massive enthusiasm."
Other winners last night included Apple, which scored honors for the best design studio. British-born Jonathan Ive, Apple's SVP of industrial design and the man behind the MacBook, iPhone and iPad, received a standing ovation when he accepted his black pencil alongside a 16-strong design team he flew in for the event.
Dan Wieden won the 2012 president's award. The only black pencil honoring work in 2012 went to Lowe-SSP3, based in Bogota, Columbia, for its "Rivers of Light" campaign to help demobilize the FARC guerrillas in that country.