Goodby Silverstein & Partners, Crispin Porter & Bogusky, Wieden & Kennedy. these have long been the darlings of adland, agencies that for many years have -- and in many respects, continue to -- put out great work. But they're also among the growing list of agencies that just a couple of months into 2012 are finding themselves in the position of having to let go staff.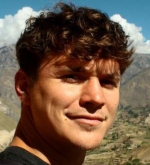 Fortunately, for the talented folks who've had their jobs eliminated at Omnicom Group's
Goodby
Silverstein in the wake of the shop losing the Sprint and
Hewlett-Packard
accounts, they have a little guardian angel in the form of J.D. Beebe. He's the 26-year-old copywriter who's behind
GrabSomeGoodby.com
, an easy-to-use site where laid-off workers can upload their profiles to help advertise their experience to agencies that are hiring and industry recruiters.
Mr. Beebe, who was raised in Connecticut and studied advertising at Boston University, just recently returned to the East Coast to work at New York-based Noise. But he's built up a lot of love for the West Coast, where Goodby gave him a shot in the business. The time he clocked out there led to his affinity for the agency and was the inspiration for the website to help some of his former co-workers and other laid-off staff find jobs. We spent some time chatting with him yesterday about how he came up with the idea for the website, what he hopes to get out of it, and the rocky nature of working in the advertising business. Here's what he had to say, lightly edited to make up for spotty cell-phone service.
Ad Age/Creativity: Why did you create the site?
Mr. Beebe: When I heard the news that a bunch of people had gotten laid off, I thought, I'd hate to be in that position myself, and I figured it was a good amount of people I knew from my time at Goodby. I shot the idea [for the site] past a few friends over lunch and they liked it. I hadn't seen anything like it before, but someone had mentioned that when Digg.com had laid off a bunch of people they tried to get exposure for them to help them get back into the workplace. These days, there's so much bitter venom being put back and forth [on comments sections on blogs] and, excuse my language, people saying "fuck this person, or that" but at the end of the day, people are still out of jobs and nobody really seemed to care about that -- the human element of it. So I figured why not make a site that turns lemons into lemonade, and turn a pretty simple idea into something press-worthy that could help people get jobs.
AdAge/Creativity: That's really cool. How long did it take you to put together?
Mr. Beebe: I had the idea the day they announced [layoffs at Goodby]. I then looked on Tumblr and other platforms to see what would be easiest and fastest to put up. It's on a free Tumblr homepage, so the only thing I paid for was the URL. Once I had a plan, it probably took two or three hours to create. And now it's a constant updating process, but that takes like 2 or 3 minutes. Timeliness is everything. Being someone who wants to show good work and also reflect the Goodby credo of having clean-looking work I wanted it to look good, but the message was clear enough and the rest of the stuff can change as necessary.
Ad Age/Creativity: Do you know if anyone who's put their profile on the site has gotten a job offer yet, or at least a phone call from an interested agency?
Mr. Beebe: Everybody I've talked to has gotten some sort of reaction. One girl in particular who is an account manager wrote me to say that she'd been contacted directly by three agencies and had been contacted by five to six different recruiters. She was almost stressing out because it was so many people to get in touch with! That's the type of story I keep getting so far. There have been job offers as far as Sydney. From what I can tell, the response has been pretty captivating for everyone on the site.
Ad Age/Creativity: How many people who were laid off at Goodby have uploaded their profiles to the site?
Mr. Beebe: There are about 25 so far, and I still have some people in my inbox that I have to add. I'm hoping to get more. It's been great because there's a large contingent of people in New York who have been spreading the word. Even people who are on the site now are contacting others who had been laid off to post their information.
Ad Age/Creativity: Even though it's seeing some signs of traction, do you think some people would hesitate to use such a site after they've been laid off?
Mr. Beebe: Absolutely. That was the fear. Do they really want to put themselves out there in that way? Plus, there's the fact that people have pride, and there's also a fear of putting that much information out into the world. I also wondered if because I'm not affiliated with the agency anymore, would people second-guess it. There's reason to hesitate. But the people who I've talked to that have put their information on the site, it's going well for them. I can only hope that it keeps going well for them.
Ad Age/Creativity:> Just a couple of months into the year, it seems like there are a ton of layoffs taking place at agencies. What's behind this trend? And how does that impact people -- including yourself -- wanting to remain in the ad business?
Mr. Beebe: It's kind of the unsteady nature that is advertising in general. You always feel like you're standing on shaky ground and there are a lot more questions than answers these days. Maybe I'm seeing things through rose-colored glasses, but I think it's an interesting time because the rules are that there aren't rules anymore, and if you are willing to be listening a lot -- there needs to be more listening than ever -- then what do you do with that knowledge for your clients and how you react to things is most important. That's where advertising is going. There's such a love-hate relationship with advertising, you kind of don't know if you want to stay in it. And I don't think it's a bad thing if people do want to get out. What Goodby and a lot of other agencies do is prepare you for other experiences. I've always felt that as a copywriter, I'm not just sitting in a corner writing copy all day, you are constantly learning a lot of things on the job.
Ad Age/Creativity: By the nature of the inspiration for the site, and it's URL, it is meant solely for folks who were laid off from Goodby. But what about other places that are facing layoffs? Would you consider building another site to help them in the future?
Mr. Beebe: As for the site, yes, it's meant to directly help those affected by the recent Goodby layoffs. But layoffs are a fact of life across the industry. If the occasion arose and I had the time, I suppose I could do the same thing for any company. But perhaps more effectively I could help people at that agency or business set up their efforts. Like I mentioned, it's as simple as setting up a site on a free web platform like Tumblr or Wordpress. While I haven't worked at Goodby for a few years, I know many of the people that are now without jobs. I have a personal connection to the agency and that's helped drive the success and spread of this site. Without the help of my ex-coworkers spreading the site on Facebook and telling other Goodby folks, it wouldn't have found traction. So I think that personal connection is more important than the idea. How ever you choose to execute it, helping the people you know can be easy and I imagine I could help people navigate that road.
AdAge/Creativity:Why do you have so much love for Goodby?
Mr. Beebe: While I was at Goodby for three years, I started as an assistant account manager, and had big dreams of moving to the creative side. I was fortunate enough that they took a chance on me after the agency won the Sprint account. I was not the best at everything I tried, but they let me transfer from account management to communications strategy, working on Doritos. By the time I left I was asked to work on all matters of social media across the agency, which I did for a short time before getting the copywriter job I was looking for at Saatchi and Saatchi in L.A. But it was at Goodby that I started doing side projects and learned how fun it can be. This has been the most philanthropic one by far. One time I started selling beards for Halloween after the movie "The Hangover" came out because I thought everyone would want to be Zach Galifinakis for Halloween.
Ad Age/Creativity: So what's in it for you? What do you want to get out of the GrabSomeGoodby initiative?
Mr. Beebe: I guess there's always such a thing as karma points. And sure, it's a project I'll put in my portfolio, but the end goal was to create a project that takes negligible time but has a lot of good that can come from it. Thankfully, it's been well received and people are getting involved. I'd like to think there's the best in people, and lead by example. And it's been great getting back in touch with people who I haven't worked with in a few years. That's enough in itself.