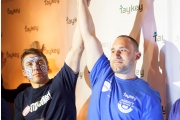 The Super Bowl this was not.
And it wasn't exactly Coney Island on July 4, either. But you would never have known it based on the wild cheers coming out of a bar in New York's Garment District last night. Instead of touchdowns prompting the applause, it was the first Agency Hot Dog Eating contest hosted by Taykey -- a real-time-marketing startup -- and Major League Eating.
Taykey hatched the idea for the contest to so that agencies could hobnob with one another in a social atmosphere. Major League Eating and hot-dog marketer Nathan's Famous were more than happy to provide the food. 
A variety of agencies showed up to battle for the top-dog title at the watering hole Stitch, though the list was especially heavy on media shops. They included: Horizon, Initiative, Mindshare, Digitas, MEC, Zenith, Media Kitchen and J3.  
Before the main event, anticipation sparked a friendly rivalry between the agencies, and the crowd grew progressively rowdier. And if it weren't intimidating enough for adland amateurs, there was authentic talent in the building: Tim "Eater X" Janus, holder of five world eating records in categories such as burritos, sushi and pulled pork, was there to show how a professional does it. He snarfed an astonishing 32 hot dogs. 

Despite the pro skill on display, the attendants were true to their teams. "We just came out to support our man [Kurt Beyer]," said Cory Gordon, a member of the Digitas team.
"We are not here for a contest; we are here to learn about the human condition!" shouted the CEO of MLE, George Shea, when the contest began. "Lose Yourself" by Eminem blared from the speakers as each competitor made their entrance to the stage.
Participants had 10 minutes to eat as many hot dogs as they could while the crowd shouted encouragement (and maybe a little trash talk).
The only woman competing was Initiative's Gretchen Smith; she came in fourth place with six hot dogs. Tied for second, with nine hot dogs, were Digitas' Mr. Beyer and Noriel Mapoy from Mindshare.
Alex Paramithiotti from Horizon took first by hoovering up 10 dogs. But in eating, like any other sport, practice makes perfect, and this win was no fluke: He prepared for the contest by stretching his stomach with watermelon for two days and focusing on his breathing. And even though it wasn't a new-business win, he shared his success with his agency teammates. 
"I did this for [CEO Bill Koenigsberg] and Horizon!" said Mr. Paramithiotti soon after his win while clutching his trophy close.