Heineken is being punished by the U.K. Advertising Standards Authority for a basic marketing error – faking the provenance of its product – and, as a result, will see a major TV and press campaign banned by the ASA starting on Wednesday.
Ogilvy & Mather created the ads, for the Kronenbourg 1664 brand, which play heavily on the beer's French heritage, even though it is brewed in the U.K. The print work states, "If you find a better tasting French beer, we'll eat our berets," and claims that the French "know a thing or two about taste."
On television, the campaign features French soccer player Eric Cantona, who was a star of English Premier League Soccer in the 1990s, and has since gone on to become an actor. Mr. Cantona, famous for his philosophical musings, says, "Here in Alsace… the hop farmers are… idolized and adored. And why not? They are living legends."
Like sports stars all over the world, top U.K. soccer players are famous for attracting glamorous women and paparazzi. In the Kronenbourg 1664 spot, Mr. Cantona finds that his sporting fame gets him nowhere, and instead watches the local hop farmers flanked by supermodels and dodging photographers. By the end of the commercial, Mr. Cantona is claiming that he is a farmer. Ogilvy & Mather even created a Twitter account for his alter ego, @pascalthefarmer, which is no longer working.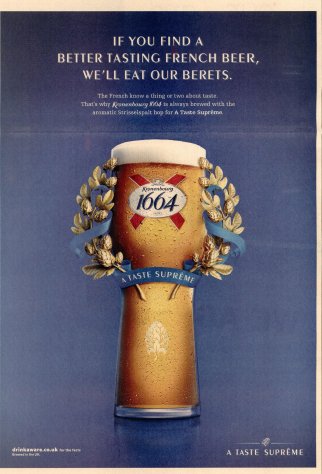 Both ads feature very small print stating that Kronenbourg 1664 is brewed in the U.K., but the ASA did not think this was enough, and ruled that the emphasis on the connection with France would lead consumers to believe that the entire brewing and manufacturing process took place there.
Heineken argued that the beer had French "character" because of the Strisselpalt hops (one of a variety of hops used in the recipe) which come from the Alsace region of France. In its defense, the brewer also pointed out that the ads do say that Kronenbourg 1664 is brewed in the U.K.
But the ASA will announce Wednesday a ban on the ads appearing, and warn Heineken U.K. Ltd not to imply that Kronenbourg 1664 was brewed in France, or that all or most of the hops used in the recipe were grown there.
Kronenbourg was originally brewed in Strasbourg, now part of France, in 1664, but the beer is now owned by Heineken in the U.K. after a series of acquisitions.