GE's Brilliant Machines are back, and this time, they'll be performing live in New York's Union Square next week. Since launch, the advertiser's campaign, out of BBDO New York, has put the spotlight on famous A.I.'s, including one spot that showed iconic robots from pop culture past come together at a convention and a more recent effort in which GE's intelligent tech saves Star Trek's Enterprise. But now, the advertiser is bringing consumers face to face with the real thing with a live performance from the robot band Compressorhead on Tuesday, Nov. 12.
The German outfit features three five-foot-tall robots: drummer Stickboy, bassist Bones and lead/rhythm Fingers. Created from scrap metal, the humanoids move with the help of electro-pneumatics and play music via Midi.
The performance will last from 1:00 p.m. to 8:00 p.m. and throughout, GE will provide charging stations and WiFi for the public, who are free to attend. A livestream feed of the concert will also run on Spotify.
"GE is reinventing what power can do through hardware fused with intelligent software, and the output will rock the world," said GE Creative Director Andy Goldberg in a statement. "A live band of robots shows how metal and data can come together to create entirely new possibilities, powering everyday things such as music in innovative ways. It's this idea of new possibility that drives GE's commitment to innovative solutions."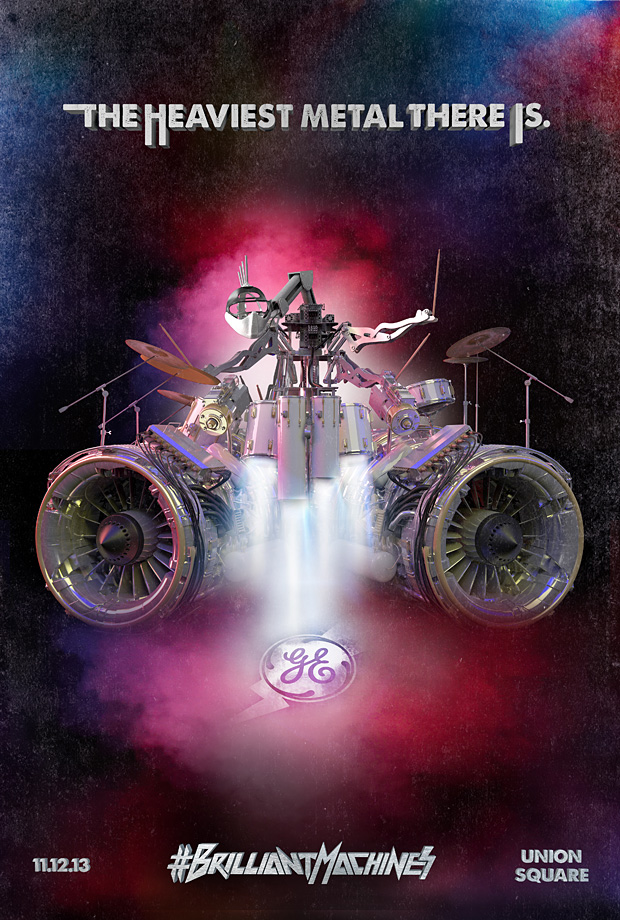 For more of the best in brand creativity, tune in to Creativity-Online.com, follow @creativitymag on Twitter or sign up for the Creativity newsletter.