Digital
Why Can't Amazon And Apple Catch a Break on Madison Ave?
Advertising Sales Are a Tough Slog for Both -- And for A lot of the Same Reasons
There are few companies as admired, beloved and dominant in their industries as Amazon and Apple. So when the two ventured into the ad business (Amazon in 2008 and Apple in 2010), Madison Avenue took notice.
Advertising sales are a tough slog for both -- and for a lot of the same reasons. Media buyers say they are slow, cocky and downright stingy. Both take too long to develop ad products. Amazon's sales approach is too pushy; Apple is too reticent to foster relationships. Most frustrating: Neither is willing to cough up enough of the consumer data that attracts advertisers to them in the first place.
"It's almost like going into a room and them putting a gun to your head and showing you your future," said Norm Johnston of GroupM's Mindshare, describing Amazon's sales-pitch swagger during a closed-door meeting in January.
Apple's and Amazon's arrogance in mobile and e-commerce, respectively, is earned. But neither has developed a strong b-to-b sales or service culture. Another media-agency exec contrasted Amazon's style during quarterly sales meetings with the more energetic pitches from Twitter and Facebook. "Amazon is very professional. They get straight to the point; there's not a lot of personal chit-chat going on," he said. This despite that even in a digital age, advertising is a relationship-driven business.
Perhaps the biggest issue hindering their ad growth is that advertising is an afterthought, a blip on the balance sheet. It's still viewed by some as immaterial and potentially detrimental to the cash cows -- an ad is an impediment if it distracts a consumer from the "buy" button or mucks up a beautiful mobile app.
One exec told Ad Age that Apple doesn't even have official sales targets for its ad business.
Cary Tilds, chief innovation officer for GroupM, said that Apple doesn't have a big sales team. "It's not their main focus to tell everyone in the world how amazing advertising in iAd is," she said. "It's just not as loud." Indeed, there are few successful examples of companies becoming players in the ad business when the majority of their revenue comes from outside of it. Microsoft gave it a valiant effort throughout the past two decades and got middling results. Major video-game publishers that sought to goose bottom lines with ads in games made little progress.
Advertising 'sucks'
Ad Age interviewed a dozen people close to the companies, including high-level executives at Apple and Amazon and eight agency and marketing services execs who work closely with both firms. Apple and Amazon struggled with the concept of selling ads in the first place. When introducing iAds in 2010, Apple founder Steve Jobs said most mobile advertising "sucks." At Amazon, "there was a lot of internal debate about advertising, and we actually viewed advertising as disruptive to our business. We worried it was disruptive to the consumer experience," said the e-commerce giant's advertising chief, Lisa Utzschneider, during the company's coming-out party at Advertising Week in 2012.
So why get into the ad business when both companies make so much money outside it? And are they doomed to fail?
Amazon and Apple had different reasons: Amazon to protect and expand its retail business; Apple to foster a revenue stream for its App Store ecosystem. Amazon started slowly, effectively taking its ad business out of beta at a packed session at New York's Advertising Week confab in 2012. Apple launched with a splash, announcing big-money brand deals and a $1 million minimum for mobile-ad campaigns.
Since launch, both have rebooted their ad-selling efforts several times. Apple added iTunes Radio to its arsenal. And the two have also loosened up a bit on the data, though it's nothing like what advertisers have come to expect from, say, Yahoo, which provides lots more data and metrics.
Denied data
The lack of data both companies deliver is frustrating for marketers because these notoriously opaque giants sit atop incredible troves of information about what consumers actually buy and like, as well as who they are and where they live. One person familiar with the situation exec said Apple's refusal to share data makes it the best-looking girl at the party, forced to wear a bag over her head.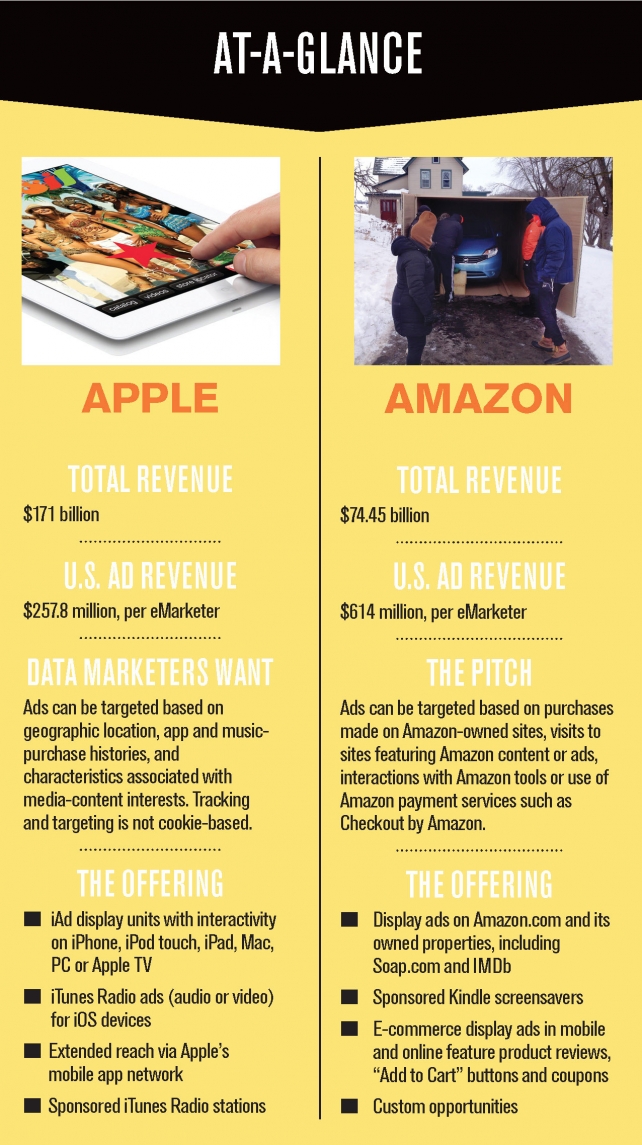 Through its flagship site and other owned properties, including IMDb and Soap.com, Amazon has the data that marketers truly prize. Besides names and addresses, it has tons of actual transactional data representing real purchases of books, films, music, and anything from room humidifiers to moisturizer. Its unwillingness to share that sales data is particularly irksome to consumer-product-goods advertisers, which are accustomed to getting this kind of information from bricks-and-mortar retailers. One agency exec who leads a large CPG account wants Amazon to divulge data about what's in shoppers' carts to inform ads promoting collections of goods. But that hasn't materialized.
"Amazon could make its media platform work very hard at actually selling product," said the executive, who asked to remain anonymous.
Added Serge Del Grosso, form media director, North America, at SapientNitro: "There's an opportunity for Amazon to probably be even more proactive in reaching out to media buyers with case studies that are specifically relevant to [advertiser requests]."
While scale and effectiveness are paramount, ad dollars tend to point to transparency on audiences and campaign measurement. In exchange for investment, advertisers want a partnership as well as a view into the product road map, something they say they don't get enough of from Apple and Amazon. Google and Facebook have made huge strides in agency relations. No surprise, then, they also lead in U.S. digital-ad revenues. In 2013 eMarketer reported that Google grabbed $17 billion. The younger Facebook came in at a distant second with $3.2 billion and Amazon a relatively meager $614 million in U.S. digital ad-dollars.
Measuring U.S. mobile ad revenues only, Google and Facebook tower over Apple. Top dog Google garnered $3.98 billion in mobile in the U.S. in 2013 while second-ranking Facebook generated $1.53 billion, according to eMarketer. Apple collected $258 million in U.S. mobile-ad revenue last year. It mainly sells ads in mobile apps, and introduced its iTunes Radio streaming ads in September 2013. The company does not sell online display advertising or search ads.
What Apple knows
Apple knows names and addresses, geographic locations and app and music-purchase histories, and can show ad buyers that a group with specific characteristics also likes certain types of apps or music. However, its user tracking and ad targeting are not cookie-based, meaning agencies can't do automated buys via their cookie-centric trading desks, which allow them to mesh lots of data from different sources. Instead, they have to go to Apple, ask to reach a given audience and, well, trust Apple that it will deliver it.
Apple might come out ahead of its competitors on data, if it would share. "It's one of the best in terms of data quality and accuracy … but I think Google is a little more open," said Dan Grigorovici, co-founder of mobile-ad firm AdMobius, who was a software manager at Apple until 2012 and a principal developer of iAd's measurement and analytics capabilities.
Advertisers want to use Amazon and Apple's information -- whatever little of it they can get -- so they've been willing to play ball, even if it means doing so with an abridged playbook.
Macy's, McDonald's, Nissan and Procter & Gamble were among the first iTunes Radio advertisers, and Pepsi launched a branded radio station -- a rare privilege in a universe that typically forbids logos other than the one depicting bitten fruit. The soda brand's custom work with Apple represents the gradual shift Apple is taking toward better accommodating advertisers.
Taking Amazon seriously
Meanwhile, what came of that closed-door January meeting where Amazon pitched Mindshare's Mr. Johnston and his client Nescafé? A decision to take Amazon seriously despite misgivings about its sales style.
"I really do get the feeling they want to form tighter partnerships," he said.
One example: Nissan bet big with Amazon recently on a campaign in which the e-commerce giant built a custom page promoting the Nissan's Versa Note. Would-be drivers could sign up to connect with a local dealer and those who bought the sub-compact or small SUV through Amazon got a $1,000 gift certificate. One of the buyers was even chosen to have the new ride delivered in an enormous Amazon box.
For marketers, it was a far cry from Amazon's standard display ads, a promising sign that Amazon is just starting its engine.