Accelerated mobile pages, more commonly known as AMP, will now be featured in Google's News section, the company said Wednesday.
The move was inevitable following AMP's launch in late February.
AMP pages load near instantaneously, use about 10 times less data and have attracted top-tier publishers like The New York Times, Washington Post, The Guardian, among others, said Marcia Scott, engineering director for Google News. "AMP is very important to mobile," Ms. Scott said. "More and more publishers are adopting AMP and it is going to be great to see what the open mobile web does."
For the publishers who have adopted AMP, they now have the opportunity to enjoy prime mobile real estate compared to non-AMP sites. A total of 14 headlines will be showcased at the top of the Google News section in a horizontal carousel that features an image related to the news at hand as well as AMP's lighting bolt logo.
Google says it links to some 75,000 publishers around the world in its News section. However, there are only "thousands" of publisher who have AMP sites, Google said.
Additionally, the News section will have a new feature that showcases top stories of the day, Ms. Scott said. "AMP will allow users to read more articles and publishers will benefit," she said.
Upcoming features in the works
Rudy Galfi, product lead for the AMP project at Google, declined to share specific numbers related to AMP's performance since it arrived in Google search, saying only that people are clicking and reading more.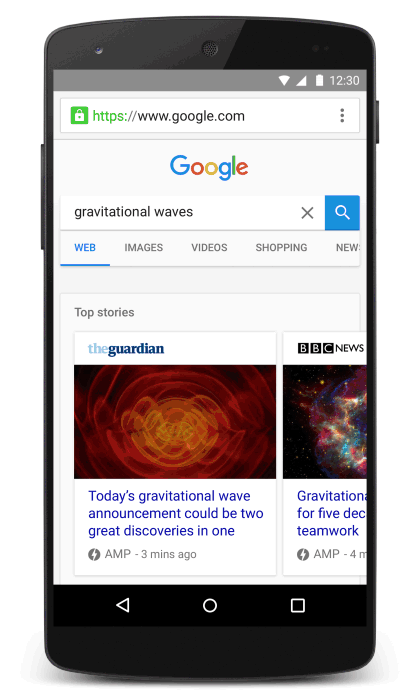 Credit: Google
Through collaboration with publishers and ad tech vendors, new features like site navigation, sidebar menus and self-updating pages will soon be included within AMP pages in the near future. "It's an election season and it will be really critical to support all these publishers who are doing live blogging on election night," Mr. Galfi said.
Google makes the bulk of its money in the open web. As it competes with app ecosystems such as Apple News and Facebook Instant Articles, it is banking on improving the mobile experience for consumers by delivering content at near instant speeds.
AMP is an open-source effort spearheaded by Google nearly 10 months ago, when the search giant reached out to publishers and ad tech vendors to participate. Anyone can contribute to AMP; Brightcove, for example, shared code for publishers to run its video player on AMP sites. When asked if AMP would exist without Google, Mr. Galfi said, "Google loves the open mobile web and we are willing to lead. We do not think AMP is the leadership of one, but the leadership of many."
Today's AMP rollout to Google News covers U.S. editions in English, with other countries, languages and domains planned in the coming months.