One in five clicks in the U.S. happens on Facebook, and like any mass platform, most brands maintain a presence there and carefully cultivate their fan base.
But do they need to advertise as well? That's the question facing brands -- as well as investors --as Facebook prepares for its anticipated $100 billion IPO on Friday.
The Facebook ideal goes something like this: a brand builds a presence there and cultivates a fan base. That fan base spreads the word about the product. When brands want more impact, or to reach non-fans, they advertise.
But the reality is that much of what brands spend on Facebook isn't going into its coffers. A Facebook presence is must-have for brands. Facebook advertising, on the other hand, is not. General Motors showed that by telling the Wall Street Journal earlier this week that it's pulling the plug on all Facebook advertising -- $10 million of it -- even as it spends another $30 million building and maintaining a Facebook presence for its various car makes and models.
GM's move puts it very much in the minority. Most brands with big presences on Facebook are also spending significantly on advertising. But it's clear that Facebook still faces steep hurdles in getting marketers to increase their investment to grow the $3.15 billion they spent on the network in 2012.
"I think brands are still trying to get their arms around what Facebook means to them. Is it a click play? Is it an exposure or impression play? Will it be measured in digital GRPs?" said Chris Copeland, CEO of WPP's GroupM Next. "There are still a lot of unknowns."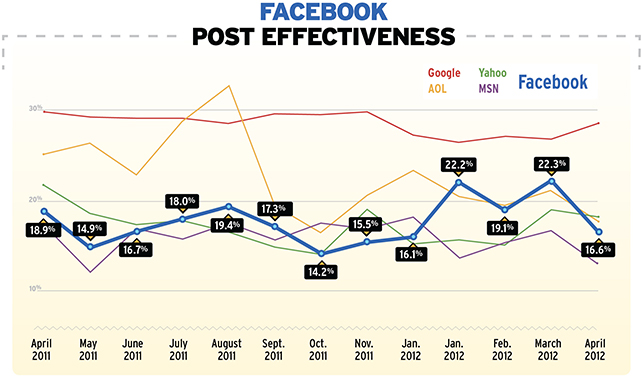 Kantar Media Compete measured the effectiveness of Facebook posts in automotive, travel, tech and retail as defined by whether the user clicks on an ad, visits a brand page, or seeks out more content about the brand.
GM doesn't particularly need Facebook to build awareness. As the nation's third-largest advertiser, it has plenty of ways to reach consumers, and even send them to their Facebook page. But the timing and absolute nature of GM's statement on Facebook reverberated through the industry.
"Blaming Facebook for a lack of ROI on your advertising is akin to blaming the internet because no one purchased from your website," Brian Wallace, VP-strategic marketing for Samsung Mobile. "Facebook is a platform that attracts close to a billion people and it's ultimately up to advertisers to understand how to optimize this platform for your customers."
Mr. Wallace, who responded to an Ad Age query while en route to a meeting at Facebook headquarters, said Samsung spends twice as much on maintaining its Facebook presence as it does on advertising. What would make Samsung spend more? More data in return, Mr. Wallace said. "They keep their data too close. This is the only thing preventing me from investing more in their platform," he said.
Advertisers keep their strategies and spending levels close to the vest, but in conversations with Ad Age one theme emerged: most major consumer marketers are spending both on Facebook as well as Facebook advertising. But the paid advertising on Facebook is under pressure from other channels that can do the same thing, just cheaper.
Supplement retailer GNC said its spending on Facebook is likely to stay flat or increase just slightly in the near term. Meanwhile, its investment in content will rise significantly. CMO Jeff Hennion said it's more cost-effective to drive people there via email, direct mail, or even TV ads that show a link to the Facebook fan page.
"We know that we have a substantial number of customers out there who are interested in GNC and what we have to say," Mr. Hennion said. "If we tell all those people who are already customers, it's a lot cheaper to do that , and the ROI is a lot better than buying ads on Facebook that are targeted at our followers' friends."
Just because a marketer has a big Facebook presence doesn't mean big ad dollars will follow. Take, for example, one of Procter & Gamble's big Facebook plays for Secret deodorant, anti-bullying effort "Mean Stinks." P&G built the fan following for its Secret fan page without Facebook advertising through early 2011, said Marketing Director Kevin Hochman in a January 2011 interview, but it put Facebook ads behind its "Mean Stinks" effort when it launched in February.
"We have used Facebook ads in support of Secret's "Mean Stinks," both at launch and various times throughout the length of the campaign," a P&G spokeswoman said in an email. "The ads are just one of a number of elements contributing to the program's overall success in conjunction with the engaging content on our page."
Like a lot of marketers Ad Age contacted, P&G declined to discuss spending levels, but third-party data indicates that the company is spending significantly on social sites. A ComScore report last July said 32% of P&G's internet display impressions were "socially published," most of which occurred on Facebook.
Automotive advertisers reached by Ad Age are spending on Facebook, but vary widely in their views of it. After the GM announcement, Ford said it will "accelerate" spending. Ford spends 20% to 25% of its marketing budget on digital, including social. Nissan's director of interactive marketing and social media, Erich Marx, said the company does some paid media around new car launches, but said the "vast majority" of spending goes into Facebook content, not advertising.
Kia uses both premium and marketplace Facebook ads to gain fans, distribute content, build awareness, and hopefully get into the minds of consumers -- more branding goals than traditional goals of web advertising such as clicks and referrals. "If you're going to evaluate Facebook on very strict standard digital metrics, you might not be impressed, and that would lead to a decision to cut the advertising," said Michael Hayes, president of digital at Initiative . "But I would argue Facebook as a platform is changing the way marketers think about advertising."
But Mr. Hayes said Kia and Initiative will likely both increase investment in Facebook in the coming year.
Not all marketers think Facebook works for brand-building. Greg Fisher, VP-marketing for mobile device manufacturer HTC, said that in his experience, Facebook ads need a clear message, a promotion or call to action to be effective. "Delivering traditional brand-building or product messaging simply doesn't work. At all," he wrote in an email.
Yet marketers looking for global scale can count the options on the internet on one hand. Facebook fits the bill in spades, but it is not a traditional ad play, which makes it complicated for brands accustomed to one-to-many ad campaigns. But brands can do a lot on Facebook for free, and while advertising is seen as an additional lever to pull, it is one of many.
"We believe in Facebook, thinking it has tremendous potential for carrying our brands' messages to our fans and friends of fans," said a spokesman for Anheuser-Busch InBev. "But as with any element of our media mix, ultimately it must demonstrate the value it brings and how it impacts our brand health and sales."
Contributing: Michael Learmonth, Kunur Patel, Cotton Delo, Jack Neff and Steve Williams.