Digital
Google Expands AMP in Search Results as Retailers Join Push for Faster Mobile Web
EBay, 1-800-Flowers, Fandango and Others Sign on
Google made a move Tuesday that should have every publisher and ecommerce player on notice, expanding links to Accelerated Mobile Pages beyond a carousel at the top of its search results to the full list of hits below.
Google has been displaying AMP pages in a carousel intended to highlight news articles, where the initiative began. At the same time, the search giant has been encouraging digital retailers to start using the AMP format for the mobile sites, recruiting nearly half a dozen to participate.
Now non-news publishers that have adopted AMP seem to have outpaced Google's expectations, with sites that publish rap lyrics or recipes, for example, mingling with news articles in the AMP results up top. The change today should address that and surface those pages in the rest of the search results.
"We see so many websites that aren't news publishers show up in the existing top stories carousel," said Dave Besbris, VP of engineering at Google. "We thought it was really important to deliver to these publishers who are trying to create AMP for a reason, so we thought we should show them in search when they are available."
Although having an AMP website doesn't improve search rankings, speed does.
AMP sites on average are four times faster than their mobile counterparts and use 10 times less data. The technology is Google's solution to keep consumers in the open mobile web, where it makes a bulk of its revenue, even as Facebook fights to keep its users from leaving with innovations such as Instant Articles.
AMP is still in its infancy, but early adopters will likely gain an advantage over competitors who don't use it. Google sees at least two trillion searches on its website each year, with the bulk of them happening on mobile. So when it makes a change to how it displays those results, no matter how subtle, it will more often than not have a significant impact on the entire online ecosystem, simply because of its sheer size.
"Google is just so dominant that they are able to force industry adoption of certain tech standards because they drive trillions of searches to their website each year," said Larry Kim, founder and chief technology officer at Wordstream. "You'd be pretty crazy not to jump on AMP, especially since Google is putting AMP very prominently on their mobile search results."
"I think the challenge here is obviously bigger brands and publishers will have more technical abilities to adopt AMP standards than the smaller sites," he added. "Companies that jump on AMP will have a pretty significant edge."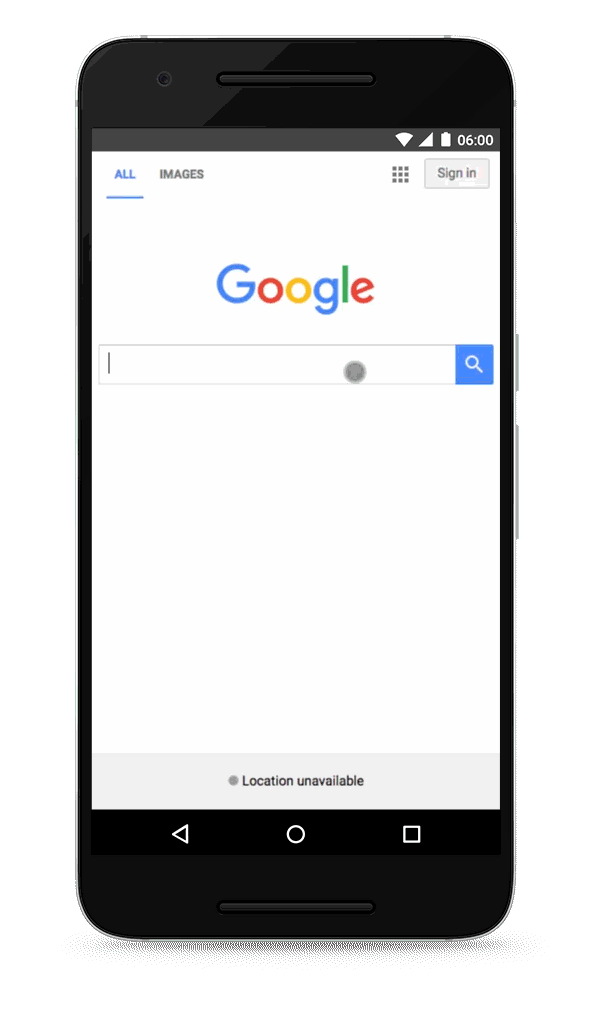 A demo of how the blue links will work on Google search Credit: Google
Publishers that use AMP are already rewarded by Google with prime real estate in its search results, that carousel at the top, and include a relatively large image as well as a small lightning bolt icon, or Google's logo for AMP.
E-retailers who adopt AMP might one day be similarly rewarded, as Google said it may eventually feature shopping products from AMP sites at the top of search results in carousel format.
"Much like with product listing ads, organic carousel product listings would garner larger click share," said Ryan Sullivan, senior VP of performance services at Publicis-owned Performics."The visual format and the certainty that comes with knowing the product you want is one click away takes the guess work out of mining through traditional text search results, thus leading to more consumer engagment."
"Still, site speed is one of many factors, so just implementing AMP doesn't guarantee priority placement on a results page," he added. "Brands still need a solid content strategy, authority in their vertical and a range of other technical optimizations to compete for top organic positions."
According to a January 2016 report from eMarketer, U.S. consumers bought $75 billion worth of goods and services via mobile devices in 2015, up 32.2% from the previous year. And nearly 42% of all retail purchases made were done on the open mobile web, the report said.
Since eBay first adopted AMP nearly one month ago, others including 1-800-Flowers, Fandango and Rakuten have enlisted to make their mobile websites AMP enabled.
Amit Shah, senior VP of online marketing at 1-800-Flowers, said too many companies create a mobile website without really thinking about the consumer experience. Consumers who look to join the company's Celebration Passport offering, which is its version of Amazon Prime, will land on an AMP enabled page. Mr. Shah said the offering is critical to the company's future growth, adding that 1-800-Flowers wants to use AMP to make the process of signing up as fast and hassle free as possible.
While almost all aspects of mobile ecommerce pages won't be AMP enabled initially, companies like eBay and 1-800-Flowers said they eventually will be.
"I think the deeper question is what is the long term outcome of this? My bet is the development and the infrastructure stacks of most companies built around desktop will start crumbling down," Mr. Shah said. "And what AMP will force the companies to recognize is we can't have dual state of being, where we have a poor erosive experience that moves slow and a faster experience with AMP."
"A lot of early days of mobile experience was dominated by apps as a user experience," he added. "But we are finally getting down to the point where mobile web is finally going to start catching up."
Since launching in February, more than 150 million AMP documents have been created from some 650,000 domains, according to Google, which says 90% of AMP publishers are experiencing higher click-through rates.