Digital
Pinterest Makes Two More Acquisitions to Enhance E-Commerce and Image Recognition
Image Bookmarking Service Buys Two Companies, Including Meme Generator Pext
Pinterest has agreed to buy mobile meme maker Pext and community powered shopping app The Hunt in two talent-driven deals that are set to close immediately, Pinterest said Tuesday. Terms were not disclosed.
The companies bring Pinterest's total number of acquisitions to nine.
Some obvious synergies exist for Pinterest, which is all about images and increasingly about shopping. Pext, for example, displays an image based on what you text and then creates a meme. Pinterest describes Pext as an "image indexing" technology.
Pext removed its app from mobile app stores, a Pinterest spokesman told Ad Age.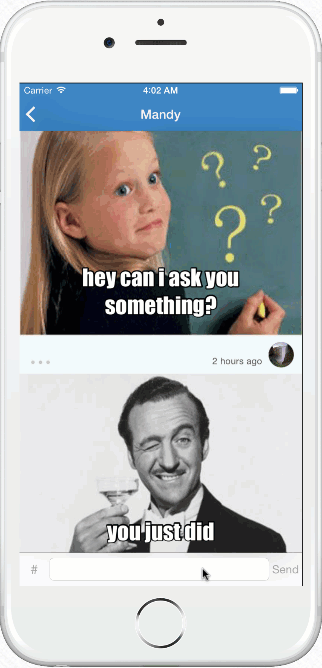 Credit: Pext

The Hunt has a layout that's similar to Pinterest, but users help other users find fashion items they're seeking. Someone can post a picture of a particular pair of shoes, for example, and the Hunt's community will then share links where they are available. The San Francisco-based startup has more than 4 million users, according to its website.
But The Hunt will "sunset" its service by early 2016, a Pinterest spokesman said.
"We welcome the talented teams from The Hunt and Pext to Pinterest," said Michael Lopp, head of engineering at Pinterest, in a statement. "As some of the best minds in mobile shopping, monetization and image indexing technologies, their contributions will be incredibly valuable as we continue to build a discovery engine that helps people plan their everyday lives."
Asked to elaborate, a Pinterest spokesman said, "The teams on The Hunt and Pext include some of the best minds in mobile shopping, advertising and image indexing technologies. The talents and experiences from these companies will help us tackle significant areas in commerce and ads engineering," a Pinterest spokesman said.
Pinterest has made several moves in 2015 that could possibly generate additional revenue for the company in the future.
The image bookmarking service has more than doubled the amount of Buyable Pins offered on its platform to 60 million since debuting them in June and recently began pulling location data on its 100 million-plus user base by default.
In March, the company named Tim Kendall as Pinterest's first general manager of monetization.