Trade organization the Mobile Marketing Association has commissioned a new study that projects the mobile marketing to add $400 billion in incremental output and nearly a million jobs by to the U.S. economy by 2015.
While the findings are meant to induce marketers to spend more on mobile, the study is also part of the MMA's lobbying effort to illustrate the job creation prospects of mobile marketing and in turn, head off potential regulation.
"Asking a bunch of people who are unfamiliar with mobile marketing to set up digital policy might inhibit innovation," MMA CEO Greg Stuart said. "Let's not stifle job growth."
Conducted by consulting firm mLightenment, the study predicts the number of mobile marketing jobs to increase from 524,000 in 2012 to 1.4 million in 2015. Mobile marketing spending is also predicted to increase, jumping from $6.7 billion in 2012 to a nearly $20 billion in 2015 for a compound annual growth rate of 52%.

The study projects sales via mobile devices will increase from $139 billion in 2012 to more than $400 billion in 2015.

While the overall spending and sales growth rates are predicted to correlate, the study also found that the return on mobile advertising spending will decrease slightly through 2015 as the smartphone market diversifies. The ratio of sales to spend will drop from $20.77 per dollar spend on marketing in 2012 to $20.25 in 2014.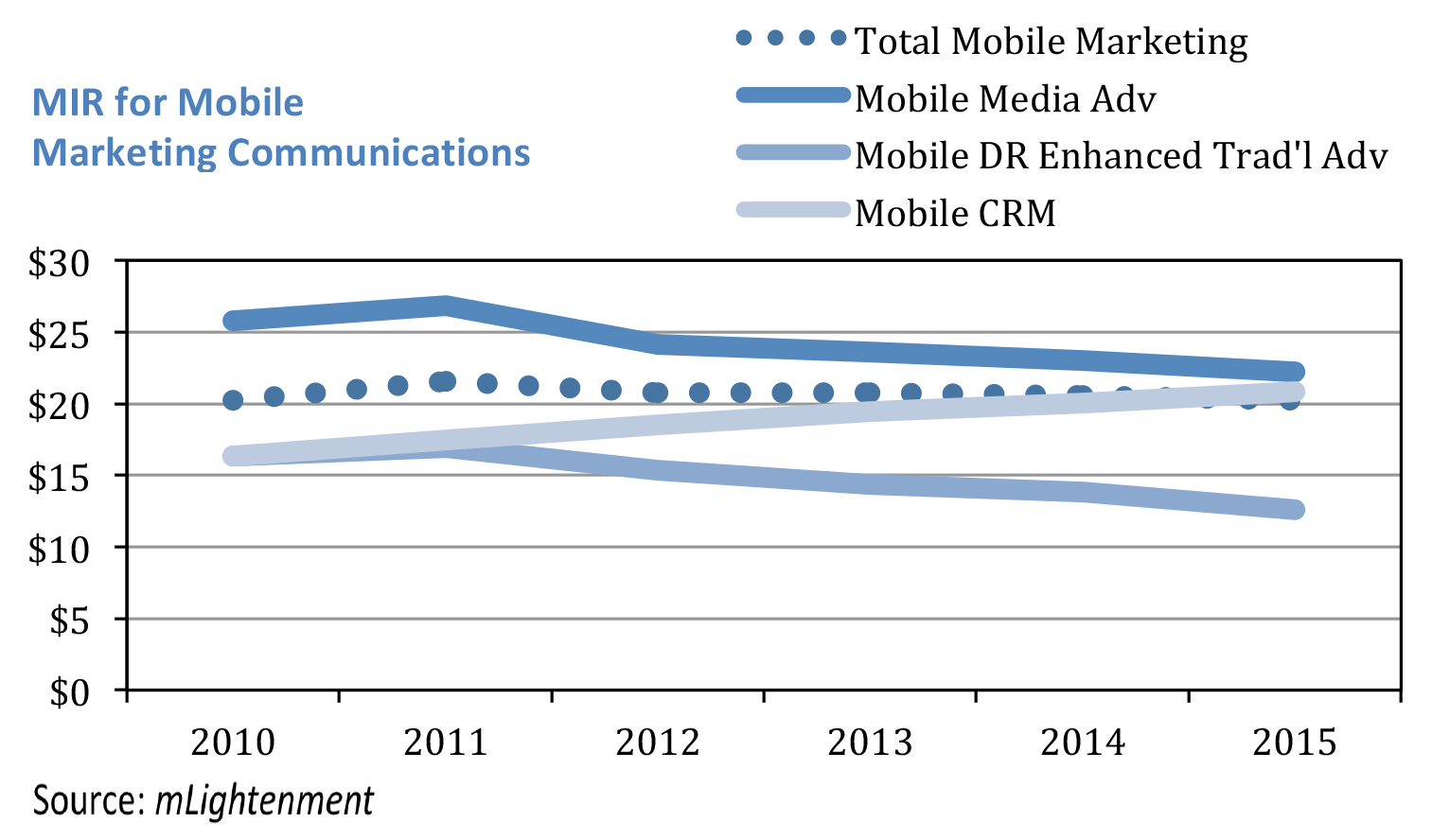 To date, the smartphone market has skewed toward young, high-income consumers. As lower-income consumers become smartphone users for the first time, returns are likely to experience a small drop, the study predicted.
The findings that returns will decrease seemingly contradicts the study's findings that mobile "defies the law of diminishing returns." Per the report, the industries that spent the most on mobile also experienced the highest return from the channel.
"Historically, spending in all other mediums eventually flattens out and declines. We don't see that curve in the data that we have," Joe Plummer, professor of marketing at the Columbia University School of Business and one of the lead researchers in the study, said. "We looked at the sales of high-end and low-end spenders in mobile, and while the correlation is not 1.0, it was in a positive direction."
Mr. Plummer said the study drew upon federal agency research, academic journals and primary research such as interviews and surveys. You can find the study in its entirety below.