Advertisers will either cry with laughter or happiness following Twitter's announcement of emoji based-targeting.
The company's move is in time for next month's World Emoji Day, which is July 17, apparently.
Advertisers can make the most of the cartoonish icons by targeting consumers who have tweeted or engaged with tweets that feature emoji. That means someone in Chicago who tweets a pizza emoji can now be targeted by a local restaurant to come in for a delicious slice of deep dish.
More than 110 billion emojis have been tweeted since 2014, according to Twitter, which says they can signal a person's mood or mindset, "unlocking unique opportunities for marketers and brands."
"According to the Oxford Dictionary, the 2015 word of the year was none other than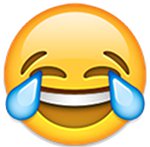 --an emoji," Neil Shah, ads API product manager at Twitter said in a blog post. "Emojis have become a ubiquitous way for people, publishers, and brands to express their feelings."
The feature is available to all advertisers through Twitter's select Ads API partners, which include AdParlor, Amobee, HYFN, Perion, SocialCode, and 4C.