What's this?
This content is created by an Ad Age Publishing Partner. Find out more about this program.
Foursquare
The holiday engagement strategies you need to be using
It's no surprise the holiday shopping season is a critical retail tent pole. In fact, Foursquare data shows that consumers visit retailers 30 percent more frequently from Black Friday to Christmas, as compared with the rest of the year. But more crowds usually means more noise—and reaching today's consumers in a sea of marketing "jingle bells" has become all the more challenging.
While we know that over 90 percent of shopping still takes place in the real, physical world, it's important for brands to contemplate the power that location technology can have to not only measure retail foot traffic but drive it. Our unique understanding of how people move in the real world gives us the ability to analyze foot traffic patterns and shopping trends from our nationally representative group of U.S. consumers who make up our always-on foot traffic panel.
Today, we're taking a look at last year's most prescriptive shopping behaviors to deliver the top strategies your business can apply to stay ahead of the holiday competition. Let's unwrap a few from our latest report.
1. Capitalize on key shopping days.
One of the biggest misconceptions is assuming that uniform consumer behavior applies equally to all holiday shopping days—but this simply isn't true. Our data has uncovered that the closer it gets to the holidays, the more foot traffic spikes. The most egregious procrastinators are often enticed and rewarded with better deals. For the greatest influential impact, consider pulsing out your promotions to take advantage of the two weekends before Christmas.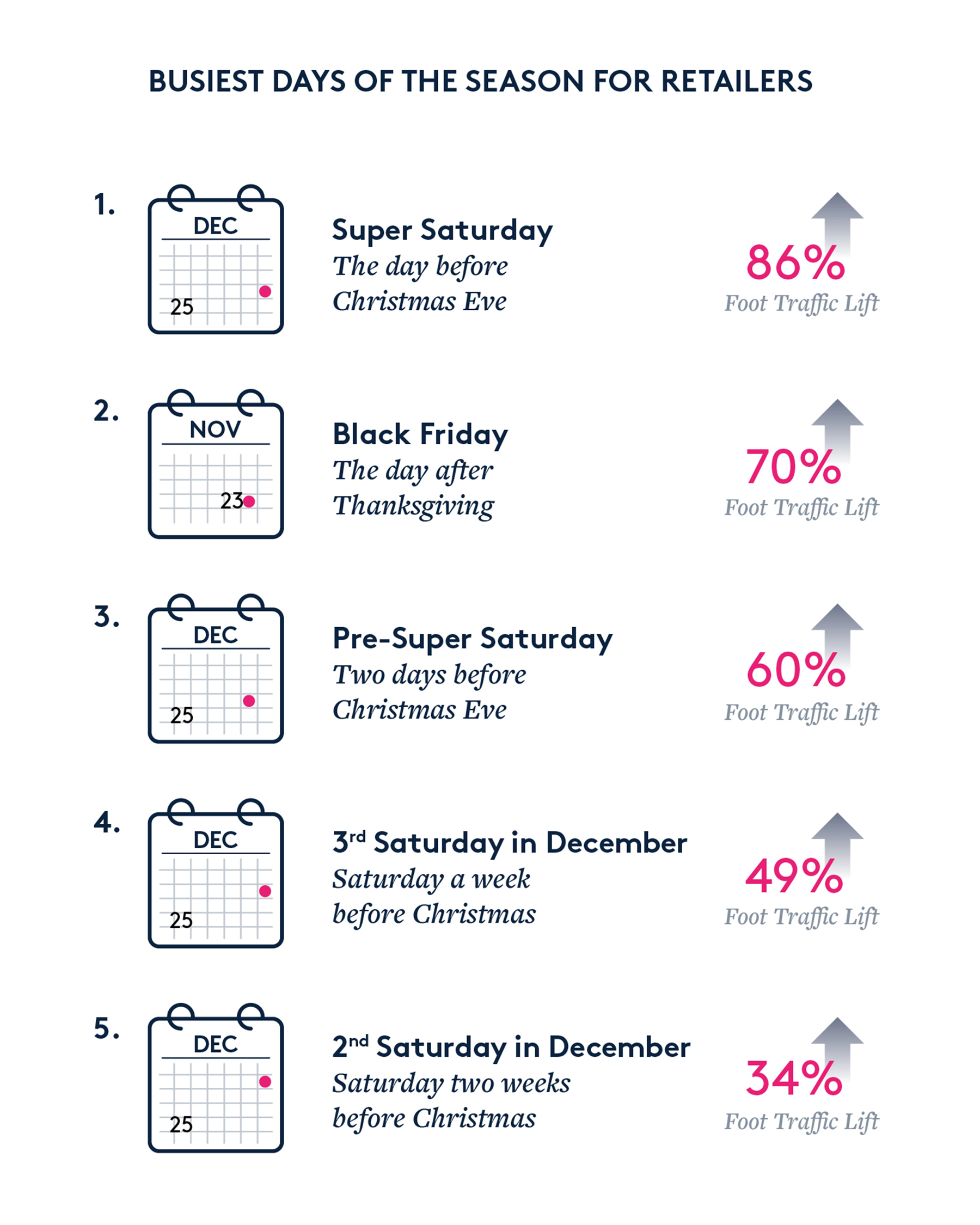 2018 Foursquare Holiday Retail Report
Location technology can also help you uncover slim foot traffic differences that can actually make a big difference when campaign planning. For example, did you know that on average, shoppers visit more stores the day before Christmas than they do on Black Friday? Consider working with a location technology partner to determine which days and times can have the greatest impact on your business.
2. Focus on proximity and convenience.
When picturing the foot traffic patterns of holiday shoppers, does your mind go to a widespread, spiderweb-like map? Even though consumers are out and about, many of them actually aren't venturing very far. Our data revealed the majority of holiday shoppers tend to frequent stores closer to home over the holidays, perhaps prioritizing convenience as they shop for gifts, entertaining essentials and travel necessities. This trend also spans across nearly every retail category.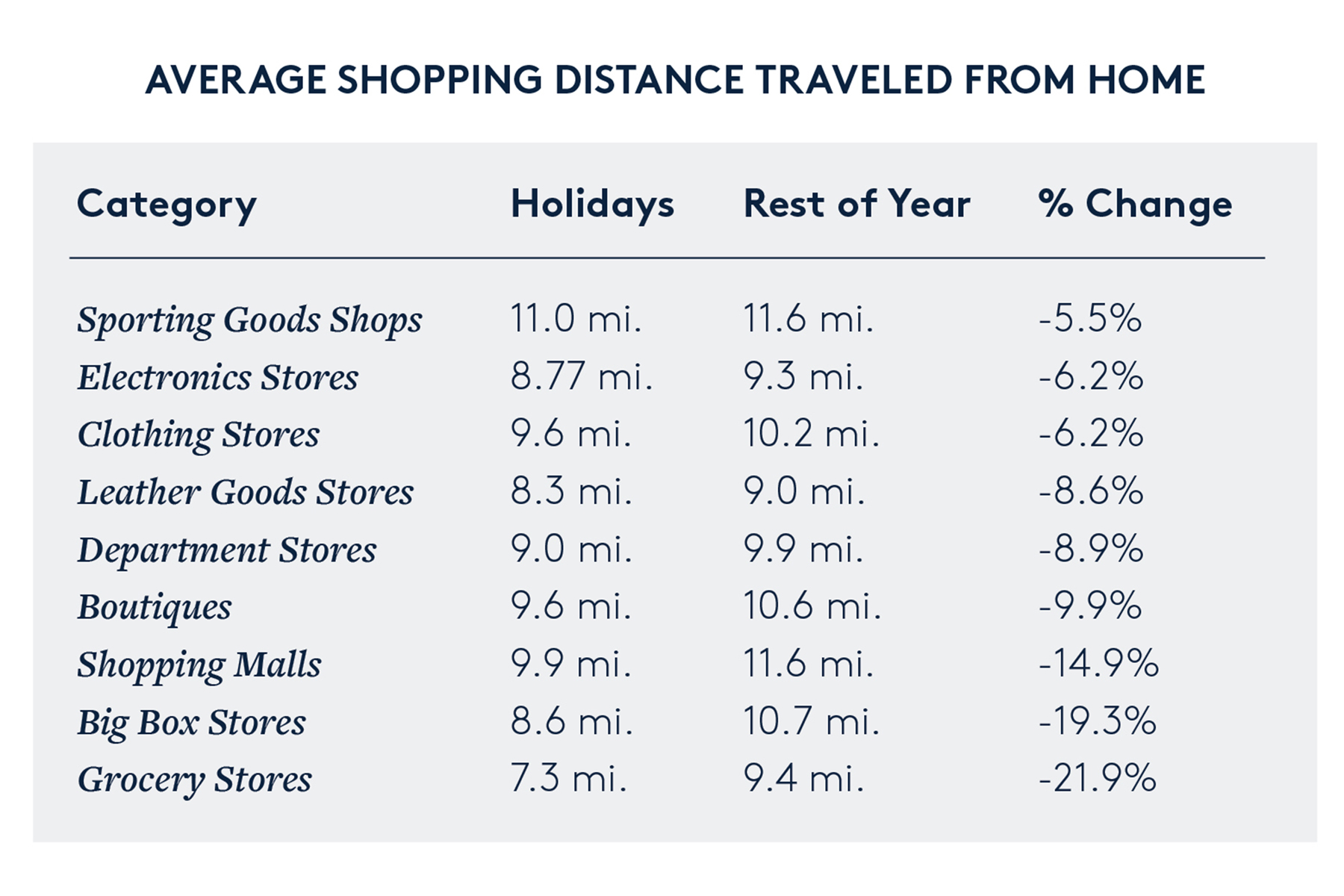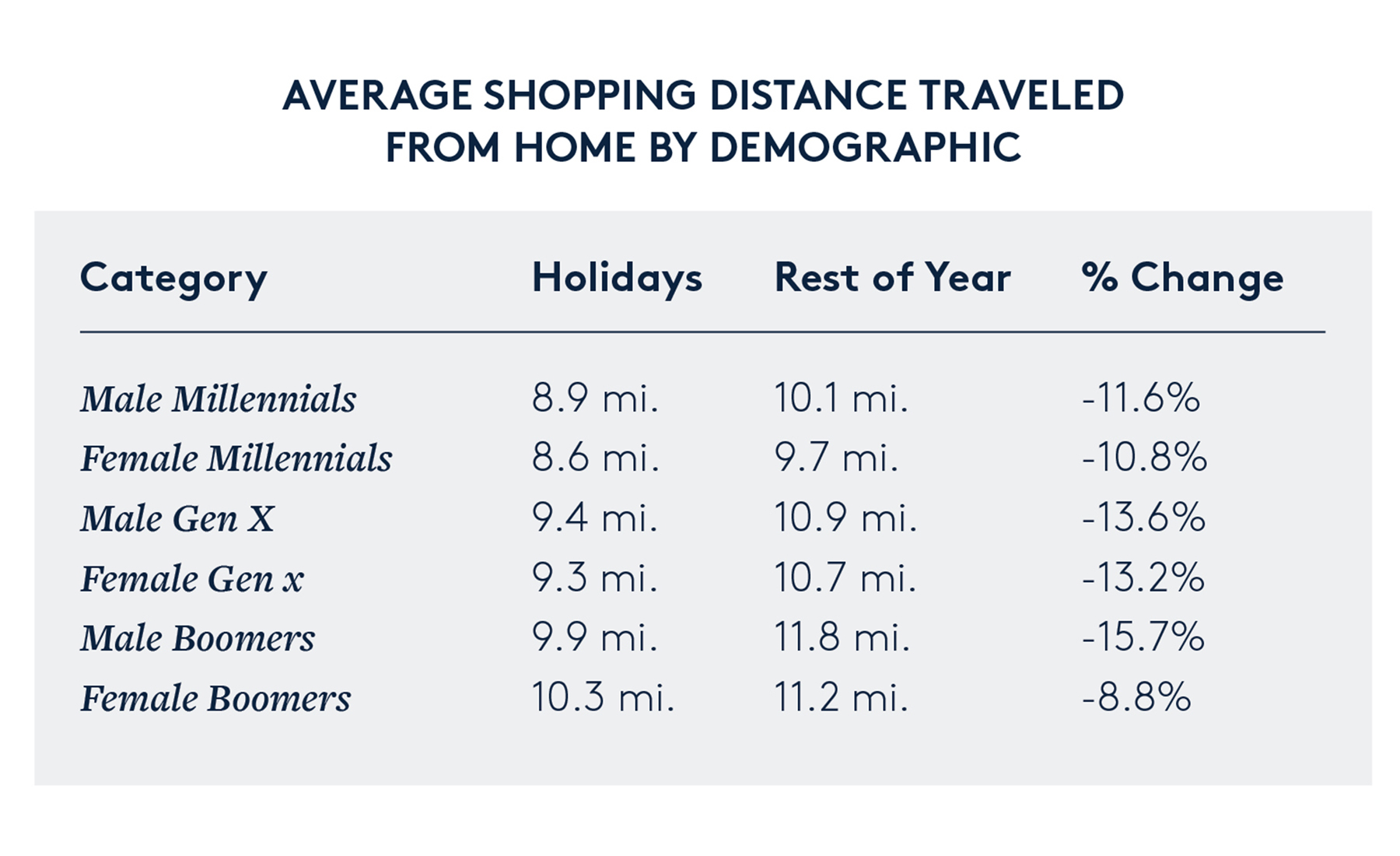 2018 Foursquare Holiday Retail Report
Interestingly, baby boomer males and female millennials, overall, want to to travel the shortest distance to shop. What audiences are you targeting this year and how do they compare? Make the most of smarter proximity targeting with location-enabled creative, making it easier for consumers to find what they're looking for.
3. Reach shoppers in real time
We already know consumers are snowballed with messaging during the holiday season—so how can a brand stand out from the pack? Undoubtedly one of the most impressive aspects of location technology is the ability to send highly relevant, contextual messages. Communicating the right message at the right time can improve not only the way your audience engages with your brand, but the way it takes action.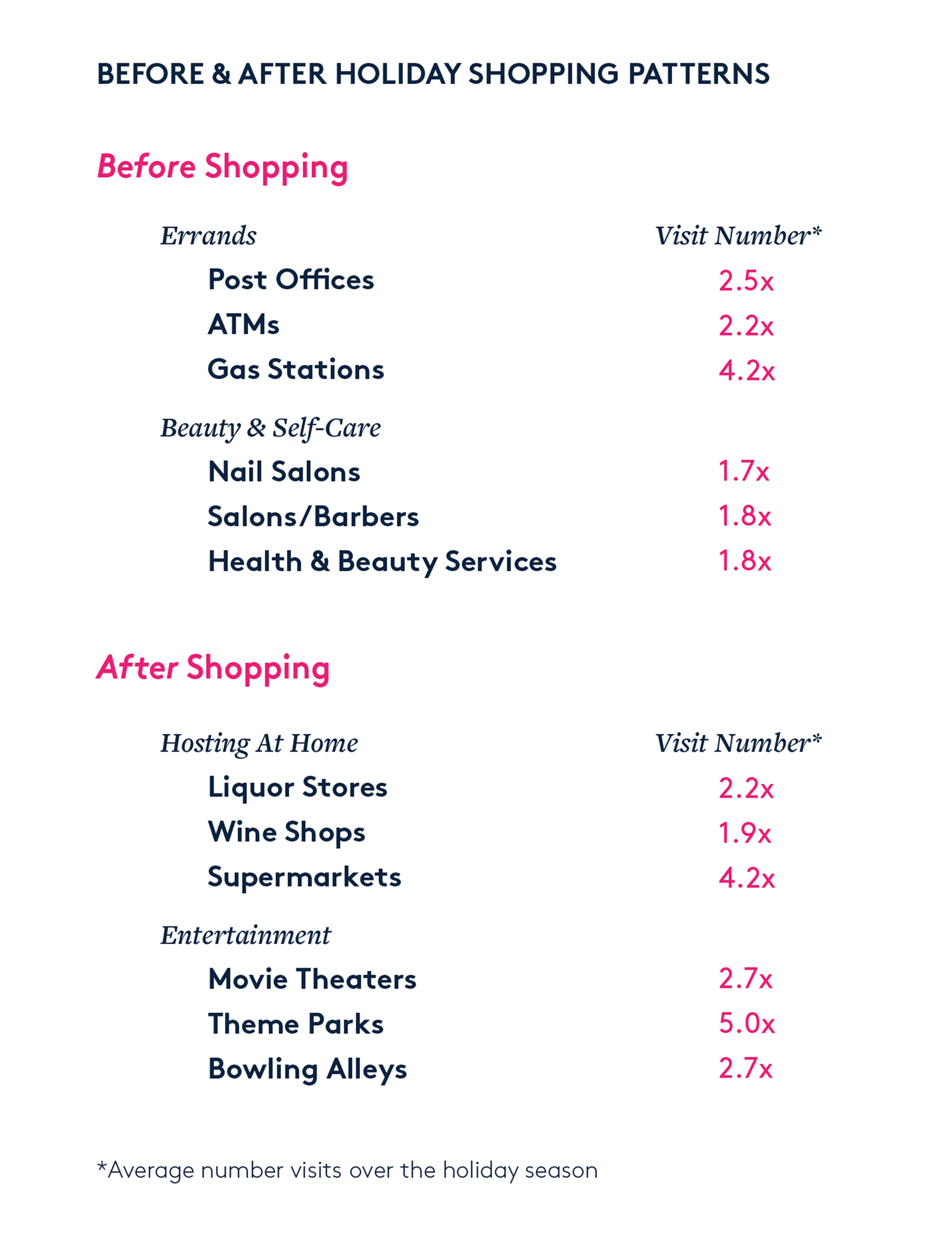 2018 Foursquare Holiday Retail Report
During the busy holiday season, every hour of the day counts. Can you make shopping easier by connecting with consumers, say, when they're getting ready to run errands? For more contextual outreach, think deeper about both before and after shopping windows, boosting top-of-mind awareness and building brand affinity outside of shopping moments.
To get access to all 10 exclusive holiday retail strategies, download our 2018 Holiday Retail Report. We'd love to hear what you think—get in touch by visiting us at enterprise.foursquare.com or email [email protected].
Editor's Note:
Foursquare analyzes foot traffic patterns from millions of Americans that make up our always-on foot traffic panel. Foursquare measures 3+ billion place confirmations per month globally. Our location-based apps, Foursquare City Guide and Foursquare Swarm, help us understand trends and notable societal shifts. All data is either anonymized, pseudonymized, or aggregated, and is normalized against U.S. Census data to remove age, gender and geographical bias. Indexed numbers in this report indicate X percentage more likely than the average U.S. consumer to frequent a specific venue or place. For the full methodology, see report.