Media
Cable Ratings Declines Don't Mean Doom and Gloom for Advertising...Yet
Networks Scramble as Commercial Ratings Decline, Ad Buyers Commit Fewer Dollars in Upfront
Cable burnished the glow of the modern "golden age of TV" at the Primetime Emmys earlier this month as networks including HBO, AMC, FX, Showtime, Comedy Central, IFC, Bravo and Discovery came with the most nominations and left with the most wins.
But interest in ad-supported cable in particular is fading, at least by the measures that matter to marketers. Commercial ratings during cable shows' first three days of viewing fell 10% in prime time from the quarter a year earlier, according to Sanford C. Bernstein analyst Todd Juenger. That's not a blip: Between September 2014 and August 2015, FX saw its C3 ratings in prime time decline nearly 16% among its core 18-to-49-year-old viewers in prime time. USA Network's C3 ratings among 18-to-49-year-olds fell nearly 19%. History lost about 24% of its key viewers aged 25 to 54 and A&E plunged 29% in the same group.
Ad buyers, meanwhile, committed fewer dollars to cable in the annual upfront market than the year before. It was the second annual decline in a row, something not seen in cable since the recession. Hikes to cable-network CPMs, industry jargon for the cost per thousand viewers, also got smaller.
"Money was and has been pulled out of the market based on performance," said Jason Kanefsky, exec VP-director of strategic investments, Havas Media. "The good news is digital and search can absorb most of the dollars."
You'll forgive network execs for wishing they could cash Emmy nominations in for ratings.
With that sort of alchemy out of reach, however, cable is doing everything it can to keep marketers invested until ratings rebound -- or at least find a new normal.
For years, advertisers had sought solace in cable TV as broadcast ratings declined. And for the most part, it was an easy transition. Cable was able to duplicate broadcast's, well, broad reach at a cheaper price. As a result, cable TV became a meaningful part of marketers' media plans, and it would now take an ocean of digital media to fully soak up advertisers' cable budgets.
Cable volume fell 2.3% at the upfront, for example, but still totaled an estimated $9.45 billion, according to consulting firm Media Dynamics. In comparison, broadcast volume fell 3.7% to $8.4 billion.
On an average client's schedule, about 70% to 75% of gross ratings points come from cable, according to Rino Scanzoni, chief investment officer, GroupM, one of the largest buyers of TV ad time for marketers. As long as networks keep prices reasonable, many marketers are willing to simply rejigger which cable networks they buy and diversify the mix to accumulate the same total as before.
"Ratings erosion does not necessarily drive investment reduction unless it creates meaningful inflation," Mr. Scanzoni said. "Even with the audience declines, there has been no real decline in reach nor significant CPM inflation. A 10% decrease in ratings doesn't mean you now can't reach 10% of the population."
Eager to maintain their supply for clients, networks are also starting to take the ad time they usually sell to direct-response marketers and offering it to brand advertisers instead, Mr. Scanzoni said.
More controversially, they're increasing the amount of time they can sell by stuffing their shows with more commercials. Among the biggest culprits is MTV owner Viacom, which increased its ad load by 7% in the second quarter, and A&E Networks, where commercials increased 5%, according to Mr. Juenger, the Bernstein analyst.
But there's a clock ticking on that strategy, because it threatens to drive viewers away and exacerbate the original problem.
"We are certainly keeping an eye on commercial loads," said Michael Law, exec VP-managing director of video investment, Dentsu Aegis. "As viewers continue to migrate across screens and cable ratings trend down, we want to make sure the quality of the viewing experience isn't negatively impacted by longer breaks and more ad clutter."
"A two-hour movie shouldn't take three and a half hours to watch," Mr. Law added, "especially when with the click of a button you can watch that same movie on Netflix."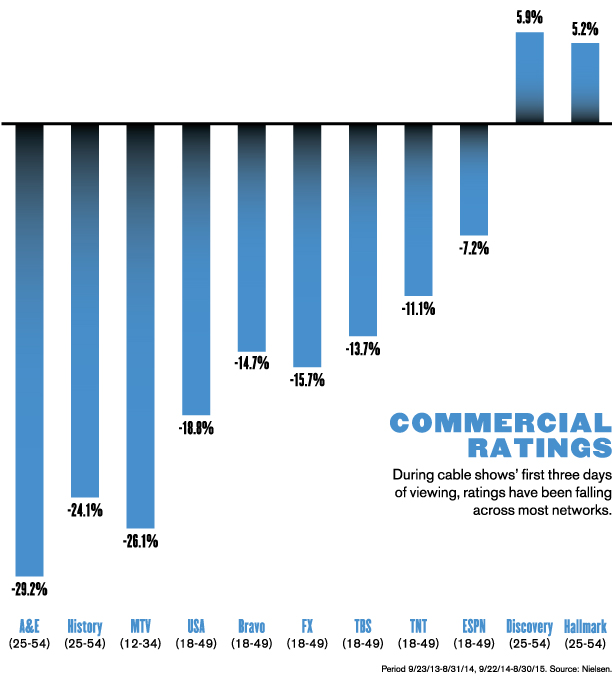 Viacom is responding to the concerns by reducing its commercials in prime time, said Jeff Lucas, head of sales and marketing, Viacom. It will now run about 14 minutes of commercials in prime time, down from about 18.
The company can afford the cutback because it is "building more value in other parts of the business," Mr. Lucas said. That includes the work being done through Viacom Velocity, which is using data, social media and branded content to provide additional value to marketers. "This doesn't get picked up in the ratings, but advertisers are finding value in it," he said. "It has nothing to do with C3 ratings."
"We would love to be able to reduce commercial loads and improve the consumer experience," said another TV sales executive, who requested anonymity. "We are increasing our commercial load selectively and only to meet advertisers' needs. We are focused on creating more sponsorship opportunities and getting advertisers' message on-air in a subtle, less-intrusive way than the 30-second spot."
Going online is not a complete alternative for every marketer, partly because audiences beyond 18-to-24-year-olds can become relatively expensive in digital. But TV executives have also argued, usually sotto voce, that the quality of digital inventory is substandard given concerns over ad fraud and video players that are served out of view to consumers.
Networks' own digital viewing, meanwhile, is going uncaptured by official Nielsen statistics, something all sides say they are working on—but without resolution yet. Many TV executives argue that viewership isn't off as much as C3 ratings suggest if you could only add in audiences that have migrated to watching the same cable fare on streaming platforms instead of TV sets.
What's worse for ad-sales chiefs and marketers alike is audiences' migration to "over-the-top" services that don't allow ads, most notably Netflix but now Hulu's new No Commercials service as well. Even YouTube is planning an ad-free version.
"The growth in cable gave advertisers the opportunity to reclaim broadcast audiences with better targeting and efficiency," Mr. Scanzoni said. "The current shift to OTT services like Netflix reduces access, which will require more radical changes in cross-media investment."
Intriguingly, strong ad sales in the third quarter's so-called scatter market, where advertisers snap up commercial time close to its air date, are perhaps the most galvanizing signpost right now.
The question is, what's behind this strength: a tightening of audience supply or an increase in demand?
Jon Steinlauf, president-national ad sales, Scripps Networks, said growing marketer appetite is driving the market. "The pendulum isn't necessarily swinging back," he said, but Mr. Steinlauf does believe a shift is happening.
"There are some signals from the market that we are heading into a period of TV growth," he added. "Everyone keeps saying ratings are going down, down, down and that Nielsen can't measure it. But TV, I think, is proving to still be a draw for audiences."
The reasons for ratings declines vary. FX Networks CEO John Landgraf has claimed there is too much TV for people to watch in the simultaneous crowds that advertisers need. Others blame viewing on over-the-top services like Netflix and non-ad supported networks, not to mention competition for attention from mobile devices and apps generally.
Mr. Scanzoni said audience declines are inevitable in cable and that the sector will go down the same road as broadcast (which, for its part, declined another 7% in the second quarter). "We won't go back to the days of 3% to 4% annual audience growth in aggregate," he said.
Of course, there are bright spots. AMC continues to find success with series like "The Walking Dead" and its prequel, "Fear the Walking Dead," which debuted this summer as the No. 1 cable launch of all time. AMC's "Breaking Bad" spinoff, "Better Call Saul," also delivered an impressive first season.
USA generated plenty of buzz for "Mr. Robot," so much so that it renewed the drama for a second season before the first ever debuted on linear TV. Good audiences followed, enough to make it the summer's top-rated zombie-less cable show. More good news for USA and perhaps cable in general: Nielsen ratings aside, "Mr. Robot" had been viewed 17.4 million times by the start of this month on digital platforms that don't allow ad skipping, primarily video on demand.
And cable news networks are riding a Trump Tower-sized upswing as we enter a presidential campaign cycle.
Then there's one more crucial advantage that cable will play to the hilt: the well wishes of the same ad buyers who have put so many client dollars there for years. "Everyone's hope is that there is some stabilization," said David Campanelli, senior VP-director of national broadcast, Horizon Media.
Cable is still "incredibly strong," said Brent Poer, president, LiquidThread, Starcom MediaVest's branded content division. "It still gets the talent; the shows are well-produced and well acted. There's still power behind those networks and platforms."
"Ratings are a reflection that people aren't aggregating for that one moment," he added. "Yeah, there's lots of fragmentation, but I don't think it is any less important. I still believe TV works and builds reach, but it's a more complex world."