Bad news for all you out there who spend your careers building brands: New research shows that more than half of millennials have no use for them. But there's hope for you yet if you understand what makes this generation tick and how to reach them.
by
Adrianne Pasquarelli
Published on August 21, 2017.
Jonathan Wu only buys generic drugs—he would never spend money on Advil or Tylenol. He's impressed with the less costly, store-brand version of Neutrogena's Dry-Touch sunscreen, and he loves the frozen chicken tikka masala that you can only buy at Trader Joe's.
"I only care about the product—who cares about the brand? I'm willing to experiment," says Wu, 30. "I'm going to try everything out there. I'm not loyal."
Wu, who lives with his parents while he works on his startup business building and renting tiny houses in suburban backyards, is marketers' worst nightmare.
And now a new study shows something even more profound for marketing: Among his generation, he's in the majority.
While it is perhaps a fool's errand to paint an entire generation with the same brush, just over half of millennials, 51%, have no real preference between private-label and national brands, according to the study by Cadent Consulting Group, a four-year-old firm based in Wilton, Conn. Such apathy is in stark contrast to millennials' baby boom parents, a brand-loyal group who were raised with fewer choices, different advertising channels and only one real media screen. Gen Xers' media environment wasn't much different, save for the arrival of cable TV.
HOW DO MILLENNIALS SEE YOUR BRANDS?
(Hover over the image below and find out)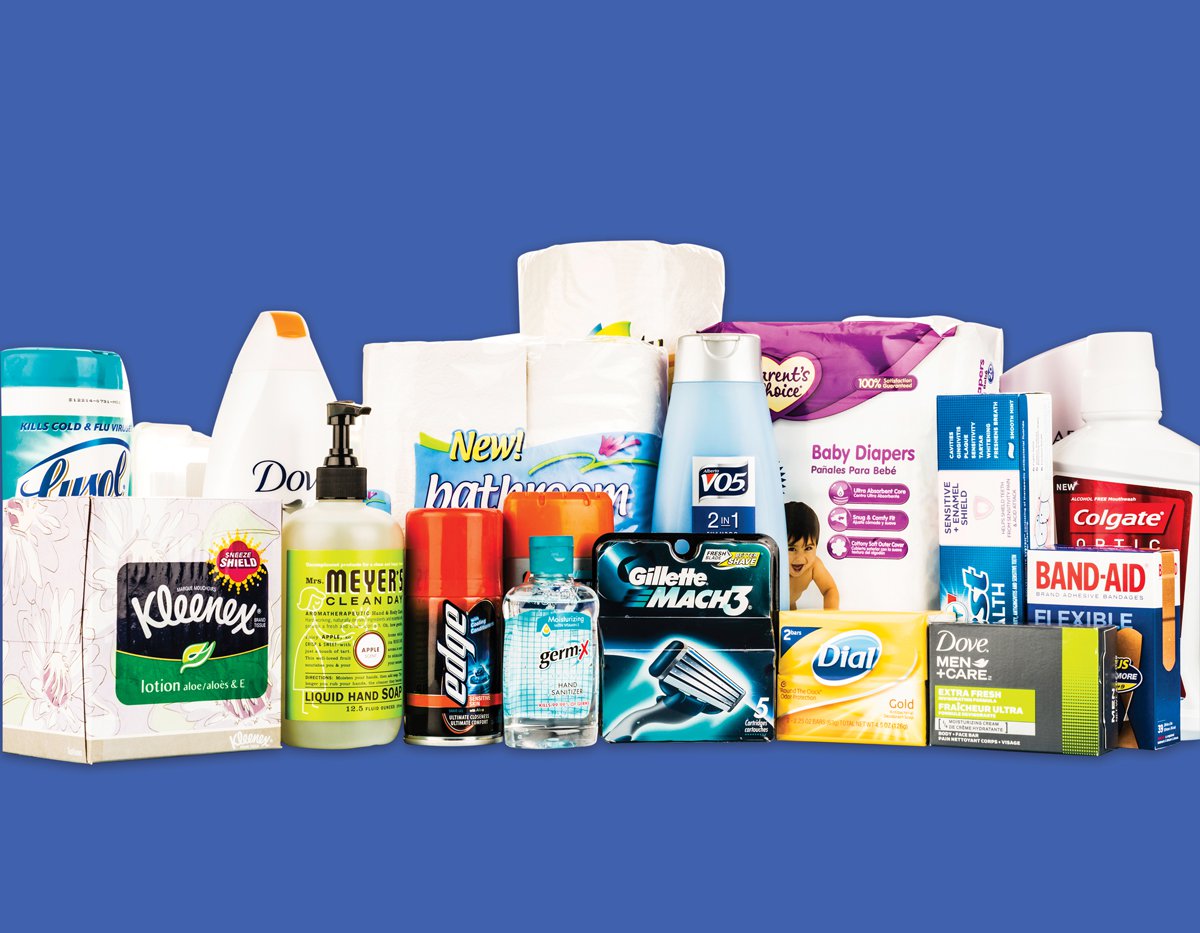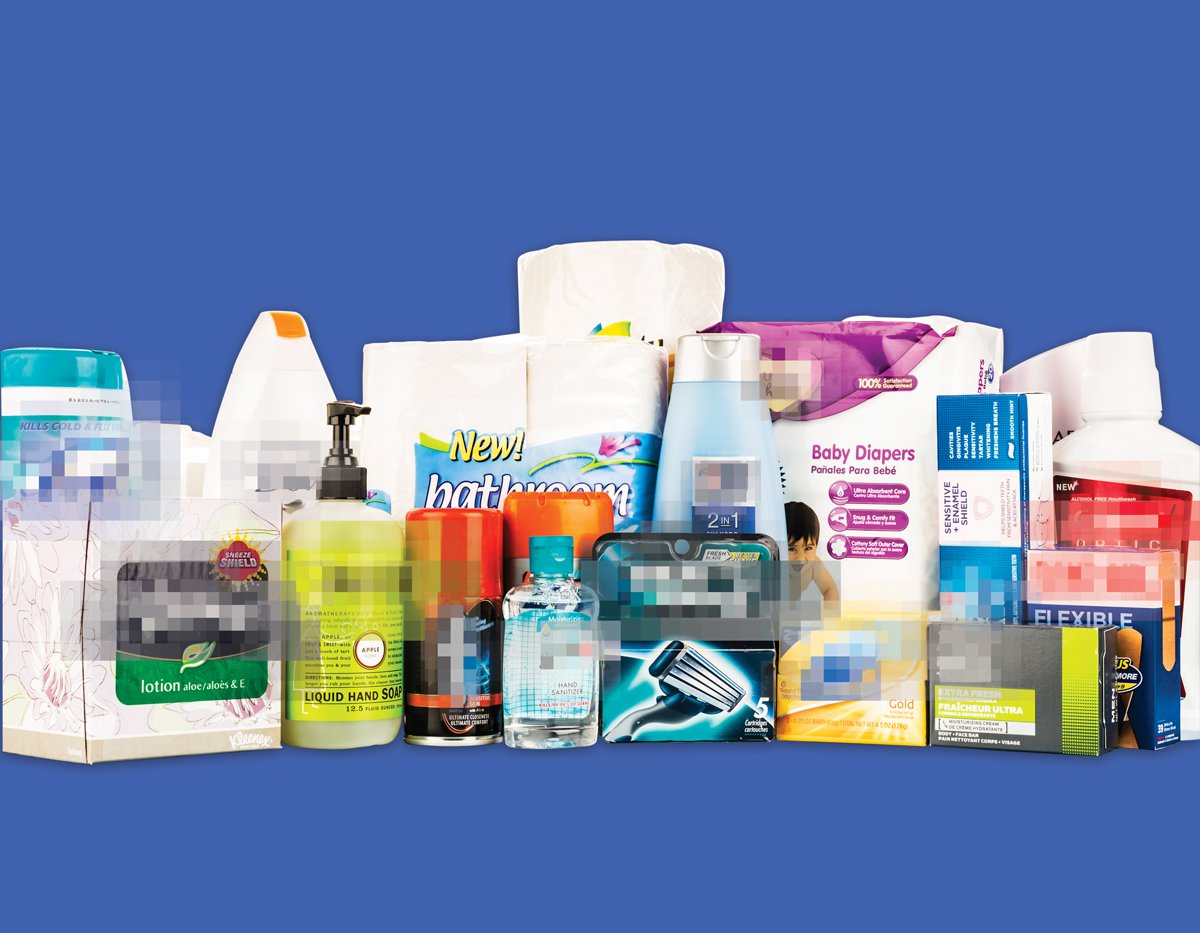 "Millennials didn't grow up with the same advertising, the same exposure, the same big three TV networks," says Don Stuart, a managing partner at Cadent. Indeed, "It's a completely different consumption of media driving a different consumption of products," says Karen Strauss, Stuart's colleague and a principal at Cadent.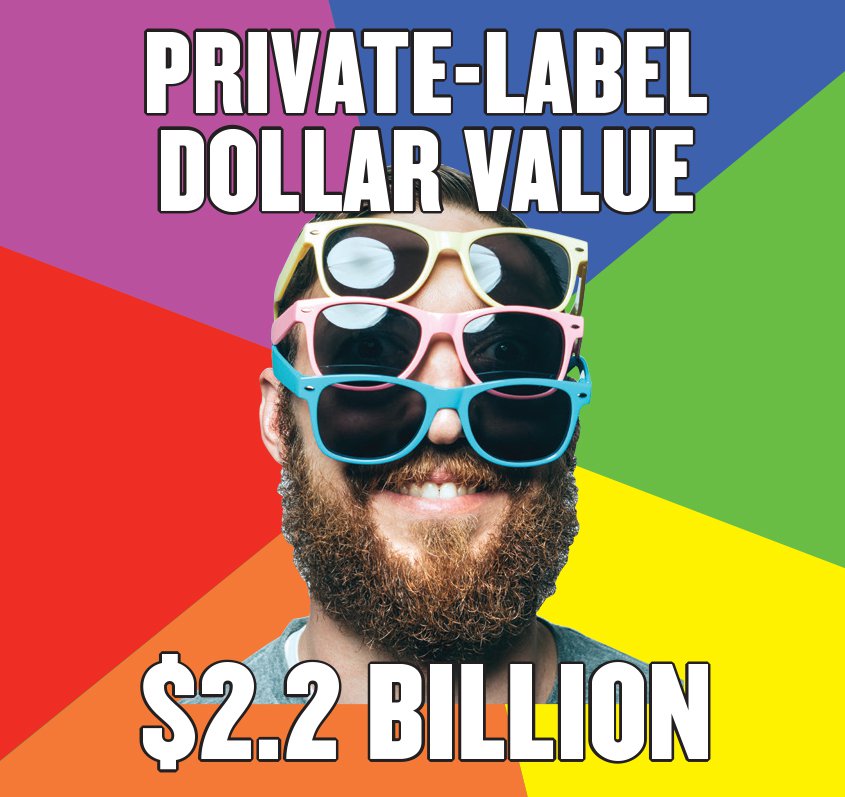 The shift is opening the door to new entrants, like Aldi and Lidl, grocers from overseas that emphasize their own private labels. There's also Brandless, a month-old startup aiming to revolutionize the industry of everyday essentials by selling unbranded goods for $3 each. While the Cadent study focused on food and consumer packaged goods, millennials' lack of preference for national brands is also evident in categories including travel, insurance and fashion, according to experts.
To win over Jonathan Wu and people like him, established brands are being forced to rethink the fundamentals of traditional marketing. Hammering away at the benefits of "cleaner, whiter and brighter" in mass media does not resonate with a demographic swayed by intangibles such as community and sustainability, and who are influenced by peers, review sites and outlets like BuzzFeed.
"Understand that millennials are the ultimate day traders, and that's what's driving changes in food, restaurants, travel, insurance," says Jeff Fromm, co-author of the book "Marketing to Millennials" and a partner at ad agency Barkley. "They're trading up and down and brands don't matter. If your brand isn't unique, you run the risk of being traded out for private-label or a low-cost alternative."
Historic brands angry at taking a back seat can blame 2008's recession. When the millennial market came of age, the economy was in shambles and consumers, recently out of college, struggled with student debt. They were lured in by new, purpose-driven brands, like Warby Parker or Casper, which promised lower prices as well as a charitable mission at odds with their seemingly money-grubbing, more recognizable competitors. Those attributes are proving tough for national brands to convincingly adopt.
"The recession was definitely a trigger for this," says Madeleine Kronovet, a senior strategist at RedPeak who runs the company's youth practice. "It was a reconfiguration [for millennials] of how much of my hard-earned dollars have to go to large corporations and brands, and how much can I get of what I need to get for a lower price point."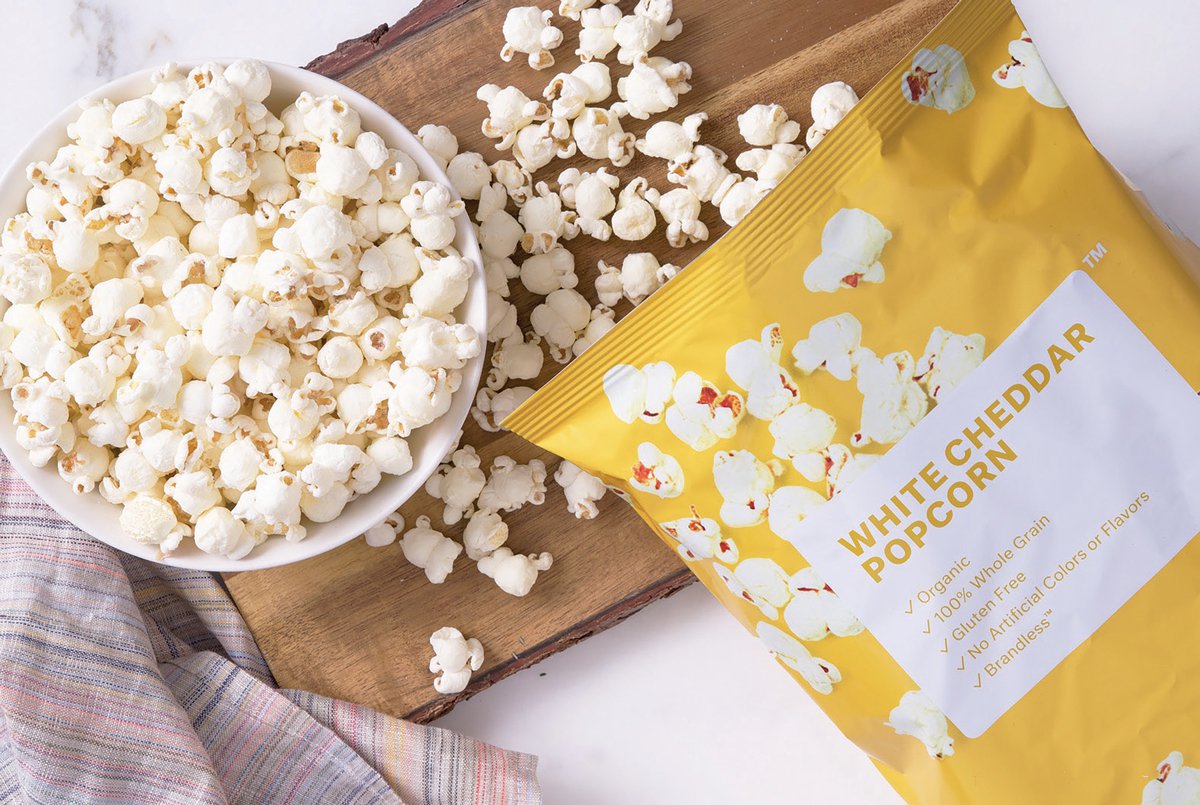 These days, shoppers are driven by life-hacking—using a mixture of reviews, social media sources and store-to-store pricing to wring the most value from a product. While millennials are willing to spend on one must-have, they're more apt to buy generic for everything else. Wu says he outsources his testing to the internet, for example. "I don't understand why I would ever blindly pick up a brand without opening my browser and spending 10 seconds to find out if a product is good enough," he says.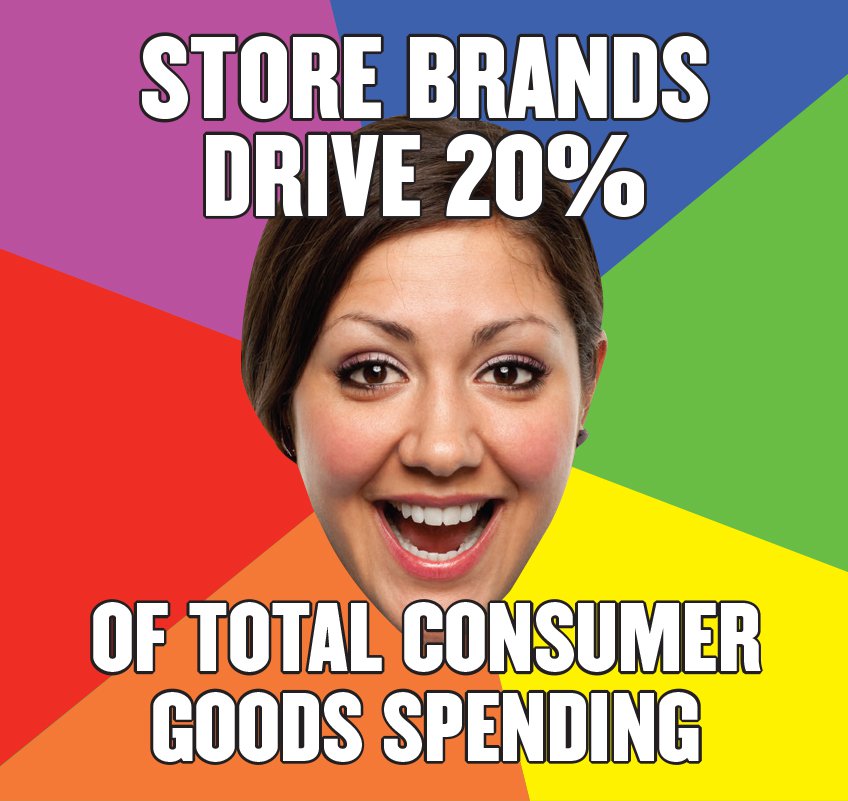 In addition, experts say purchases are more benefit-driven than brand-driven. Whether a marketer offers delivery, for example, could influence a purchase. Millennials are also much more willing than previous generations to experiment with new brands, as evidenced by the growing popularity of direct-to-consumer ecommerce offerings. And they're eager to customize their own experiences. That includes the way they're replacing radio and TV schedules with Netflix binges and Spotify playlists, but it doesn't end there. They thrive on options—the more, the merrier.
"They grew up with abundant information and abundant access to that information," says Fromm. "Baby boomers grew up in a world where there were not private-label choices. They're less comfortable crowd-sourcing information from a variety of sources."
Those private-label choices have gotten more plentiful and better-looking, besides. As consumers change their buying habits, some retailers, recognizing the potential, are focusing more on their in-house brands. Target is in the process of rolling out a dozen of its own brands, ranging from home decor to womenswear. Dick's Sporting Goods is also investing more in a private-label strategy. Much of the time, consumers can't tell the difference between a store brand and a national player. Some retailers, like Target, have worked hard to make them indistinguishable by investing in better packaging, using clean designs and modern fonts and colors.
"Some of the more generic brands have upped their branding and design game," says Kronovet. "When they're appearing next to a Tylenol on a shelf, you're no longer really believing that the Tylenol brand is offering more than Target's Up & Up brand. You turn the label over and see it's the same ingredients."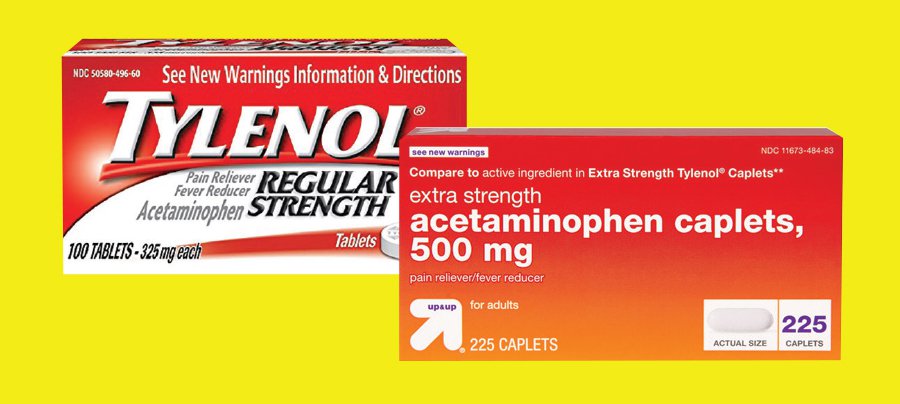 Indeed, last year, private-label brands at retailers including Walmart and Target grew at four times the rate of national brands in the mass merchandisers category, according to the latest Private Label Yearbook, an annual report from the New York-based Private Label Manufacturers Association. The report, which uses data from Nielsen, said private-label sales in the mass-market category totaled $2.2 billion in 2016, a 4.6% increase over 2015. That compares with a 1.1% year-over-year increase for national brands. One big marketer, Dean Foods, which sells dairy brands like Land O Lakes and TruMoo, reported disappointing second-quarter earnings earlier this month. Dean executives said its brands have been weaker than its private-label products.
"Store brands are driving 20% of total consumer goods spending and contributing more than a quarter of overall growth," says Jordan Rost, VP, consumer insights at Nielsen. "They're taking share away, in some cases, from the national brands with which they're competing. That growth has been consistent in recent years," he adds.
Whole Foods has certainly noticed the trend. The chain, which recently agreed to be acquired by Amazon for $13.7 billion, reported in its 2016 annual report that private-label brands, led by its 365 Everyday Value label, selling everything from peanut-butter-filled pretzels to salted caramel ice cream pops, accounted for about 15% of total retail sales that year, up from 8% a decade earlier. Amazon is also quietly growing its own AmazonBasics label, selling items like batteries, paper shredders and wee-wee pads to brand-agnostic buyers.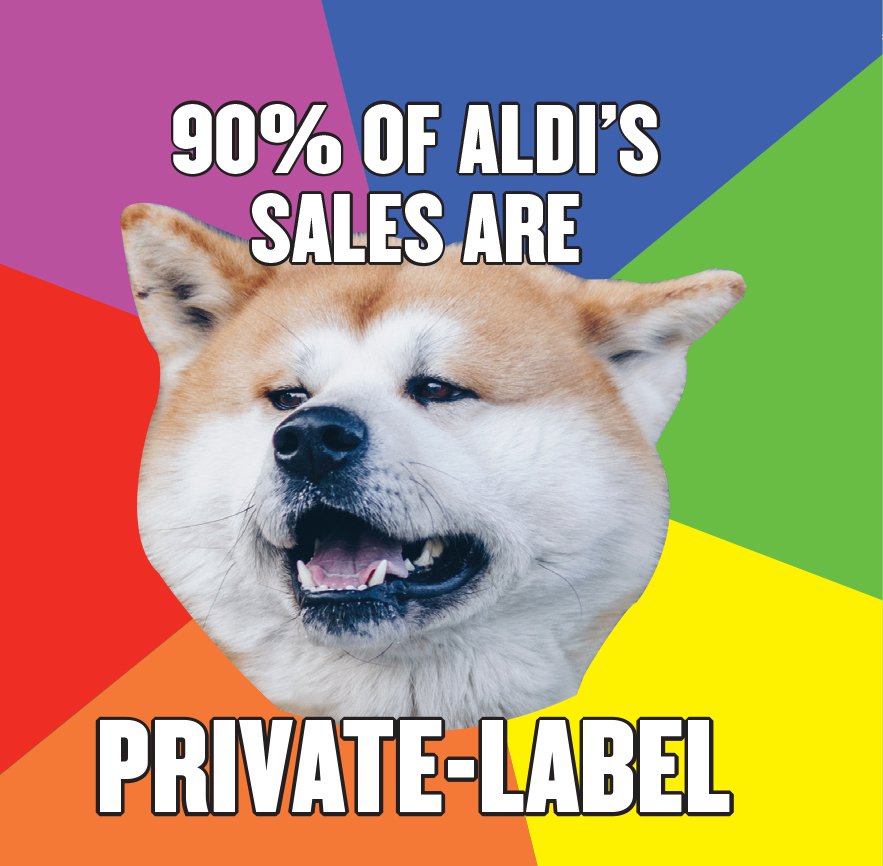 European grocers sense the opportunity too. German chain Aldi, where 90% of the products on its shelves are its own private label, has expanded its U.S. presence from one store four decades ago to 1,700 now. It recently announced plans to accelerate its U.S. growth to reach 2,500 stores by 2022. The company is investing $1.6 billion in remodeling its current fleet, a spokeswoman adds, noting that Aldi communicates with shoppers through modern channels including Twitter, Instagram and Facebook.
Lidl, another German supermarket chain, opened its first U.S. grocery store in June and plans to debut up to 100 along the East Coast by next spring. A spokesman for the company, which also counts 90% of its own brands in its assortment, noted that Lidl is "laser-focused" on delivering higher quality and lower prices.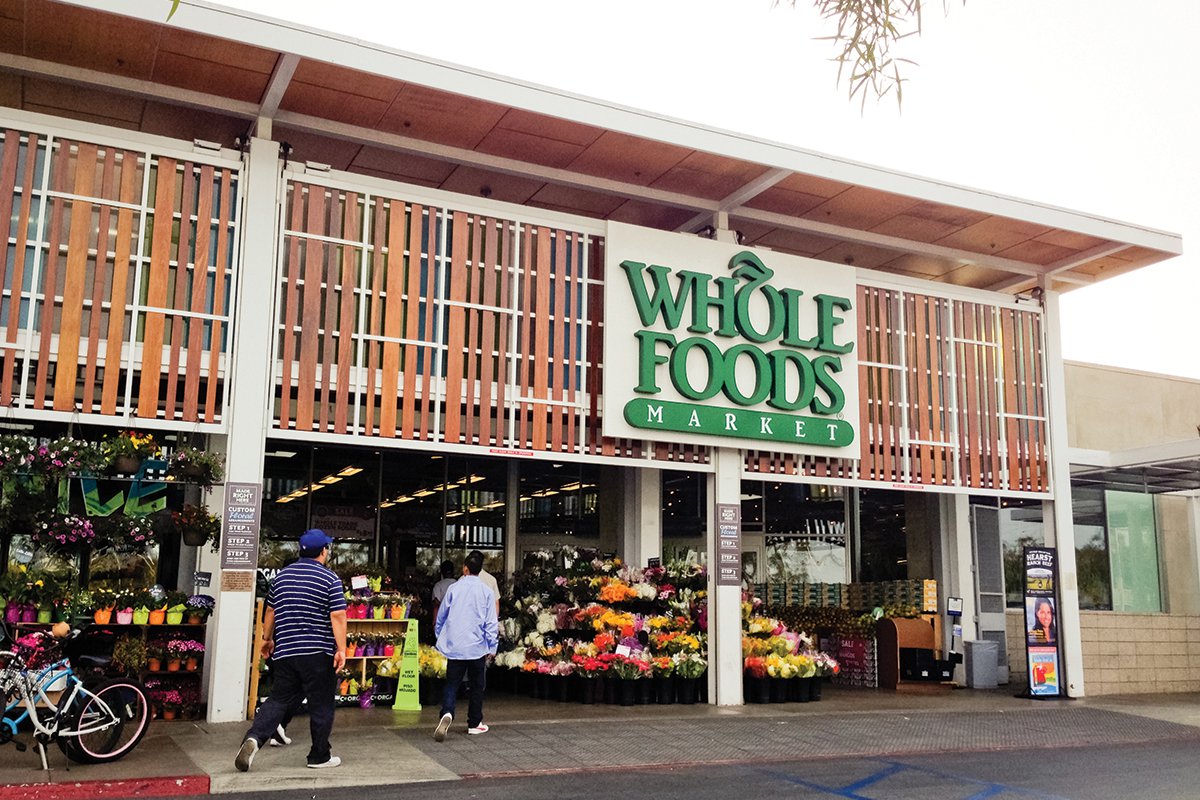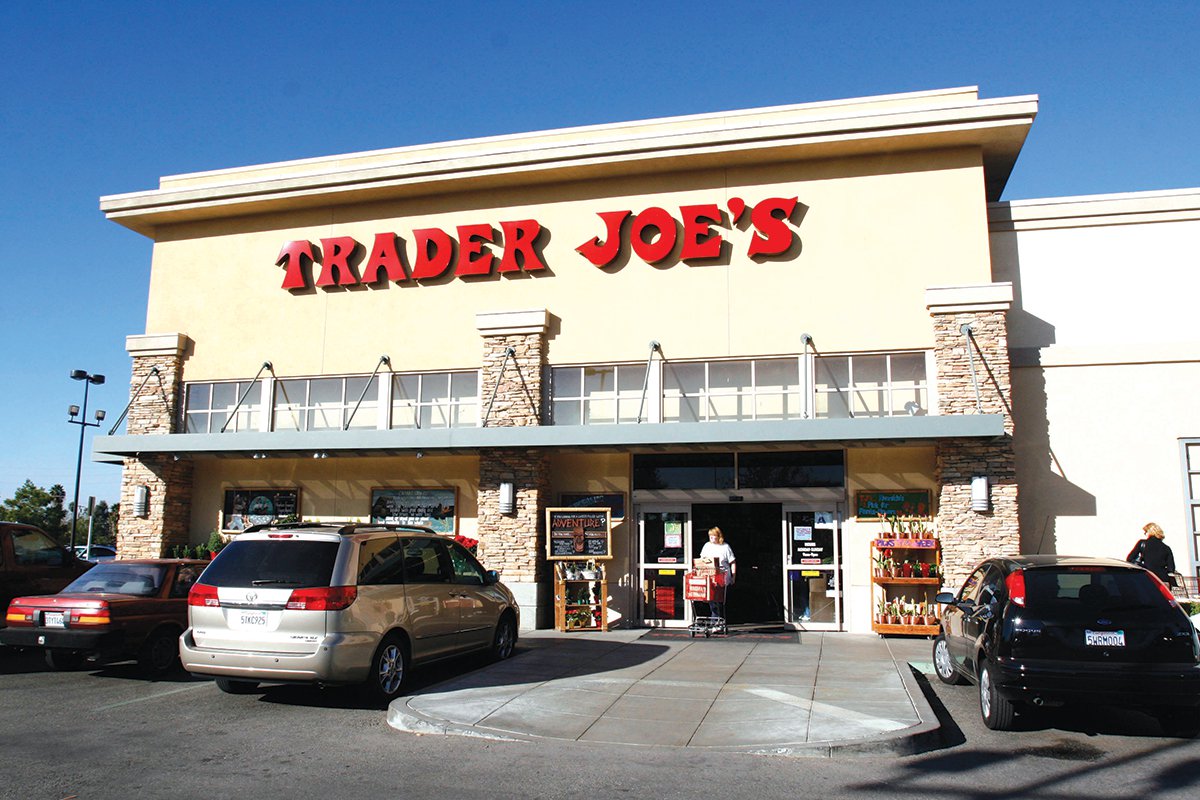 Losing trust in brands of yore
One of the most recent newcomers is a product of Silicon Valley. Brandless, which was conceived three years ago by entrepreneurs Tina Sharkey (she co-founded iVillage) and Ido Leffler (he co-founded school supplies company Yoobi), promises better products for less money. With items such as organic arrabbiata pasta sauce and eucalyptus and lavender hand soap each costing only $3, the ecommerce company has already caught on. Just four days after its July 11 launch, the San Francisco-based outfit was filling orders in 48 states, says Sharkey, the CEO.
"We've lost trust in so many brands out there," she says, noting that some millennials also said they're rejecting government institutions. "We decided to redefine what it meant to be a brand—it's not about the false narrative of Madison Avenue and 'Mad Men,' these fictitious back stories. In Selfie Nation, the brand narrative is the story you want to tell." The venture-capital-funded company is increasing its 200-deep product stable on a daily basis with new items.
Millennials don't care about your brands
What are you going to do about that?
+
(Click for more)
Reach and frequency: That's been branding's standard formula for decades: Find consumers through broad-based media and hit them over and over with your message. Good luck doing that with millennials.
When you're dealing with a demographic that discovers products on BuzzFeed rather than through traditional mediums like television, the same old marketing model won't work. Here are four ways to win over millennials.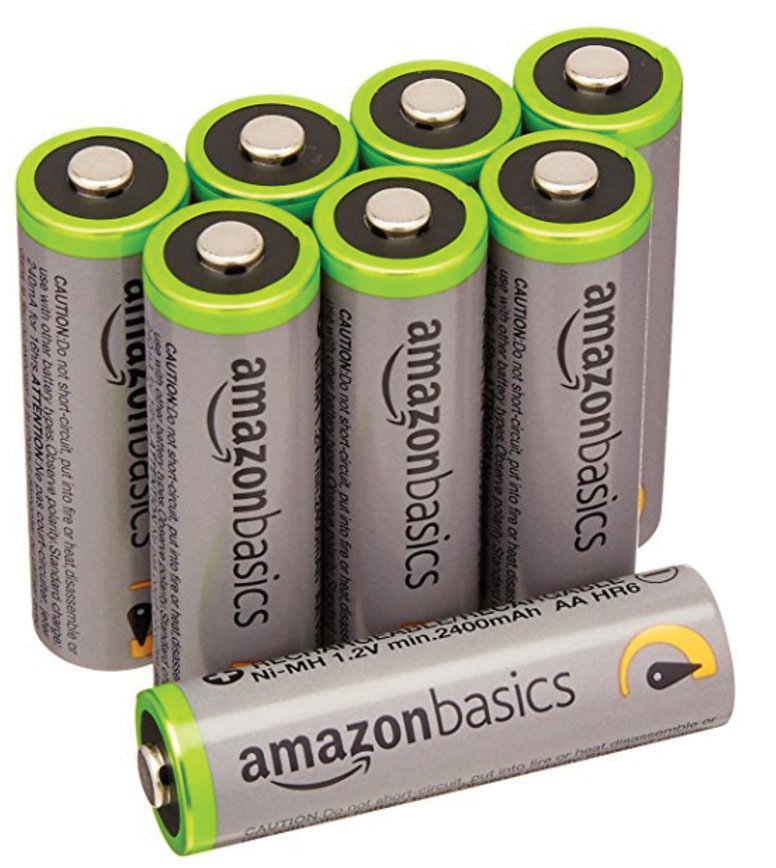 Give up control
The millennial consumer wants to be involved. If you're a retailer, let a shopper control the playlist or the lighting at a store. Tailor the experience to his or her individual needs. Crowdsourcing product decisions can also help to drive engagement and sales by giving customers the opportunity to interact with and feel ownership over brands, the way Crayola is taking votes on the name of a new crayon color. Millennials "want to be part of the conversation and contribute," says Bharat Anand, a professor in the strategy department at Harvard Business School and author of "The Content Trap."
Bring on the activations
Some purchase decisions come down to a personal connection with the brand, and that could be the result of a brand activation, says Madeleine Kronovet, senior strategist at RedPeak. She cited a recent pop-up shop from Perrier in New York's SoHo where customers could create their own tote bag and mix their own drinks.
"I'm more likely, because I've tried the brand, to think and associate the brand with an experience," she says. "So when I'm at the supermarket, I may grab for the Perrier rather than the generic seltzer. It comes down to design and experience."
Mix it up
Don't rely on traditional media channels; make sure digital advertising is always in the mix. Aim for endorsements from influencers and diversify your agency roster to make sure social is included. If your product has been around for a while and doesn't have the star appeal of a newcomer, collaborate with one that does. A laundry detergent could pair up with a new sustainable ecommerce brand, for example.
Product sourcing
Think about new products from as early in the development and production cycle as possible. As part of a maker culture, millennials care where and how things are made. Try to be as transparent as possible when marketing items. A millennial shopper wants to read every review and sourcing guide before clicking the buy button.—Adrianne Pasquarelli
Brandless appeals to shoppers such as Blake Glover, a 36-year-old fashion stylist who learned about it in a BuzzFeed article. Enthralled by the low price of its virgin coconut oil, the Brooklyn resident placed an order early on to try oil pulling, a new health trend that involves swishing the oil in your mouth to try to remove bodily toxins. He gave both the product, and the pulling, a thumbs up. "I can have all the same things but spend a fraction of the cost," Glover says. "It can be all glitz and glamour but at the end of the day, I just want something that works."
Beyond packaged goods, the millennial mindset is affecting other industries as well. Younger drivers, many of whom live in urban areas and often don't use cars, are rejecting big-name auto insurers in favor of more value-driven alternatives. Metromile, for example, is winning millennials with an app that helps drivers troubleshoot issues like a check-engine light and, perhaps more important, the ability to pay by the mile instead of by month.
"In selfie nation,
The brand narrative
is the story you want to tell."
--Tina Sharkey, Brandless
"Certainly the product was born on the backs of millennials in urban areas," says James Moorhead, chief operating officer at Metromile, which has grown to 200 employees over its seven years and now operates in seven states.
While the majority of customers are millennials, older drivers are starting to follow in their footsteps (or tire tracks), according to Moorhead. After advertising only in digital media for years, the company began rolling out TV ads earlier this year and is seeing traction with boomers, he says.
Travel, too, is getting an overhaul as hotel marketers try to adapt to the sharing economy and the growing threat of Airbnb. Last year, Hilton introduced Tru, which offers more communal public space for work, and games and tech-savvy amenities at more affordable prices. Starwood has Tribute Portfolio for younger travelers.
Even fashion is affected as consumers turn away from big logos or heavily branded apparel in favor of more simple, contemporary looks, often from sustainable companies like Everlane or Reformation. Some millennials are more impressed with supply chain, raw materials and design than any established names.
And these changes are only the beginning.
"We're going to see more and more of this," says Fromm. "We're in the early stages of consumer control of the purchase cycle."
Cover image: iStock. Memes by Tam Nguyen. Web production by Chen Wu.