The paint on the set was still tacky when George Grande took his place behind the desk for the inaugural episode of "SportsCenter," and while the half-hour telecast had a less-than-auspicious debut—an audio glitch rendered a remote interview incomprehensible to all but a few very determined lip-readers—the ESPN anchor managed to avoid getting any pigment on his jacket and tie. This was particularly fortunate, as there was no running water in the building at the time.
And you don't want to know about the bathroom situation.
If the old war stories about ESPN's early years are hard to fathom when you're making your way around its sprawling Bristol, Conn., campus, it's also difficult to overstate the role "SportsCenter" played in the company's hegemonic rise. Not only did the show change how Americans consumed TV—while ESPN was transmitting its signal 24/7 shortly after its September 1979 debut, affiliates of the Big Three broadcast networks were still signing off for a few hours each night—but it was the primary means of subscriber acquisitions during the era in which the network's live sports holdings were limited to college basketball games and curiosities like Australian Rules Football and slow-pitch softball.
Nearly 38 years have elapsed since the simultaneous launch of the cable network and its flagship program, and in some ways the classic "SportsCenter" formula is in danger of becoming as antiquated as the show's original synth-happy theme song. While linear TV is still very much the primary driver of ESPN's live impressions, the dynamics of our Veruca Salt I-want-it-now media culture have cast a sort of existential pall over one of the show's signature features. Which is to say, is there still a place for sports highlights on traditional TV?
ESPN first began unpacking that question in the fall of 2015, when it introduced a midnight version of "SportsCenter" helmed by veteran anchor and radio host Scott Van Pelt. A hit with the 18-to-34 crowd, the late-night show is a distinct programming strain unto itself, splicing the "SportsCenter" DNA with Mr. Van Pelt's wryly comic sensibility.
If the midnight "SportsCenter" benefits from its adjacency to late NFL, MLB and NBA action, the focus of ESPN's most recent renovation is the 6 p.m. hour, which by virtue of its time slot is at once ahead of and behind the news cycle—and as such, less in thrall to the highlight reel. Hosted by former print journalists and longtime co-conspirators Michael Smith and Jemele Hill, "The Six" looks to stake out a claim at the intersection of sports and pop culture. (The show's sensibilities are there for all to see in its March 10 title sequence, a shot-for-shot homage to the opening credits of the 1987-93 sitcom "A Different World.")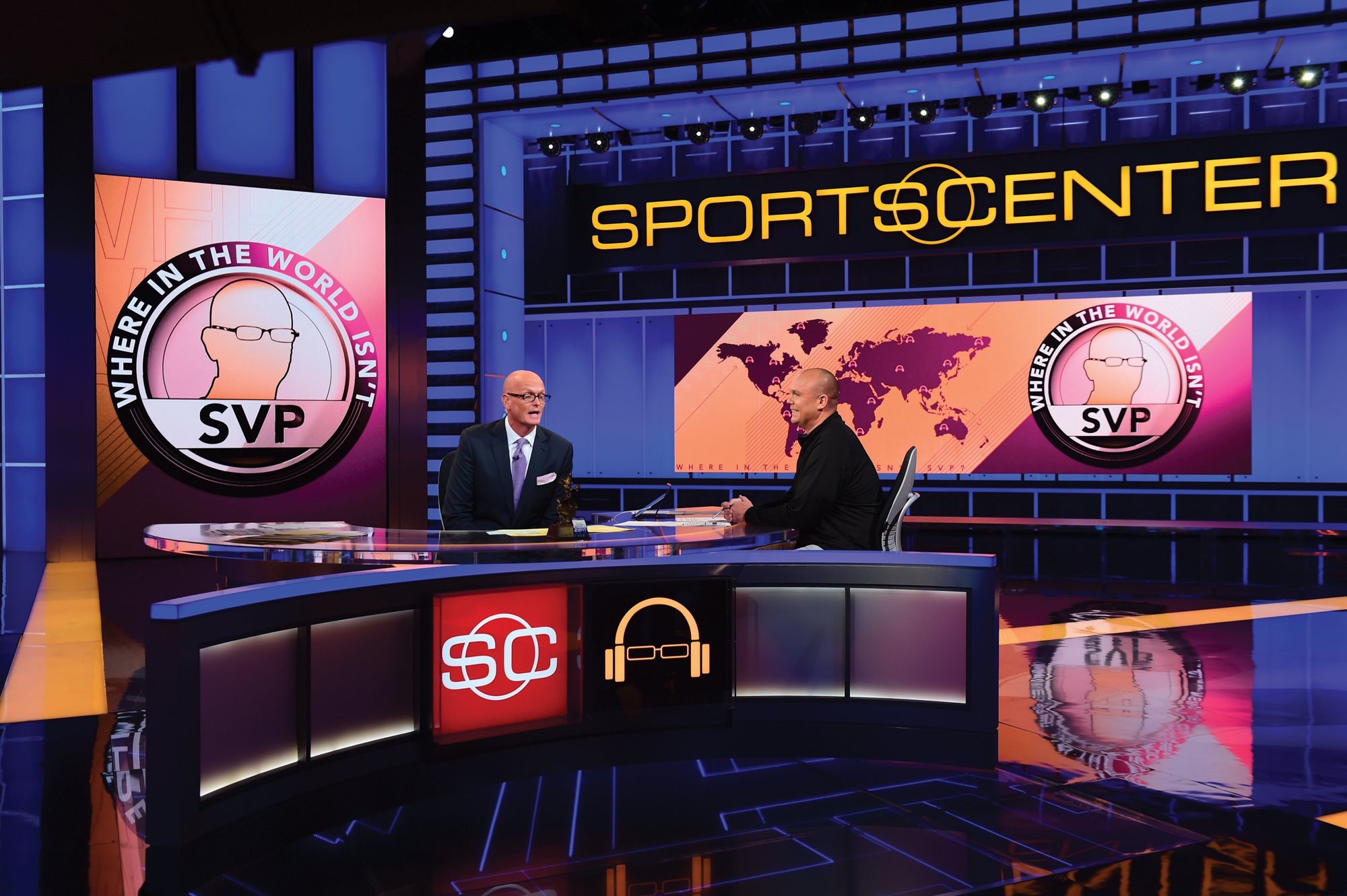 While six weeks of ratings tells you very little about a new show's long-term prospects, the early data on "The Six" is encouraging. The show is averaging just north of half a million viewers per episode, and its performance among adults 18 to 49 (290,400 live-plus-same-day viewers, or a 0.23 rating) is even with the year-ago time-slot occupant. More importantly, the new show is bringing in an audience that is 12 years younger than its predecessor, which in turn has helped boost the hour's median household income. "The Six" also has seen a 39% lift in Hispanic and African-American viewers, which should help draw a broader cohort of advertisers to the slot.
SPORTSCENTER CONFERENCE ROOM, BUILDING 4
March 20, 11:30 a.m.
It is exactly six weeks to the day after the debut of the revamped 6 p.m. "SportsCenter," and the co-hosts and production team are mapping out the evening show. While there is plenty of sports fodder to discuss during the morning production meeting—Sunday saw the NCAA tournament field get pared down to the Sweet Sixteen, and the screaming heads of the morning sports-chat shows have been all over LeBron James for sitting out Saturday's Cavs-Clippers matchup on ABC—hoops can't hold a candle to a certain newly-minted internet sensation.
"This chicken has got to get in!" Ms. Hill laughs as a nightmarishly huge barnyard fowl struts around on the monitor at the far end of the conference table. "Look at that thing!"
"Those are people in chicken costumes. There's no way those are actual animals," Mr. Smith says, as a production assistant turns to Google for further information about the fearsome bird. Someone at the end of the table mutters something about "Foghorn Leghorn cosplay."
"It's called a Brahma," the chicken checker says, before reading a description of the fowl. "'A large breed…'"
"No shit!" Mr. Smith cracks, and as the laughter dies down, Ms. Hill asks if someone would secure clearance for them to use the clip on tonight's show.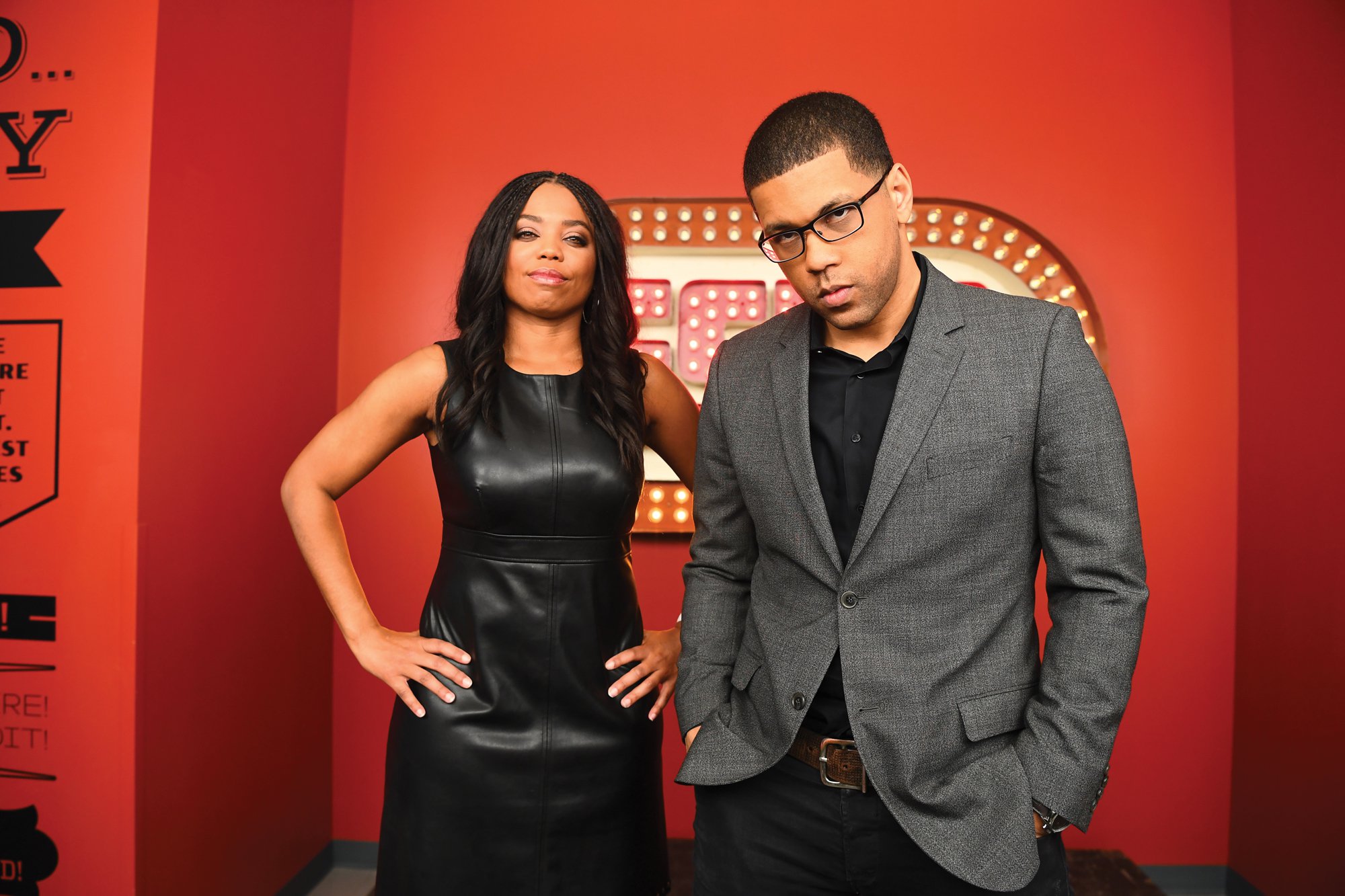 If the meeting is punctuated by a good deal of joking around, Mr. Smith says he thinks he and his partner still have some work to do if they're to recapture the effortless rapport they had on their ESPN2 show. "We haven't quite gotten back to 'His & Hers' level of just loose, fun," he says. "We cussin', right? No fucks given. We were at a point where we'd just forget we were on television. And now, with all the moving parts, we're thinking more about the process. It's not all second nature like it was at one point."
SPORTSCENTER STUDIO, DIGITAL CENTER-2
March 20, 6:32 p.m.
Halfway through the 6 p.m. "SportsCenter," Scott Van Pelt walks into the studio to talk about the interview he just wrapped with Tiger Woods.
Mr. Van Pelt, who has known the golfer for the better part of 20 years, suggests that we may have seen the last of Tiger on the links. "I'll say this: It's the most comfortable I've ever heard him talk about a competitive life in the past tense," Mr. Van Pelt says. "I don't think that he is done wanting to compete, but if his body won't allow him to … and his back just won't let him do it, he'll say it's been a hell of a run." Mr. Woods had indicated that he wanted to spend more time with his kids, Mr. Van Pelt adds.
The rest of the show includes an interview with Wisconsin senior Nigel Hayes, fresh off the Badgers' stunning upset over defending champs Villanova and a segment in which Ms. Hill and Mr. Smith discuss the characteristically blinkered get-off-my-lawn grumblings of former NBA great Karl Malone, who in taking a swipe at Cleveland and Golden State players who'd decided to sit out a few recent national televised games, bizarrely compared them to first responders and soldiers. And as promised, the gigantic chicken makes an appearance.
As it so happens, one of the most visible advertisers in tonight's telecast is Popeyes, which has ponied up for a pair of 30-second spots in the second half of the show. The two ads air on either side of the viral chicken footage, effectively sandwiching the big bird.
GLASS CONFERENCE ROOM, DIGITAL CENTER-2
March 20, 5:33 p.m.
Scott Van Pelt's production meeting is a leaner affair than "The Six" confab was, as a dozen staffers of the midnight show huddle around the table—about half as many people as who were on hand for the earlier meeting. Segment producer/commentator "Stanford Steve" Coughlin basically interacts with the host in much the same way he does on the live show, which only serves to underscore the uncanny sense that there's absolutely no artifice going on with any of the "SportsCenter" on-air talent. The only difference between themselves and their on-air counterparts is that the people under the lights wear more makeup.
Along with the Tiger Woods interview, Mr. Van Pelt is interested in doing a segment of his own on the NBA sit-down situation, only his will be a more inside-baseball take.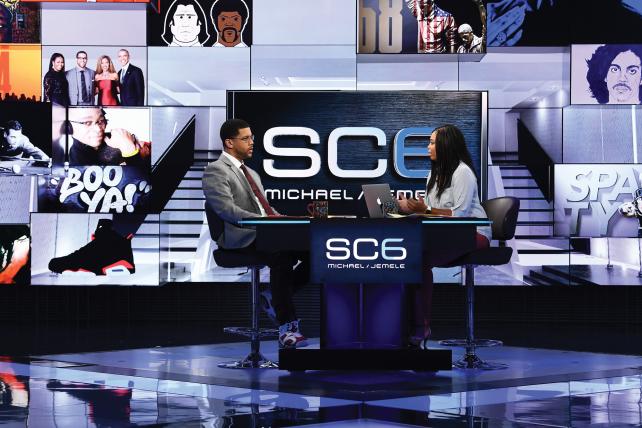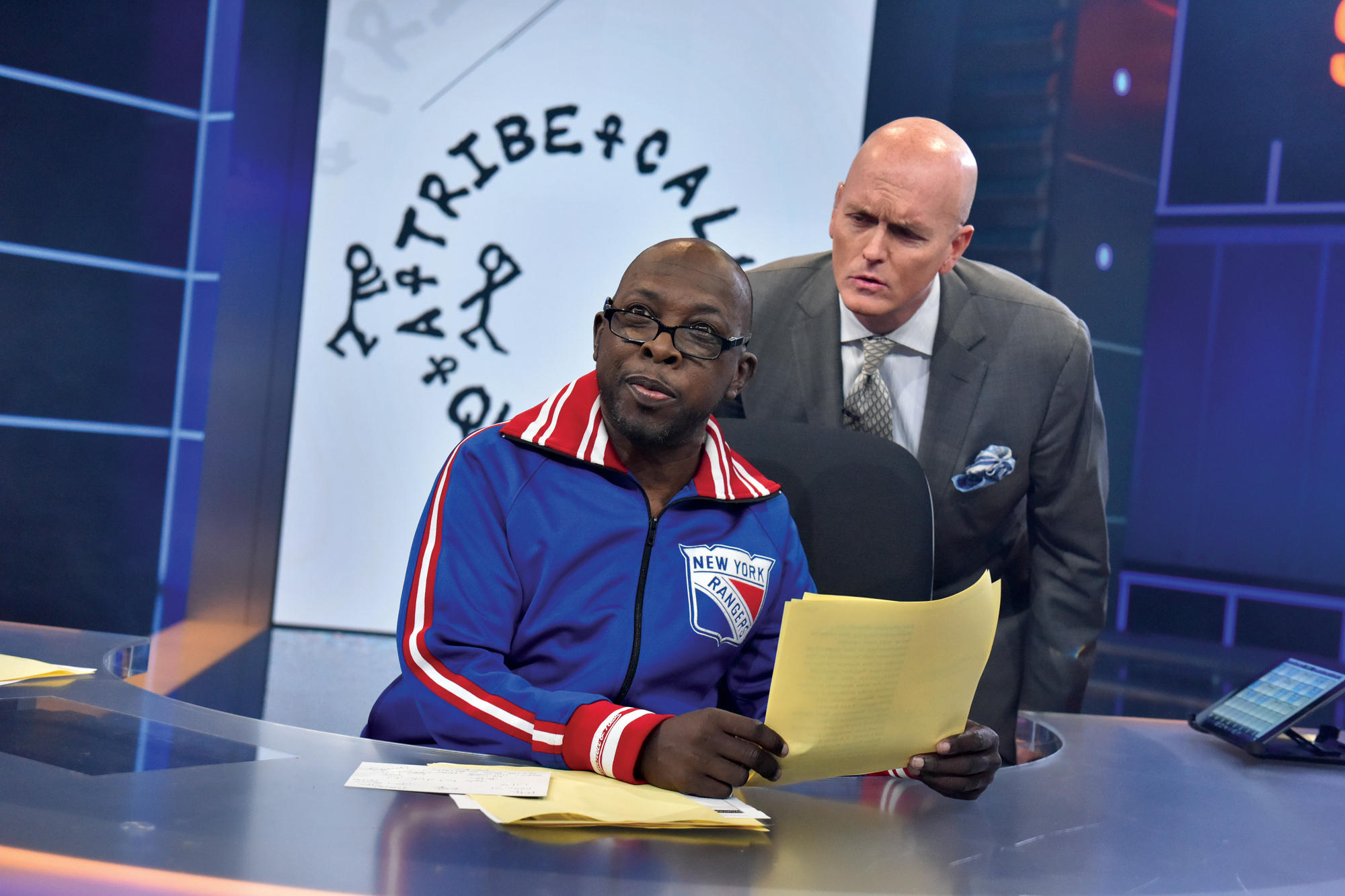 "Is this something that interests just TV people? Because we pay $1 billion a year for the right to televise those games, and we need to be protected to some degree," he says, noting that the ratings for the no-stars Cavs-Warriors game were ABC's lowest for a Saturday night NBA broadcast in recent memory. "You can't pay for steak and lobster and get meatloaf. There's got to be some kind of make-good, because we don't get what we bought. Period."
Other segments under consideration are a take on the bizarre theft and subsequent recovery of Tom Brady's Super Bowl jersey, the absolute demolition of the ACC in the March Madness tourney and a deep dive into the recurring "Bad Beats" feature, which chronicles some of the week's most demoralizing and gut-churning gambling reversals.
In acknowledging an activity that sports leagues and many network types like to pretend doesn't happen outside of the confines of Las Vegas, "Bad Beats" blows up a long-standing TV taboo about talking up point spreads and the money line. The segment may well account for Mr. Van Pelt's outsized popularity among men 18 to 34; in fact, he's doing so well in that demo that he puts up bigger numbers than Kimmel, Fallon and Colbert on broadcast late-night.
You can't pay for steak and lobster and get meatloaf. There has to be some kind of makegood because we don't get what we bought. Period.
-- Scott Van Pelt,
SportsCenter anchor
"It has always gotten a lot of attention simply because nobody had ever so openly talked about gambling," Mr. Van Pelt says after the meeting adjourns. "I just decided, 'Look, it's not the third rail. So we can talk about it, trust me.' And it's been something that resonates."
Sponsors have no quarrel with "Bad Beats," according to "SportsCenter" Senior VP Rob King. "When Scott and Steve start talking about just how pathetic the gambling life can be when you're trying to beat Vegas and some screwy thing happens in the last 30 seconds of the game, that's out of love," Mr. King said.
HALLWAY OUTSIDE SPORTSCENTER STUDIO, DIGITAL CENTER-2
March 20, 7:09 p.m.
While there's no secret codex or arcane spell that reveals how producers of traditional TV can thrive in a world that's increasingly giving itself over to personalized, "snackable" content, Jemele Hill thinks the 6:00 p.m. show's hybrid sports-pop approach may give it an edge with sports fans who are not fanatics.
"Mike and I do a really good job of understanding what that sports culture is, and the majority of people are not intense sports fans," she says. "There are plenty of people who may not consume sports on the level of someone who's obsessed about their fantasy football team. They may not watch 'The Six' to see the latest highlights or to find out what happened in NFL free agency, but if they watch us because they like our 'Different World' opening? Cool. I can live with that."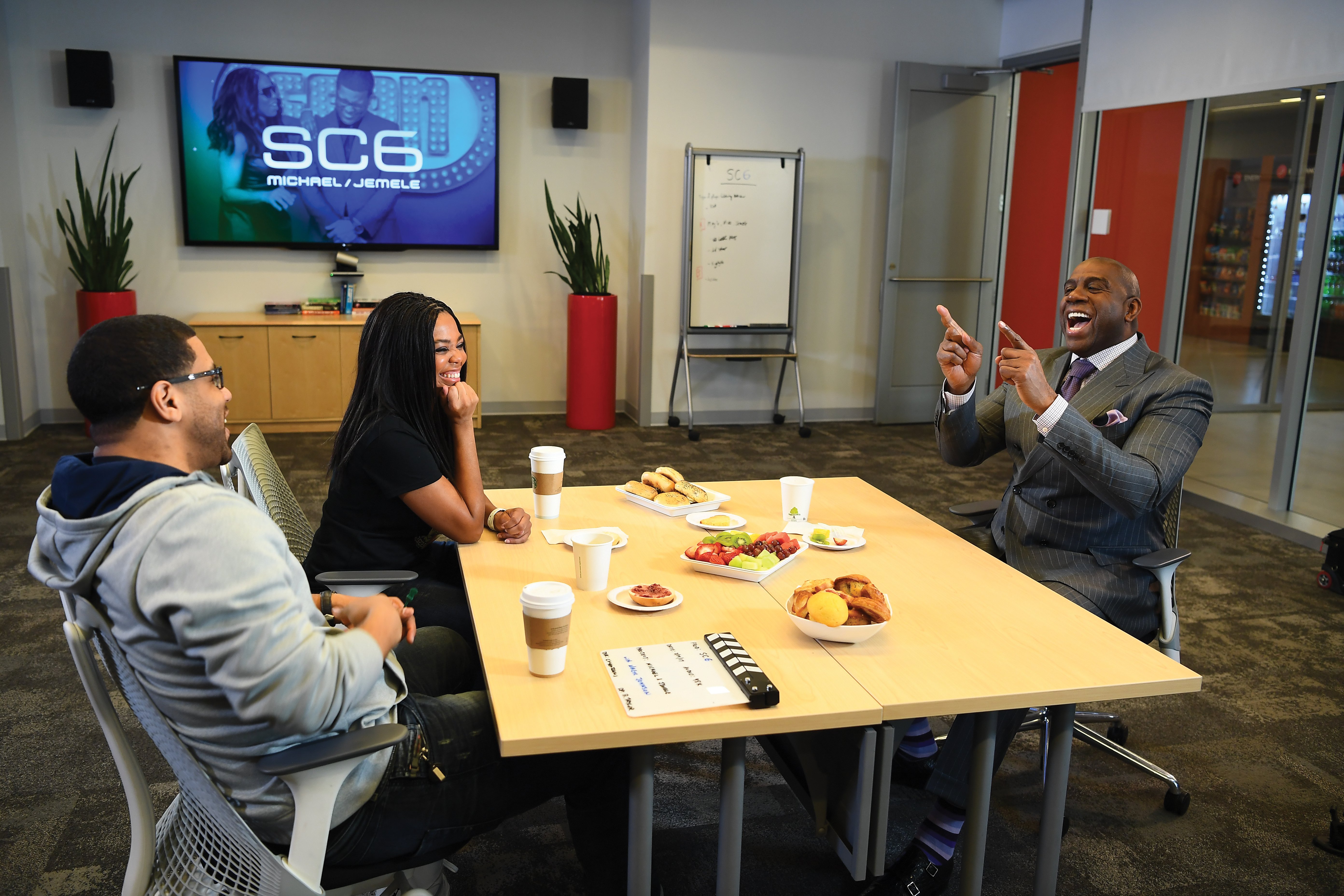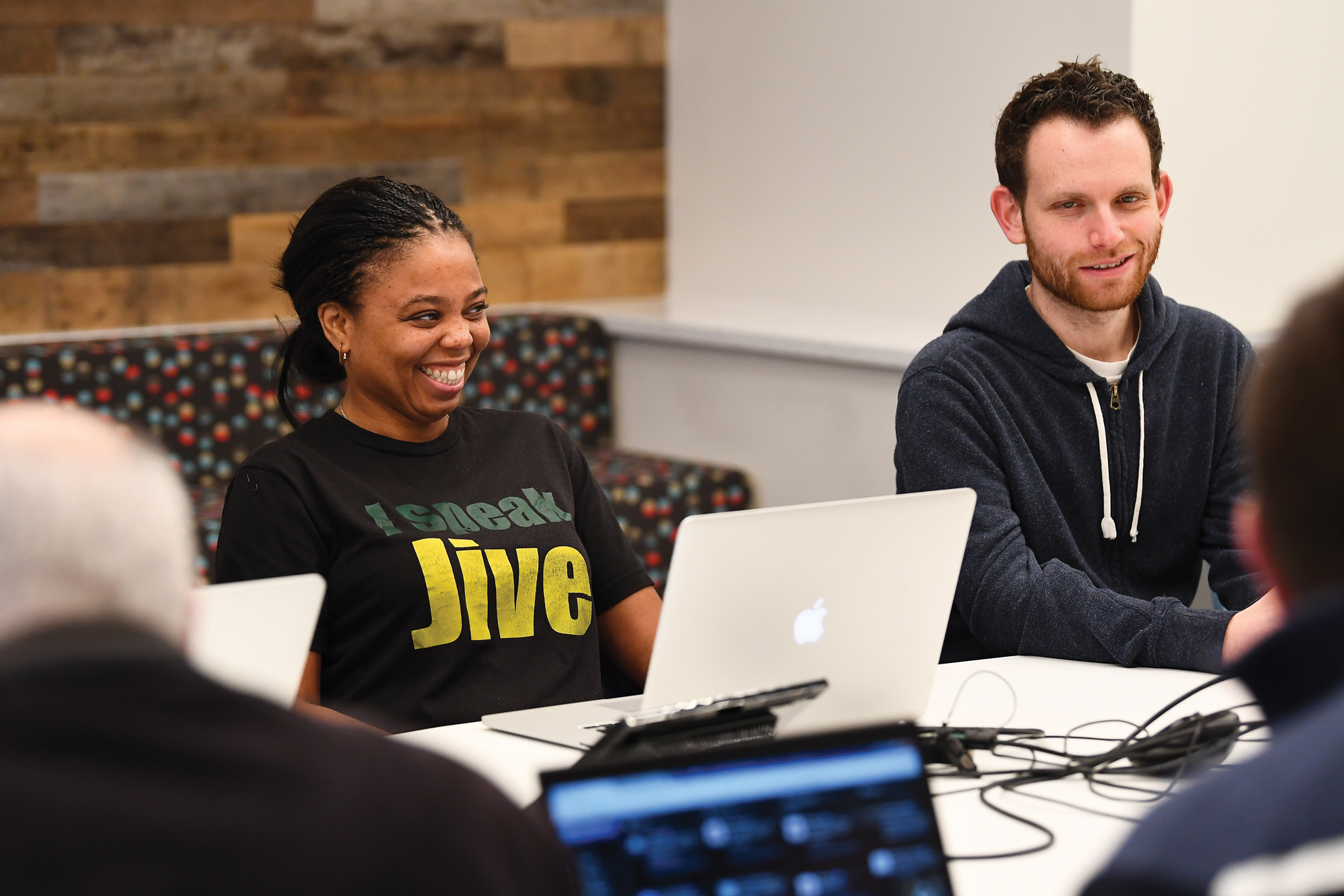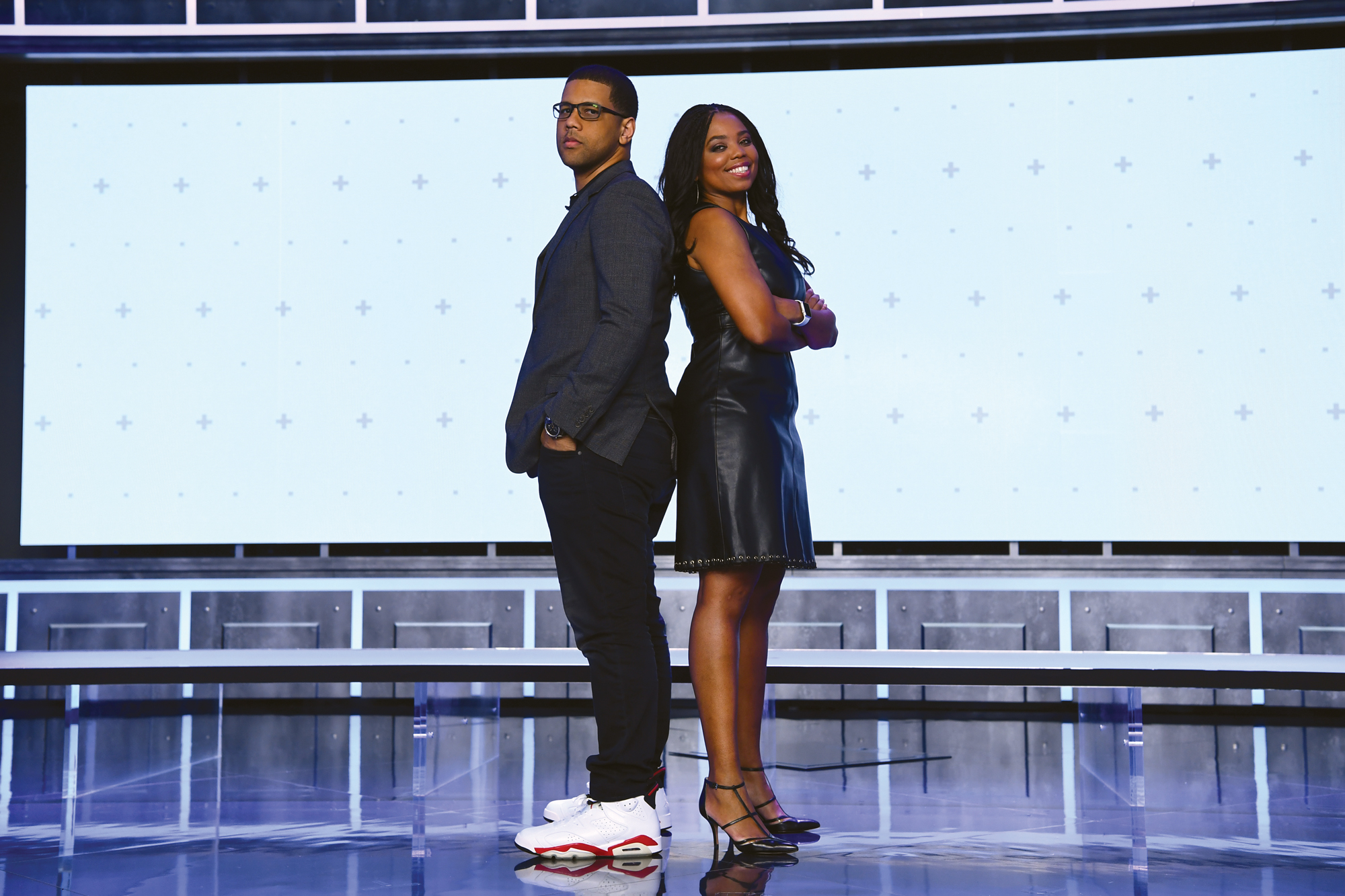 While the client profile of the 6:00 p.m. "SportsCenter" hasn't changed radically since the show launched, there tends to be a latency period of 60 to 90 days before a solid chunk of demographically apposite advertisers hop onboard something new. That said, ESPN has a pair of big deals in the works with music-facing brands that should send a good deal of business toward "The Six" just in time for TV's May-June upfront ad bazaar. And speaking of the upfronts, look for ESPN in a few weeks to make a formal announcement regarding its third "SportsCenter" reboot, a new venture featuring radio host Mike Greenberg.
SPORTSCENTER STUDIO, DIGITAL CENTER-2
March 21, 1:11 a.m. (Parting Shots)
"Participating in golf at the highest level is, well, not the priority it used to be, and that's just the way it is." —Tiger Woods interview with Scott Van Pelt.
"Somewhere along the line, 'Gunsmoke' repeats became the litmus test for sports TV ratings. And you'll look and see that 'Gunsmoke' did 800,000 viewers and you had 650,000. A show that went off the air a lifetime ago, and that's sobering only in that it's just very grounding. I'm always looking at the bigger picture. Again, just trying to beat 'Gunsmoke.' One of these days, we're going to kick 'Gunsmoke's' ass." —Scott Van Pelt
Photo credit: Cover: Joe Faraoni/ESPN Images. Web production by Chen Wu.