News
World's Snacking Habits Stoke Hunger for Mondelez-PepsiCo Merger
Strong Growth in Emerging Markets for Chips and Sweets Offers Big Potential for Food Giants and Prompts Chatter of Hookup
After Hollywood movies, soda and Justin Timberlake, America's next big export is looking like it'll be our voracious snacking appetites.
While cookies, potato chips and candy have long been a force in the U.S., between-meal munching is only beginning to take hold in India, China and other emerging markets as more consumers move into the middle class. The trend is so strong that it has begun to influence big corporate deals, including last year's split of Kraft Foods, which created Mondelez International as a standalone candy and snack-food company whose business model is built on emerging-market growth.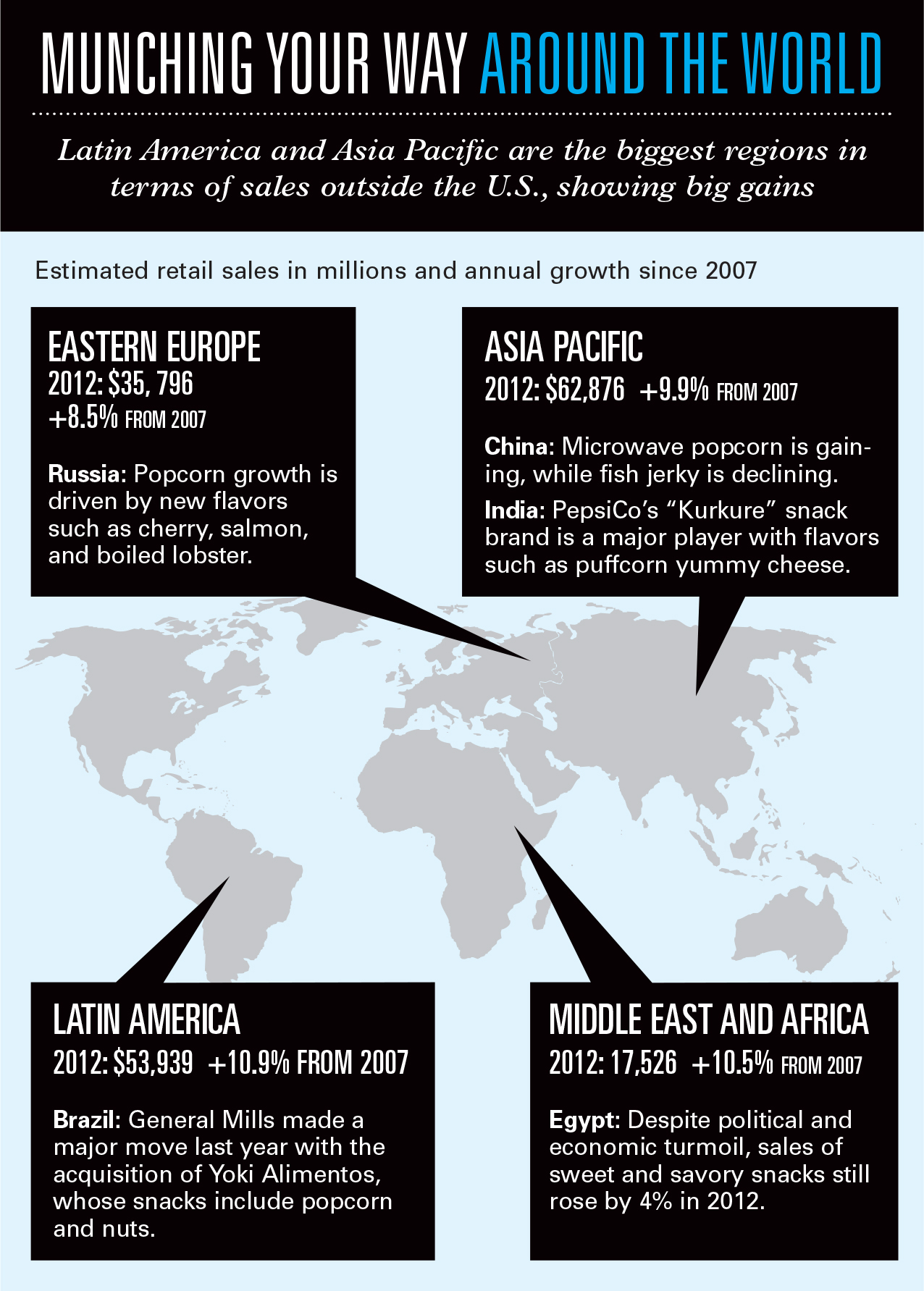 SOURCE: EUROMONITOR INTERNATIONAL/
BERNSTEIN ESTIMATES AND ANALYTICS
And that may be just the beginning: The trend is behind mounting speculation that Mondelez might join forces with PepsiCo to create a colossus with at least 15 global snack and candy brands each worth more than $1 billion, including Tostitos, Doritos, Lays, Trident, Oreo and Nabisco.
Although both companies are making strong plays in emerging markets, those businesses "remain below-scale," Bernstein Research stated in a recent report speculating on merger possibilities. "As a result, to the extent that a combination could lead to accelerated growth and/or enhanced scale, it could be highly beneficial to both [companies]."
In other words, bigger could be better—especially because the brands do not overlap much. PepsiCo, with Lays and Ruffles, dominates in savory snacks worldwide. Mondelez is strong in cookies and candy, with brands like Oreo and Cadbury (see chart).
Global snacking has more potential than other consumer packaged goods because it is what Bernstein calls a "late-adoption" category. That means it gains steam only after a significant number of people reach the middle class. People don't need to snack to survive; they do it as a treat, or to fill their stomachs as they work late or endure lengthy commutes.
Mondelez relies on emerging markets for about 40% of its revenue. By 2020 the company projects that 110 million households in India, Russia and Brazil will move into the middle class. "And as they do, we believe they'll step up their chocolate consumption by about three times," Bharat Puri, Mondelez's senior VP-global chocolate, told analysts last year.
Multinational companies are helped by the fact that snack foods are "universal," said Euromonitor analyst Ildiko Szalai. "A chocolate bar is a chocolate bar everywhere," she said, compared with meals, which remain rooted in local traditions.
In India, sweet and savory snacks grew 24% in 2012, driven by "erratic lifestyles coupled with factors like irregular eating times, long breaks between lunch and dinner, and increasing influence of western culture whereby people eat unhealthy fried snacks," according to Euromonitor International.
But there are also signs that emerging-market consumers are becoming more health conscious in their snacking. In China, seaweed has gained popularity among young women as a snack option because it has few calories, according to Euromonitor. Asian consumers looking for the processed version can buy seaweed-flavored Pringles marketed by Kellogg Co.
Neither PepsiCo nor Mondelez has commented on the possibility of a hookup, but the chatter in financial circles is that activist investor Nelson Peltz and his Trian Fund Management could push for the merger after recently acquiring financial stakes in both companies. PepsiCo said that it has had meetings with Trian to "discuss and consider their ideas and initiatives as part of our ongoing evaluation of all opportunities to drive long-term growth and shareholder value."
Still, there is skepticism. A deal now might be "too disruptive," Bernstein noted, especially for Mondelez, which is still finding its way after the Kraft split.
Stay tuned to find out which way the cookie crumbles.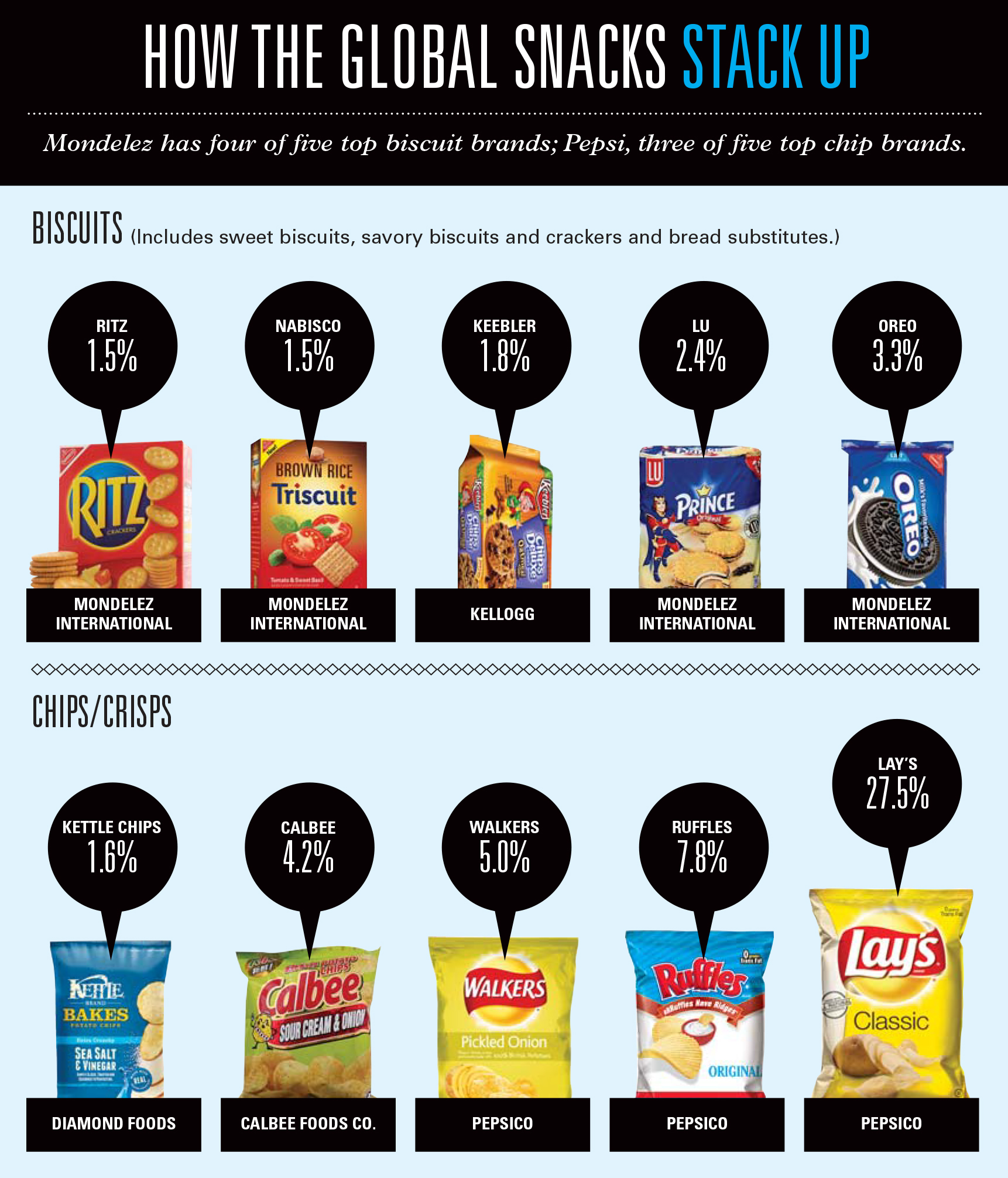 PERCENTAGES INDICATE MARKET SHARE. SOURCE: EUROMONITOR INTERNATIONAL