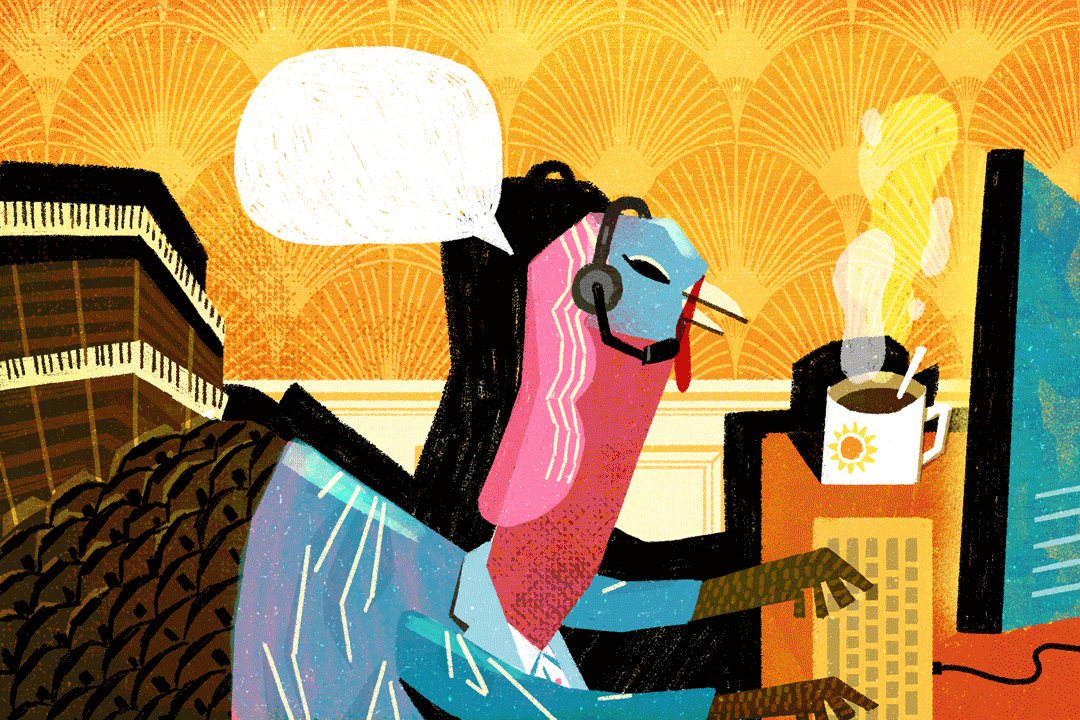 Credit: Illustration by Wenjia Tang
Sue Smith has saved thousands of turkeys.
For the past 18 years, she has worked for Butterball's Turkey Talk-Line in Naperville, Illinois, which fields emergency calls for the brand in November and December. And Smith, with the practiced calm and pleasant voice of a kindergarten teacher, seems like just the person to have around for poultry problems, whether it's losing one in a snowstorm or finding one soaking in a bathtub. Here's how Butterball keeps (almost) everybody's holiday on track. Our conversation has been lightly edited.
Is your name really Sue Smith or is that a pseudonym in case someone doesn't like a recipe you give them or advice on a turkey?
[Laughs] No, that's my real name. I'm one of millions of Susan Smiths.
How did you get the Talk-Line job?
I'm a registered dietitian and I was working in consumer affairs at Butterball at the time, and they had an opening. I had just finished grad school and it was a great fit. I applied for it and the rest is history.
How many people work the line?
We have 50 people here. It's a big room. There are men and women, and they all have a food and nutrition background. We have chefs, we have culinary professors, food stylists, home economists, registered dietitians—it's a really eclectic group.
And do you get training for the Thanksgiving onslaught?
Every year, we go through Butterball University. We get trained on all the different ways to prepare the turkey. We do it hands-on so we can relate to the callers as they come in and we're well prepared.
How many calls does the group field?
On Thanksgiving Day, we get about 10,000 calls and about 100,000 for the holiday season. You can email, chat us, text us.
Ten thousand calls and 50 people sounds like a lot of work.
It's busy, kind of nonstop talk, but really the most exciting day to work here is Thanksgiving. You feel like you're in the kitchen with so many different people. You never know what the questions are going to be or who you're going to talk to.
People start their turkeys really early. What time does your day start on Thanksgiving?
We're here for 12 hours; we start working at 6 a.m. Central Time.
Are people mainly panicked?
We get heartwarming calls too. I talked to someone who was 89 years old, cooking his first turkey. His wife couldn't cook it and he wanted to keep on the tradition for his family—even his great-grandkids were coming. It was the best call I've ever had—it was about 45 minutes taking him from how much turkey to buy, to cooking it and having it on his table.
Are there people you can't help?
[Pauses] We like to say you can't stump a turkey expert. Usually if I can't answer it, my colleague or another person can.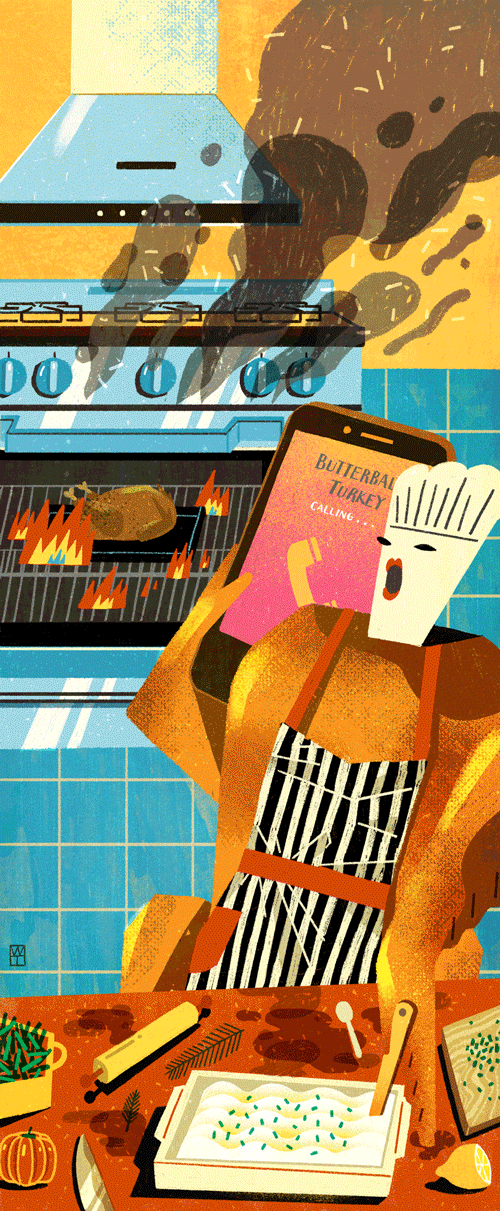 Credit: Illustration by Wenjia Tang
But what about if it was wrongly defrosted?
If there's a food safety risk, we will recommend a way to go out and get another turkey and cook it in a different way. First and foremost, we want everyone to be safe.
So you've never lost a turkey?
Someone called in and he was having a Friendsgiving. It was his first turkey—he was in college—and he put the oven on and it was on self-clean. Unfortunately, that turkey we couldn't save. His friend got another turkey and he borrowed an electric roaster from his landlord and did it that way.
Have you seen changes in how people cook their turkeys over the years?
When I started, microwave cooking was really popular. We got a lot of calls on how to microwave your turkey. Deep-fat frying has become really popular. Over the years, our recommended model is 325 degrees in the oven, but there are so many great ways to prepare a turkey—you can do it on a grill or an electric roaster.
What do you get most, calls or texts?
A lot of people call us. People like that reassurance on the phone that you are doing it right. Text we tried last year for a week's period, and it went gangbusters. Now it's offered all season.
Are there any Thanksgiving trends you're following?
We did a survey this year to find out what holiday cooks are thinking, and they're embracing a perfectly imperfect Thanksgiving. Yes, they want that perfect turkey on the table, and that's where we come into play, but it's OK if someone is late or they use paper plates. Mashed potatoes might have a lump but that's OK. Thanksgiving is about celebrating with friends and families, and if that Butterball is on the table, the rest is just gravy, we say.
Do you get questions about side dishes too?
Sweet potatoes, stuffing, pumpkin pie, mashed potatoes. Absolutely. If we can help, we sure do. Oh, and this year at Butterball, we've been trying to get people to sign a petition to get a Thanksgiving turkey emoji. It's been fun trying to get votes for texting with a new emoji.
Do you ever get abusive callers?
Well, if they're calling, they're stressed, but nine out of 10 times, we make them very happy. Whatever happens, we can usually fix. It's not the end of the world. There are ways to get a turkey done quicker if your oven went out.
What's the craziest question you've received?
We get a lot of funny calls around thawing. We've had everything from a dad multitasking, giving his twin boys a bath and the mom comes home and quickly calls us because she sees the turkey floating in the bathtub with the boys and wants to know if that was OK. We've had turkeys thawed in electric blankets and the dishwasher. People get really creative in thawing turkeys because it takes a little bit longer than they expect. And sometimes we are turkey mediators. The husband will come on and then the wife will come on and have completely different thinking on their turkey. The husband is hoping we will side with him while the wife is convinced she's right. Those are fun calls.
You mean they argue about how to prepare it?
Yes. I had one couple call in and she was stressing because her oven wasn't working and her husband hopped on and said, "I'm in charge of turning on the oven. It's working." And she said, "Every time I go in the kitchen, it's not on." They are going back and forth. And while we were talking their big Labradoodle comes in the kitchen and jumps on the oven to look at the turkey because he was smelling it. And his paw was hitting the power button. The dog was actually turning the oven off.