Special Report: Agency A-List
360i Is No. 7 on Ad Age's 2016 Agency A-List
Adventurous, Out-of-the-Box Thinking for Its Clients Earns Shop to Double-Digit Revenue Growth
Sarah Hofstetter isn't one for comfort. The 360i CEO said much of the agency's work last year "kept tying back to a theme that crosses over everything we do as an organization and with our clients, which is around reimagining marketing and pushing into uncomfortable spaces."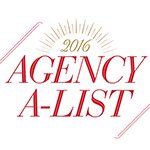 For Pernod Ricard USA, that meant driving it into new areas, improving its capabilities in search, social, programmatic, data and consumer targeting. In addition to helping the company focus on specific audiences, like Hispanics or women, it also mapped out consumer journeys by translating communications challenges and used behavioral data and CRM to reach new Pernod targets, such as site visitors or brown-spirits drinkers.
"The team at 360i has more than delivered on our expectations and on the hopes and plans we had when we hired them," said Tim Murphy, Pernod Ricard VP overseeing digital and media.
It delivered enough, in fact, that Pernod, which hired 360i in September 2014 for media planning and buying and social media management, upped its scope of work to encompass creative. The agency's business with Pernod doubled in 2015, winning creative assignments for Absolut and taking the agency lead on Kahlúa and Malibu.
Adventurous, out-of-the-box thinking for its clients led 360i to more than a decade of consecutive double-digit revenue growth. Last year did not disappoint: Revenue climbed 18%, balanced by both new business and organic growth.
Nestlé awarded 360i additional business last year, making it lead agency of record for Nestea, digital AOR for Nestlé Waters North America and lead digital AOR for Butterfinger. The agency was brought on as media agency for Spotify; charged with redefining global social marketing for Bose; tapped as AOR for Feeding America; named lead agency for a Ubisoft launch in 2016; and designated lead digital media agency for Lord & Taylor, Ralph Lauren and LongHorn Steakhouse.
"We grew across the board and saw far more integration," said 360i Chairman Bryan Wiener. "We feel that you need to be—at least from a planning perspective—integrated across paid, earned and owned, and you need to be nimble enough to adjust in a digital age."
This nimbleness helped Pernod Ricard's Jameson increase revenue 20% year-over-year for three consecutive months, following an initiative around St. Patrick's Day. Mr. Murphy said 360i came up with a social activation that included a 3-D ad on Facebook and Instagram, along with hyperlocal marketing using the brand's database of bartenders and programmatic to target existing Jameson fans.
While many of 360i's programs have garnered tremendous attention for clients and improved sales, Ms. Hofstetter said it's important to develop longstanding, brand-building campaigns. "You don't want to be a one-trick pony," she said. "You're trying to build a narrative for a brand that makes it more memorable."
She believes 360i's work on Nestlé's Lean Cuisine could be that long-lasting effort.
The agency has been working with the frozen food brand to reframe the dieting conversation from physical appearances to accomplishments. This summer, the Dentsu agency developed a compelling social media campaign called #WeighThis, which included a moving video of women near a scale weighing personal achievements rather than pounds.
At the start of 2016, 360i amplified that message with a clever #WeighThis Diet Filter that helps consumers avoid the overabundance of diet messages associated with New Year's resolutions. Using a Google Chrome extension, Lean Cuisine covered up words such as "diet" and "dieting"" with an orange box similar in color to that of the brand's packaging.
Since the launch of #WeighThis, Lean Cuisine sales have been up double digits for 14 consecutive weeks, and Mr. Wiener said the brand can't keep enough product on store shelves.
"Short-term, we've seen business growth and the sales are up significantly," said Ms. Hofstetter, "but I really think we have a strong path with #WeighThis that has tremendous long-term value for the brand."
And that she's comfortable with.