72andSunny L.A.
72andSunnyunveiled a powerful campaign for new client Adidas this year that challenged fans to "Create Your Own Game," by encouraging them to see the likes of soccer players Lionel Messi, Gareth Bale, Thomas Müller, James Rodríguez, and Mesut Özil as their competition. A second spot, "Unfollow," celebrates Messi's finest moments in soccer history but then encourages viewer to "unfollow" the football hero in an effort to find their own glory.
Elsewhere, the agency's Brand Partnership Incubator conceived a combined campaign for clients Activision's Call of Duty and Carls Jr./Hardee's, with the brands teaming up on a special meal for gamers, inspired by a care package that drops within the game. Best Day Ever was Call of Duty's first ever integration with a fast food brand. The agency also recruited another star studded gamer cast, including Cara Delevingne, Marshawn Lynch and Michael B. Jordan, for "Call of Duty: Black Ops III." For Target it created "Holiday Odyssey," a season-long journey told in "chapters" across broadcast spots, digital and social media, and a storybook narrated by Neil Patrick Harris.

Barton F. Graf
Barton F. Graf delivered the unexpected hit of the Super Bowl when it invited Liam Neeson to exact his "Revenge" in an ad for Supercell's "Clash of the Clans," one of Creativity's top spots of 2015. Destined to go down as a big-game classic, its YouTube views are approaching 100 million, far surpassing the official brand YouTube videos of hits such as Always "Like a Girl" (60.5 million) and Volkswagen's "Little Darth" (63.7 million).
It also created massive conversation around GoDaddy with the puppy ad that never aired, but pulled a huge save with a poignantly funny Super Bowl ad honoring small business owners.
The agency also continued to have fun killing (stuffed) mice in spectacularly gruesome ways, for Tomcat and turned out more laughs for Kayak, Little Caeasars and new clients Bai and Nature's Care, the latter which celebrated an impressive mountain of dirt.
Deutsch L.A.
Deutsch L.A. had another impressive year of multidimensional work. It continued to take Taco Bell to exciting places with its out-of-the-box ideas. The bold "Routine Republic" campaign introduced a new kind of "Hunger Games" to break breakfast eaters out of their morning rut with a blockbuster, dystopian-style spot and propaganda-themed outdoor ads; the agency also turned out delightful digital ideas such as the "Taco Emoji Engine" and a fresh take on fast food websites with ta.co.
The agency also helped deliver one of the freshest ideas in toilet paper, for new client Angel Soft. Its Father's Day commercial stood out from the glut of holiday spots by celebrating the forgotten "fathers" of the holiday: single moms. The docu-style ad featured a series of emotional interviews with adults remembering those women who played both a maternal and paternal part in their lives -- tying into the brand's tagline "Be Soft, Be Strong."
Although VW had a tough year, the shop delivered more fresh ideas for the brand, including the "Sharks Rescored" tie-up with Discovery's Shark Week and the "Unleash Your Rrrr" campaign which allowed consumers to control a Golf R with their voice.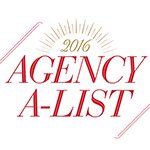 Forsman and Bodenfors
Forsman & Bodenfors debuted the longest TV ad in Sweden's history for Volvo last winter, the hauntingly beautiful film "Winter's Tale." Effectively capturing the melancholy of winter, it's a tribute to cold and darkness, with a sturdy Volvo slipping through the landscape.
For the UN World Food Programme, the agency persuaded soccer pro Zlatan Ibrahimovic to tattoo his body with 50 names to raise awareness of the estimated 805 million people in the world suffering from hunger. The names on the player's skin are those of real people, from countries ranging from Bolivia to Syria. The agency also teamed with If Insurance to make a GPS using a child's voice to get drivers to slow down in areas where kids are likely to be around.
Goodby, Silverstein & Partners
Goodby Silverstein & Partners lit up the Twittersphere during last year's Oscars ceremony with Emily's Oz, a spot promoting Comcast's "Talking Guide," in which a seven-year-old girl, born blind, describes the Wizard of Oz characters using pure imagination. The agency worked with artists, set designers and puppeteers to turn what Emily sees when she experiences the movie into a reality.
Also during the Academy Awards, Goodby helped celebrate Adobe Photoshop's 25th anniversary in a gorgeous spot showing its impact on creativity to Aerosmith track "Dream on." Elsewhere, Cheetos' slick feline mascot Chester set his sights on a political career, launching a mayoral bid for a town with his name: Chester Montana. The Cheetos for Chester mayoral campaign unfolded on his Twitter page with the slogan "Hope. Change. Change for Snacks." The agency also helped Dorito's launch Rainbow Chips to celebrate LGBT Pride.
McCann New York
McCann New York had fun playing off the big agency villain role it played during the final season of "Mad Men," turning out joke after joke on social media as well as faux Sterling Cooper ID and business cards and signage in its office. But its real work, for real clients, also dazzled. The agency found a fresh take on promoting dreams of riches for the New York Lottery with "You'd Make a Better Rich Person" and a search for a missing millionnaire, among other fun ideas. It created a "Selfie Spoon" for Cinnamon Toast Crunch, froze a margarita in space for Jose Cuervo and re-cast Office Depot and Office Max as the place to get the best holiday presents for your colleagues with the hilarious "Co-Worker Collection."
McCann-Erickson New York continued to soar creatively under the watch of N.Y. CCOs Tom Murphy and Sean Bryan and thanks to fresh leadership. Following the arrival of Rob Reilly as global creative chairman in 2014, former Amalgamated honcho Eric Silver came on board as North American CCO along with a new lineup of ECDs: Chris Mitton, Caprice Yu, Grant Smith, Dan Donovan and Lea Ladera.
Mullen Lowe
Mullen Lowe's innovative outdoor work for Royal Caribbean, which ranked fifth in Creativity's best print and outdoor work of the year, leveraged hot new technology Periscope to infect pedestrians with wanderlust on the streets of New York City. The project, created with the help of Tool, saw billboards broadcast live footage from the cruise firm's Anthem of the Seas ship as it visited destinations such as Barbados and Puerto Rico.
The agency's outdoor and experiential work for JetBlue was also among the most memorable we've seen this year. It included a surprisingly "smart" interactive billboard in New York that appeared to be commenting in real-time on what passers by were doing and wearing. For Zappos, the agency punked the Google "Pay With a Photo" truck in Austin by persuading people to swap their Google cupcake for a better gift. It showed up with a giant, lo-fi cardboard box filled with gifts such as watches and headphones that could be swapped for the cupcake they just received from the tech giant.
Pereira & O'Dell San Francisco
Pereira & O'Dell continued to innovate in longform storytelling with another "social film" for Intel/Dell, "What Lives Inside." This time, viewers were asked to contribute character ideas for a multi-media movie to be directed by "Maleficent" helmer Robert Stromberg.
The agency delivered one of the year's most emotionally powerful campaigns for Coca-Cola, "True Friendship," which chronicled the power of friendship in the most trying of moments, including one film that explored gay/straight friendships. The agency showed its funny side as well, with it fun campaign for Realtor.com starring Elizabeth Banks as an overly enthusiastic house shopper.
TBWA/MAL
TBWA/MAL once again showed that when it comes to Apple, sometimes simple is best. It proved as much with the "Shot on iPhone 6" campaign, a series of stunning outdoor ads that doubled as product demo: the massive billboards and posters demonstrated the tag impeccably and surprisingly, since their photos were all captured on the device. The campaign went on to win the Out of Home Grand Prix at Cannes this year.