2017 B-to-B Agency of the Year
BBDO
By Judann Pollack
BBDO New York CEO John Osborn has fought fire with fire.
Earlier this month, he donned virtual reality goggles to immerse himself in a virtual conflagration—part of a campaign for client GE that shows how a blaze can be extinguished by amplifying the sound of the flames. The shop's "Unimpossible Missions" effort brings insights to life using events, video and podcasts that entertainingly demonstrate how GE technology can, in fact, give a snowball a chance in hell and catch lightning in a bottle.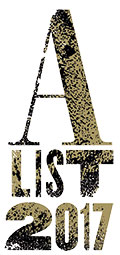 It's not what one would typically expect of a business-to-business campaign, but BBDO does not do typical work for these clients, which is why it is Ad Age's 2016 B-to-B Agency of the Year. Its efforts for FedEx, AT&T, SAP and more are built on the hallmarks of great consumer advertising—absorbing and approachable storytelling.
"This category does not have to be cold, serious and overly technical," said Mr. Osborn. "Emotive work is the most effective at driving the client's business forward."
The "Unimpossible" podcasts were expected to draw 450,000 downloads. Instead they hit 4 million.
To make AT&T's technology capabilities top-of-mind for C-suite executives who view it mainly as a wireless carrier, BBDO came up with a campaign themed "The Power of &" that included a lush 60-second spot blending the voices of people singing "Wouldn't It Be Nice" as they go about their lives using AT&T technology.
BBDO's "Run Live" push for SAP hilariously demonstrates how the company's data systems can help small businesses get ahead of the consumer curve. The ads also delivered a 41% jump in sales leads. Its campaign for FedEx targeting micro-businesses, born out of the insight that many of them begin—and ship—from home, resulted in side-splitting executions, such as New Zealand deer ordering Groucho glasses to go unnoticed by hunters. The client laughed all the way to the bank: Revenue at FedEx office outlets jumped by double digits.
C-suite executives "don't replace their brain every day when they walk in the office door," said GE Chief Creative Officer Andy Goldberg. "They are also consumers. You have to make [your ads] just as or more compelling than Nike and Coke."