Production Company A-List
Biscuit
By Alexandra Jardine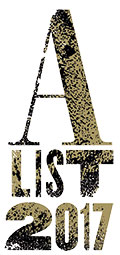 Biscuit took its comedic talent into some unexplored realms this year – including disability. In a campaign for Maltesers, running during the Paralympics in the U.K., Clay Weiner helmed a set of hilarious ads in which disabled people tell funny stories about their lives. Based on real-life stories and performed by disabled actors, the spots were developed by AMV BBDO as part of a competition held by Channel 4.
Meanwhile, Steve Rogers' spoofed pretentious fragrance ads in a new campaign for Old Spice, with a character achieving ridiculous feats like playing tennis blindfold on the back of a whale.
Biscuit's reel also includes several memorable Super Bowl spots, in particular Jeff Low's "Wiener Stampede" for Heinz, in which surreal dachshunds fused with hot dogs can't live without their condiments. The in-demand Andreas Nilsson helmed Skittles' Super Bowl spot, in which Steven Tyler of Aerosmith unveils a portrait of himself made of Skittles. Later in the year, Nilsson transported us to Victorian London in a colorful ad for Stella Artois and Wimbledon – and made us laugh in a hilariously quirky holiday spot for T.J. Maxx.