Production Company A-List
O Positive
By Alexandra Jardine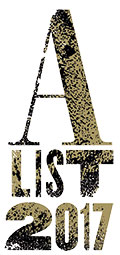 O Positive delivered high-caliber comedy in a variety of different styles. Jim Jenkins directed Willem Dafoe playing a hungry, cranky Marilyn Monroe in Snickers' Super Bowl spot through BBDO NY, and got an impressive performance out of Tom Brady in a Foot Locker spot that tackled the awkward subject of Deflategate.
David Shane (whose previous year's work for Curry's PC World with Jeff Goldblum won multiple awards in 2016) is now firmly established in the big league, helming two Apple commercials: "The Kiss," in which Alison Brie and "Game of Thrones" actor Nikolaj Coster-Waldau rehearse a screen kiss, and "Father Time," in which Michael B. Jordan hilariously taunts Kobe Bryant with Siri. His other work included a Super Bowl commercial for Avocados From Mexico in which aliens discuss the wonders of Earth.
Kenny Herzog helmed several Foot Locker spots, including one in which hilariously went inside the inner thoughts of New York Giants player Victor Cruz. And Peyton Wilson brought grace and restraint to her direction of a Dove deodorant ad about a young woman proposing to her childhood crush.