Production Company A-List
Prettybird
By Alexandra Jardine
Last year's Production Company of the Year Prettybird proved once again that it has the talent and flair to compete with the more established production companies as a relative newcomer – and make a big impression.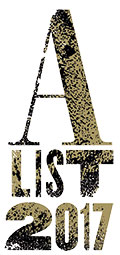 Highlights include its involvement in Lady Gaga's incredible tribute to David Bowie at the Grammys. The performance, helmed by Ruth Hogben, incorporated Intel technologies to bring to life Lady Gaga's vision of Bowie's life and career, with stunning visuals and interactive content that responded in real time to her every movement and command.
The Daniels were responsible for one of the most powerful Nike ads we've seen in a while, that ran during the opening ceremony of the Rio Olympics. Athletes, both famous and unknown, go beyond their limits to a ridiculous and fantastical degree, at one point shattering the "Just do it" logo. (The duo also won praise this year for their first feature film, "Swiss Army Man," which premiered at Sundance.)
Elsewhere for Nike and Wieden & Kennedy, Max Malkin helmed inspiring documentary-style spots as part of its "Unlimited" campaign; one that featured 86-year-old nun and ironman competitor Sister Madonna Buder, and another featuring quadruple amputee Kyle Maynard.
Duo Tim & Eric were responsible for a hilarious HomeAway's spot through Saatchi &Saatchi that gruesomely highlighted the perils of sharing a host's home on vacation. Meanwhile on a more serious note, "Unacceptable Acceptance Letters," directed by Brewer for Goodby Silverstein & Partners and documentary "The Hunting Ground," highlighted the brutality of campus assault in the guise of a video about college students reading out acceptance letters.
On the music video side, Vania Heymann directed a surreal visual feast of a music video for Coldplay's "Up and Up" ( as well as a fun spot for the Grammy's featuring Kendrick Lamar that mashed up some of the biggest hits of the year). And Melina Matsoukas directed Beyonce's "Formation," a powerful video video from the much-feted "Lemonade" album that picked up a Entertainment Grand Prix at Cannes.