Production Company A-List
Radical Media
By Ann-Christine Diaz
Once again Radical Media told powerful stories on multiple platforms.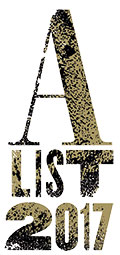 The company earned the 2016 Outstanding Documentary Emmy for its film "What Happened, Nina Simone?" directed by Liz Garbus, and then went on to thrill audiences again on the PBS doc "Hamilton's America," Alex Horwitz's deep dive into Lin-Manuel Miranda's wildly popular and critically acclaimed Broadway show.
In the spots world, Steve Miller delivered his swan song on Dos Equis' "The Most Interesting Man in the World." The epic send off brought together characters from the campaign's past and saw TMIM heading off in a rocket to Mars. But that farewell only paved the way to more of his excellent comedy, including the hilarious "Ice T" ad for Geico and The Martin Agency, which somehow gets even funnier after repeat viewings.
Daniel Askill brought his expert visual touches to spots for Apple, Samsung and Diet Coke, as well as Sia's breathtaking music video for "The Greatest." The project reunited the talents on the artist's seminal "Chandelier" video, including choreographer Ryan Heffington and dancer Maggie Ziegler.