Production Company A-List
Arts & Sciences
By Ann-Christine Diaz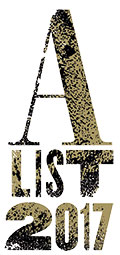 Arts & Sciences got off to a running start in 2016 with Samsung's celebrity-driven campaign out of Wieden & Kennedy Portland, directed by headliner Matt Aselton. A kickoff ad starring William H. Macy, James Harden, Wesley Snipes and Lil' Wayne touted the features of the Samsung Galaxy S7 phones. Individuals including the celebs asked a series of "Whys?" such about why their phones sucked so much, during sometimes crucial moments. For example, a hipster dude wearing leggings posing as jeans asks, "Why can't my phone have a big screen but be small enough to fit in these fashionable tight pants?" And Mr. Snipes, exercising on an elliptical trainer, questions, "Why can't my phone have enough memory to hold all 145 of my movies?" The ad then ends with a funny meta moment from Mr. Macy as a Samsung spokesman.
Directors Adam & Dave were also involved in big brand pushes for Droga5: Johnsonville's campaign asked its own employees to imagine commercials for the company, and the agency's first work for Pizza Hut, "No One OutPizzas the Hut" included spots starring a homesick alien and a pie-loving man in a body cast.
Matt Lenski delivered huge laughs, for EA Sports' "Madden NFL." In February, he captures NFL pro Von Miller showing off dance skills to rival Justin Bieber and then in the fall, he imagined Rob Gronkowski as the frontman of a hair band.
Michael Spiccia also created tense thrills and messed with time in a trailer for Xbox's "Quantum Break," starring Shawn Ashmore as a man on the run while suffering the loss of his brother.