Production Company A-List
MJZ
By Alexandra Jardine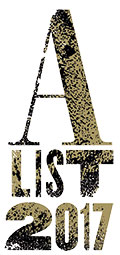 MJZ's impressive reel this year is headed by its extraordinary Kenzo spot directed by Spike Jonze, which was widely hailed as breaking the mold of fragrance advertising. Although admittedly a riff on Jonze's own work in "Weapon of Choice," actress Margot Qualley's performance as a woman going berserk during a stuffy dinner made this a standalone triumph.
MJZ directors were also responsible for several beautifully-crafted spots for Apple via TBWA/Mal. Juan Cabral's "Bulbs" spot for the MacBook Pro was a fast-paced gallop through the history of invention interspersed with exploding lightbulbs extending all around a town. As part of the "Practically Magic" iPhone campaign, Nicholas Fugslig helmed the gorgeous "Midnight," depicting a young insomniac skateboarder on a midnight excursion seeking out things you'd never see by day.
Meanwhile Fredrik Bond was responsible for the more energetic "Morning Ride," which sees a cyclist sets off in the middle of a thunderstorm, and the playful and stylish "Dive," in which an older man takes confidently to a high diving board to show off the iPhone's water-resistant speakers.
Its directors made judicious use of celebrities this year. Bond got the utmost out of using Jason Statham in an LG spot out of Energy BBDO; the action star appeared in a multitude of roles including a beanie-wearing baby in a stroller and a JLo-style dancer. Meanwhile, Matthijs Van Heigningen helmed a memorable Super Bowl spot for Kia and David & Goliath starring Christopher Walken in a "Walken Closet."
Dante Ariola directed Golden State Warriors forward Draymond Green in a spot for Beats by Dre through R/GA's Hustle. As the player prepares mentally for battle, his outer composure, seen in color, is contrasted with black and white energetic scenes depicting the action to come on court. Meanwhile Harmony Korine was responsible for a thoughtful tribute to another Golden State Warriors player, Stephen Curry, in a spot for Under Armour and Droga5, in which fans recall the good and bad moments of his career.
Elsewhere, Steve Ayson directed some quirky spots for Old Spice's new deodorants Swagger and Desperadoes, taking on clichéd movie genres and giving them them surreal, Old Spice-style twists. And Craig Gillespie helmed an emotive Super Bowl spot for Audi that depicted a retired astronaut rediscovering his spark while driving an Audi R8, set to David Bowie's "Starman."