Production Company A-List
Park Pictures
By Ann-Christine Diaz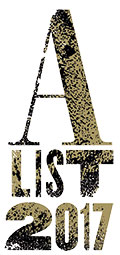 Park Pictures delivered memorable moments aplenty all throughout 2016. During the Super Bowl, directors Lance Acord and Chris Wilcha tag-teamed on the NFL's big game ad, featuring a choir of Super Bowl babies, while Acord continued on the musical front on Anomaly L.A.'s multispot campaign for YouTube music, which illustrated the idea "It's just not what we listen to. It's who we are." Spots featured the stories of Alex, a teenage boy who dresses in women's clothes, Asfa, a young Muslim woman who raps as she walks through her school and Jaysn, a boy who dances solo through the subway to Korean hip-hop. Before year's end, he made some more music directing Apple's feelgood holiday ad, starring Brad Garrett as a lonely Frankenstein's monster, whose lovely song inspires townsfolk to take him into their arms.
Seb Edwards was behind the camera on Droga5's powerful campaign for the YMCA, which illustrated how the organization can transform the potentially "idle hands" of those in underserved communities into hands of purpose and promise.
More moving work came from Vincent Haycock, who directed Anomaly and Duracell's "Stay Connected" documentary, about a grandfather whose world opens up with the help of a hearing aid, promoting the brand's batteries during National Hearing Month in May.
Director Kief Davidson dove into the middle of political conversation directing the Clinton campaign video starring Gold Star parent Khizr Khan looking back on the life of his late son U.S. Capt. Khan following then-presidential candidate Donald Trump's anti-Muslim proclamations.
A.G. Rojas also helped celebrate the wonder of Planet Earth in an epic film out of Wieden & Kennedy Amsterdam for Russia's S7 Airlines.
In the U.K. Channel 4's "Meet the Superhumans" director Tom Tagholm took a fly-in-the-wall approach for U.S. telecom firm TalkTalk, via CHI & Partners. He spent two weeks capturing the lives of an ordinary British family with unmanned cameras in an effort to show the key role that technology and connectivity play in familes' lives.