Production Company A-List
RSA
By Alexandra Jardine
Terence Neale's film for Adidas Originals and Johannes Leonardo, "Your Future Is Not Mine," was one of 2016's most memorable spots. The spot originally broke in January but aired heavily during the U.S. election, with its tagline and powerful dystopian theme having a particular resonance.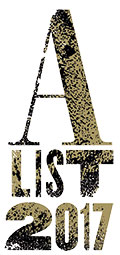 Star power aplenty features elsewhere on RSA's reel. Jake Scott brought some mystique to the Ford brand in "Le Fantome," starring Mads Mikkelsen as an enigmatic hitman charged with eliminating a couple under a witness protection program.
Scott also helmed Budweiser and Anomaly's Super Bowl spot starring Helen Mirren delivering an anti drunk-driving message in the imperious way that only an A-List actress could, and continued his stylish "Gentleman's Wager" campaign for Johnnie Walker starring Jude Law. And RSA also signed actor Matthew McConaughey as a director, producing his first spot for Wild Turkey, through JWT New York.
Other highlights included duo Anna and Ewan's work on Airbnb's biggest global campaign to date, "Live There." and Tricia Brock's "Margot and Lily," a branded web drama for Nike in which two sisters challenge each other to a friendly bet.