Production Company A-List
Somesuch
By Ann-Christine Diaz
A string of filmic feats, ranging from fanciful eye candy to poignant storytelling to laugh-out-loud comedy earned Somesuch a spot on the A-List this year. One of the company's biggest highlights was the superb "Blahblahblah" film for Adidas out of 72andSunny Amsterdam. Directed by Rollo Jackson, the ad kicked off the European soccer season and played off the media gossip surrounding the game's top players. The multimedia spectacle featured scenes of players Paul Pogba, Gareth Bale, James Rodriguez and Manuel Neuer, as well as managers Zinedine Zidane and Jose Mourinho, intercut with flashy typography and video game- and anime-inspired animation.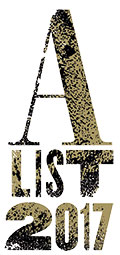 Droga5 London tapped comedy pro Steve Rogers to direct the fantastic "80 Years of Torment" for burger brand Rustlers, which pages through the miserable life of an 80-year-old man who's seen the worst kinds of hardships over the years -- being a chimney sweep, the Great Depression, aerobics in the '80s and ravers in the '90s. Ultimately, however, he finds respite in his golden years, when he sits down with his microwaved, flame-grilled Rustlers burger. Founding partner Nick Gordon also brought laughs, the gangster-themed kind, to Volkswagen for Adam&Eve/DDB London, in a spot promoting the brand's sponsorship of independent cinema.
The company's various co-productions with Anonymous Content proved to be winners as well. Projects for Droga5 New York included Aoife McArdle-directed spots for Under Armour's "It Comes From Below" campaign starring Cam Newton and Bryce Harper, as well as the Daniel Wolfe-helmed "The Piccards" for Hennessy, which had been a contender for this year's Film Craft Grand Prix at Cannes. Working with Wieden & Kennedy Portland, Wolfe was on board for Nike's simple tribute to the Chicago Cubs after their curse-breaking World Series win, told through the eyes of a young fan, while Ms. McArdle helmed spots for Secret's "Stress Test" campaign.