Live Blog: ANA Annual Meeting 2017, Day 2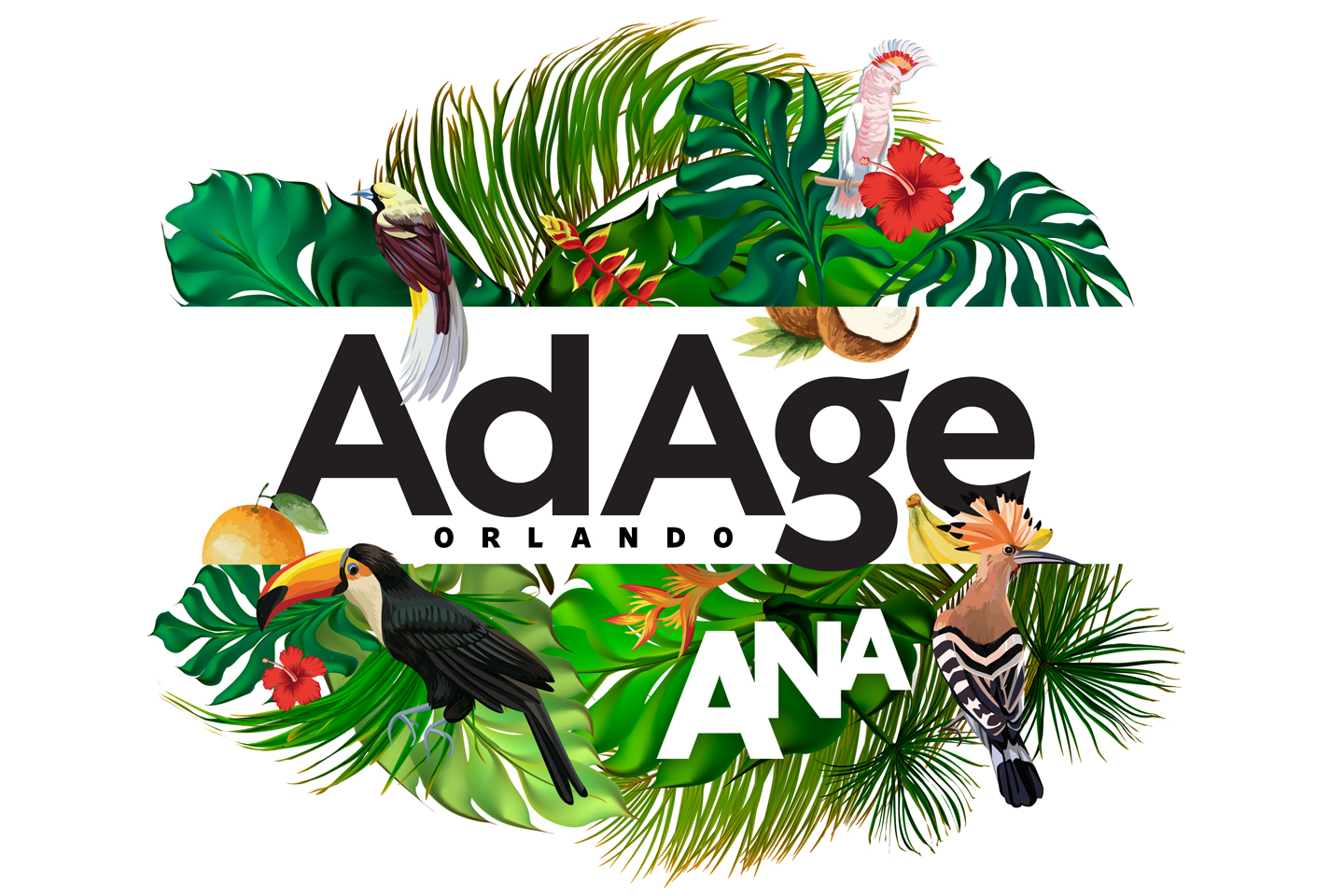 Day two of the National Advertiser's "Masters of Marketing" event started the same way as day one: with soggy and cloudy weather here in Orlando. Inside the sprawling Orlando World Marriott, the more than 2,600 attendees will hear from top marketers at KFC, MGM, State Farm, Clorox and Weight Watchers. Will the diet marketer bring Oprah, who has been backing the brand for two years? Find the answer to that and more in this blog. And for highlights of day one, check out Thursday's blog.
3:30 p.m. ET
More drizzle, less toilet-seat stacking
Clorox Co. Chief Marketing Officer Eric Reynolds turned out to be probably the funniest presenter at the ANA to date, no small feat for a guy who sells bleach, cleaning wipes, drain cleaners and cat litter.
He drew some laughs showing side-by-side comparison ads for Clorox products vs. Church & Dwight Co.'s Oxi Clean and RB (Reckitt Benckiser's) Lysol – the latter with a long line of real toilet seats to demonstrate the superior cleaning value of Clorox wipes. Both ads were dropped after legal challenges. "I'm pretty sure we bought some lawyer a new summer home," Reynolds said.
His point was that taking a human approach to technology-enabled, data-driven marketing works a lot better than TV ads with questionable side-by-side comparisons.
Being based in Oakland California, adjacent to Silicon Valley, has helped Clorox get to the point that it will spend about half its media dollars on digital in 2018, with rising return on investment, Reynolds says. Clorox Chairman-CEO Benno Dorer has encouraged his marketers to "look West" to the tech industry after decades of looking to the East Coast for inspiration. And Reynolds has taken that to heart, meeting as often as he can with counterparts at tech companies. "We're like that addled aunt that comes for Christmas," Reynolds says of the meetings who is asked questions such as "What was the war like?"
He cited one executive from a nameless tech company who said, "We don't have marketing run by marketers. We're engineers. We work on growth, and then branding is that emotional drizzle you put on top." Reynolds says Clorox ultimately learned it needed more drizzle, or at least more emotional impact. Research showed its products rank well on performance but low on cultural and emotional relevance. That helped lead to recent advertising from FCB behind Clorox on the higher purpose behind cleaning. Reynolds takes issue with the notion that millennials care less than prior generations about brands, saying Clorox research finds the opposite to be true. "Consumers didn't fall out of love with brands," he says. "We're just not great marketers. We need to get better."
--Jack Neff
3:15 p.m. ET
Weight Watchers tries to maintain comeback with more than just Oprah Winfrey
When ANA President Bob Liodice introduced Weight Watchers head of marketing today, he didn't hold back when describing just how poorly Weight Watchers was doing in early 2015 -- it was "at the brink of irrelevance." Quite an introduction for Maurice Herrera.
In fact, January 2015 was one of the company's worst January periods ever in terms of signups, says Herrera, who had joined the company just three months earlier. Timing was crucial, because the first quarter accounts for more than 40% of the company's business, he notes. People were looking for other ways to lose weight, including wearable fitness trackers and Paleo dieting, resulting in Weight Watchers subscriptions dropping 25 percent year-over-year that quarter, Herrera recalled. Its stock skidded from $25 to $7 per share, he said, and fell even further that summer. Herrera had to lay off about 25 percent of his team of 30 or so people.
Herrera and his slimmed-down team, with agency DiMassimo Goldstein, came up with a more consumer-centric approach. "Since everyone believes that they have a unique challenge, it's critical for them to look at Weight Watchers and see a bit of themselves in the brand," Herrera says. "We needed to create a brand identity that felt accessible and relatable as well as aspirational."
And that's when the discussion started about brand ambassadors. Herrera says he had a relationship with Ari Emanuel (the inspiration for "Entourage" super agent character Ari Gold) and put in a call to him. Emanuel put a call into one of his famous clients, Oprah Winfrey. "And she loved it," says Herrera. "She loved where we were going and for her personally she felt like this is something that she really wanted to be a part of."
Winfrey-centric marketing began running in late 2015, perhaps most famously a spot in which she proclaimed her love for and daily consumption of bread. The response has been significant: Through the second quarter of 2017, Weight Watchers has posted seven consecutive quarters of membership growth.
Right now, though, Winfrey isn't the face of the campaign. Weight Watchers is running spots focused on men, who represent 10 percent of its customer base.
Other new efforts Herrera seems pumped about: Weight Watchers cruises are going "incredibly well" for the company; it's popping up more often at events such as bridal and mom-focused conferences; there's a cookware line;, and it's piloting fresh, portion-controlled meal delivery.
--Jessica Wohl
2:58 p.m. ET
Your check, and coupon, is in the mail
It's not often that an ANA presentation delivers immediate return on investment, but it did for Emily Callahan, chief marketing officer of St. Jude Children's Research Hospital. Clorox Co. CMO Eric Reynolds, who followed her on stage, was so moved by her presentation and talking to her backstage beforehand that he said: "Count on a check from us." Reynolds also added to Clorox's own database, inviting ANA attendees (and only ANA attendees) to text for a code to get a free-product coupon from Burt's Bees, Liquid-Plumr or Fresh Step cat litter. Those coupons should arrive by mail in seven to 10 days.
--Jack Neff
2:45 p.m. ET
St. Jude's offers a marketing lesson
How many times have you heard the phrase, "Well, it's not like we are curing cancer?" Well, at St. Jude Children's Research Hospital, that is exactly what they are trying to do. And they are pretty good at it. The survival rate for cancer-stricken children has jumped from 20 percent to 80 percent since facility opened its doors in Memphis more than 50 years ago, says Emily Callahan, CMO for the hospital's fundraising and awareness arm, known as ALSAC. And marketing does a lot of the lifting because the hospital relies on donors for roughly 75% of its revenue. Because of that, Callahan's team casts a wide net. "In our world we have to engage everyone, which I know is against all the rules in marketing," she said in an ANA presentation. "So our challenge is to make our story everyone's story." Below, some lessons St. Jude learned before it got its marketing right:
Start with research
For a time, St. Jude's was simply using research to validate what it had already done. "To know us is to love us, but most people didn't understand us," Callahan said. After the hospital started asking the right questions it discovered that its patients were its greatest assets, so it began featuring them more prominently in marketing.
Take the time to get your story right
St. Jude's thought it had the right message by touting that no family is turned away due to inability to pay. But lots of hospitals can say that, so St. Jude's got more specific: "Families never receive a bill from St. Jude." Because that "doesn't exist anywhere else," Callahan says, noting that St. Jude's handles everything from travel and housing to food.
Inspire, enable, empower everyone to be accountable for your brand
"We made every single employee accountable for the brand," Callahan says. The hospital now includes a brand metric in every employee performance review, tying salaries to brand health.
Know your audience. Reach them in every way you can
"We no longer have a digital strategy. We just have a strategy in the digital world," Callahan says. Even with short-form content, St. Jude focuses on authentic patient moments.
--E.J. Schultz
2:33 p.m. ET
Transparency clearly has been good for Reed Smith
Transparency -- or primarily concerns about agencies getting rebates and not forking them over to clients -- has been among the ANA's hottest topics in recent years. But it hasn't gotten much attention from the stage this year, outside a mention in ANA CEO Bob Liodice's opening listicle of industry woes.
Even so, the issue is still getting plenty of buzz in hallways and bars. A media agency executive acknowledges a transition in the industry from "dropping your pants on fees" and making it up on other revenue, moving toward eliminating anything that appears non-transparent and trying – with difficulty – to negotiate higher fees.
Uber's recent lawsuit against Dentsu's Fetch Media unit over alleged failure to turn over rebates is also getting attention. One industry consultant notes the case could help clarify exactly when an agency is just an agent buying media vs. a seller fully liable for everything that goes wrong.
He also notes that Uber's law firm is Reed Smith, which also works for the ANA and was instrumental in the group taking up the U.S. rebate issue in the first place.
As ANA Exec VP Bill Duggan has recounted the story, he first heard about rebate concerns from a member years ago and checked with Reed Smith attorney Doug Wood, believing it really didn't happen in the U.S. That's when he says Wood told him it indeed was surfacing as an issue with clients. That led Duggan to start pushing the issue harder.
Given the Uber suit, it's also turned into a favorable business-development move for Reed Smith. Wood in an email declined to comment, citing policy against discussing client matters.
--Jack Neff
11:55 a.m. ET
KFC fueled by lots of colonels and knowing when it makes sense to "twerk"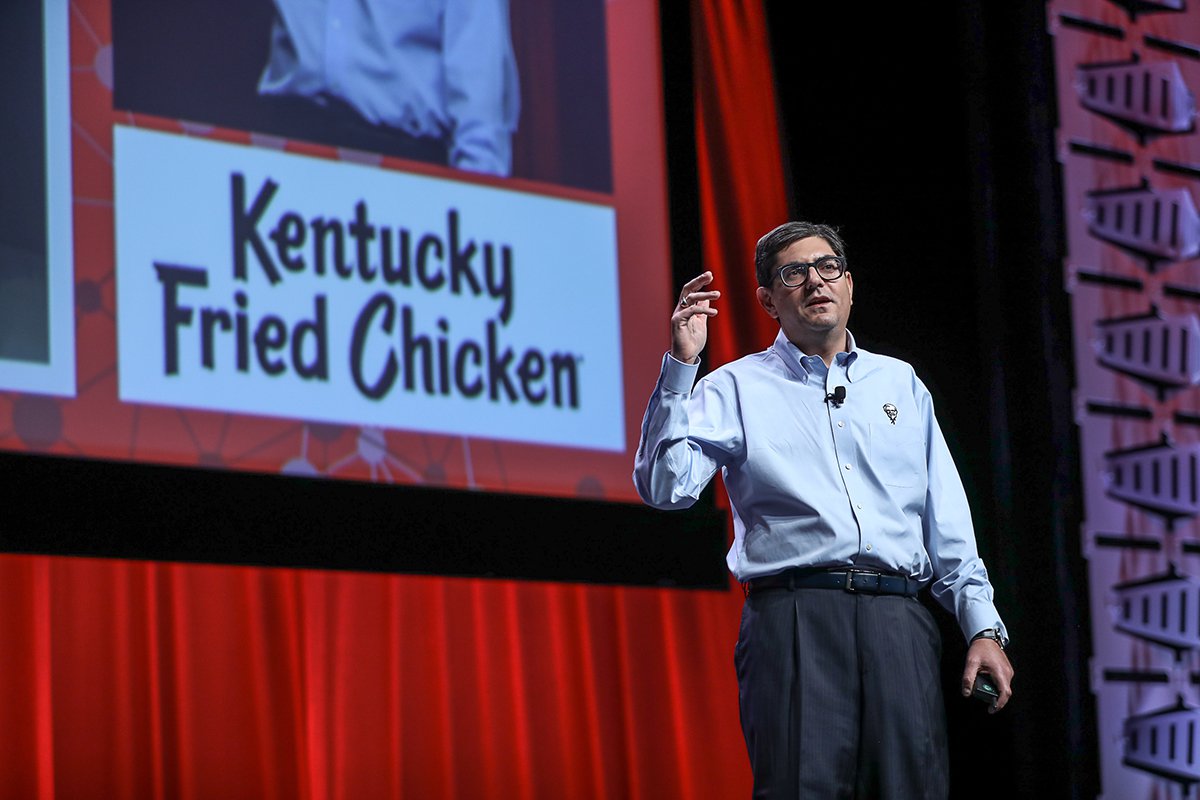 Commercials featuring a variety of celebrity Colonel Sanders characters have helped propel KFC's comeback, including 12 consecutive quarters of U.S. same-store sales growth. KFC's Kevin Hochman and Eric Baldwin, executive creative director at Wieden & Kennedy's Portland office, discussed those spots when they took the stage Friday to discuss the evolution of the campaign. But they were more excited to talk about the less-traditional approaches the brand has taken to really stand out.
Hochman, who was promoted to president and chief concept officer of KFC U.S. in March after serving as chief marketing officer, tells Ad Age he protects about 10 percent of the marketing budget to put toward buzz-building projects that stray from the traditional approaches. W&K taught him that "if you want to do these stunts, they've got to be authentic," Hochman says.
When it released a romance novella, "Tender Wings of Desire," just before Mother's Day, of course it included a Fabio-like cover image of Col. Sanders. But it also included prose from an actual romance novelist. When the book came out, even The Paris Review wrote about it.
"You can't just twerk for the sake of twerking," Hochman says. "You've got to have some authenticity."
If KFC wanted to talk about sending a chicken sandwich to space, it actually had to do so. And it did get the Zinger sandwich into orbit. (There was also a TV commercial component, with Rob Lowe as a Col. Sanders in a space suit.)
Other past efforts included a match between two wrestlers, one in a chicken suit and one dressed as Col. Sanders, at a live WWE event—a highlight for Baldwin, a longtime wrestling fan who says he has "an embarrassingly deep knowledge of the history of professional wrestling."
Having the Colonel character show up so prominently at a WWE event proved to people at the agency that "if you do it and make it true to the space that you're in, it works really, really well," he says. "And it's just fun."
For Hochman, ideas like the WWE integration allow KFC, which needed to do a better job of connecting with millennials and other young consumers, to meet those potential diners where they are.
"If you're authentic and you're adding something to whatever that is instead of just trying to borrow interest, I think people appreciate that," Hochman says.
Now Hochman, Baldwin and their teams keep trying to find new ways to keep the re-colonization effort, which began in 2015, fresh. Unpaid mentions on "The Simpsons" and more recently in the season premiere of "Curb Your Enthusiasm" show the campaign has gotten attention. Someone paid $20,000 for a KFC Zinger meteorite (yes, really.)
And while it hasn't happened yet, Baldwin says "we love the idea of a female colonel."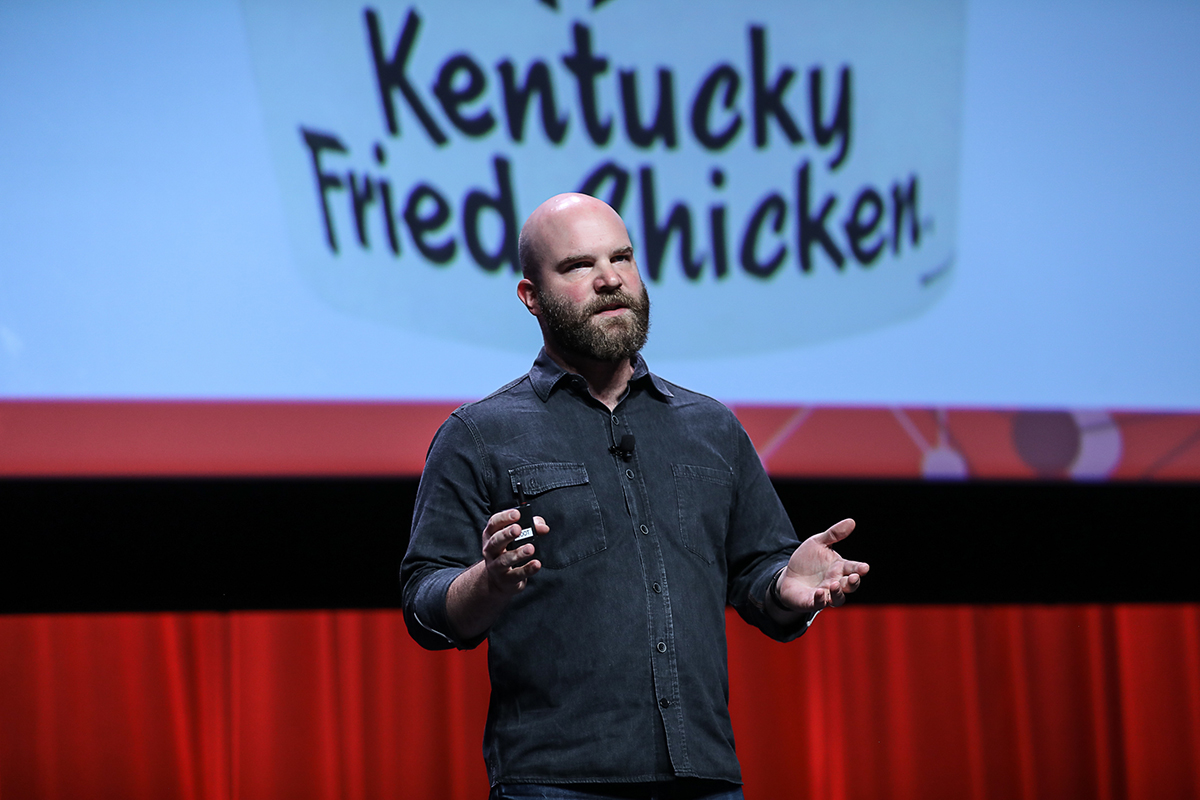 --Jessica Wohl
12:28 p.m. ET
The show goes on at MGM Resorts International
Lili Tomovich, chief experience and marketing officer at MGM Resorts International, spoke Friday morning about the brand's recent entertainment-focused campaign. "Our business has been transformed and we knew it was time for us to look at the brand and think about how we want to position it in the hearts and minds of consumers," she said. "Positioning it as strictly a casino company was not going to work."
Tomovich noted that her speech was prepared long before Sunday's tragedy, and that television spots promoting the new campaign "Welcome to the Show" have since been pulled. After a Cirque du Soleil acrobatic introduction, Tomovich noted the need for a smile. "The world does need more entertainment and moments of joy where we can smile and laugh," she said.
Read the full story here.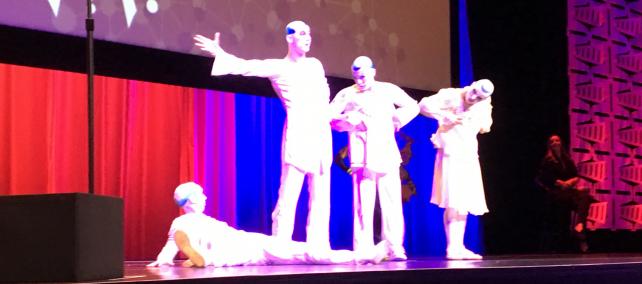 --Adrianne Pasquarelli
10:50 a.m. ET
Shania, vodka and hangovers
Here's the least surprising thing that happened here this week: Shania Twain ended her set last night with her 1990s hit "I Feel Like a Woman," continuing the retro entertainment theme that began Wednesday night with Cheap Trick's performance. Attendees were still going strong well past 1 a.m. at an after-party at a steakhouse on the Marriott property grounds. More than a few people took advantage of the vodka bottle service, and many of them are undoubtedly feeling that today.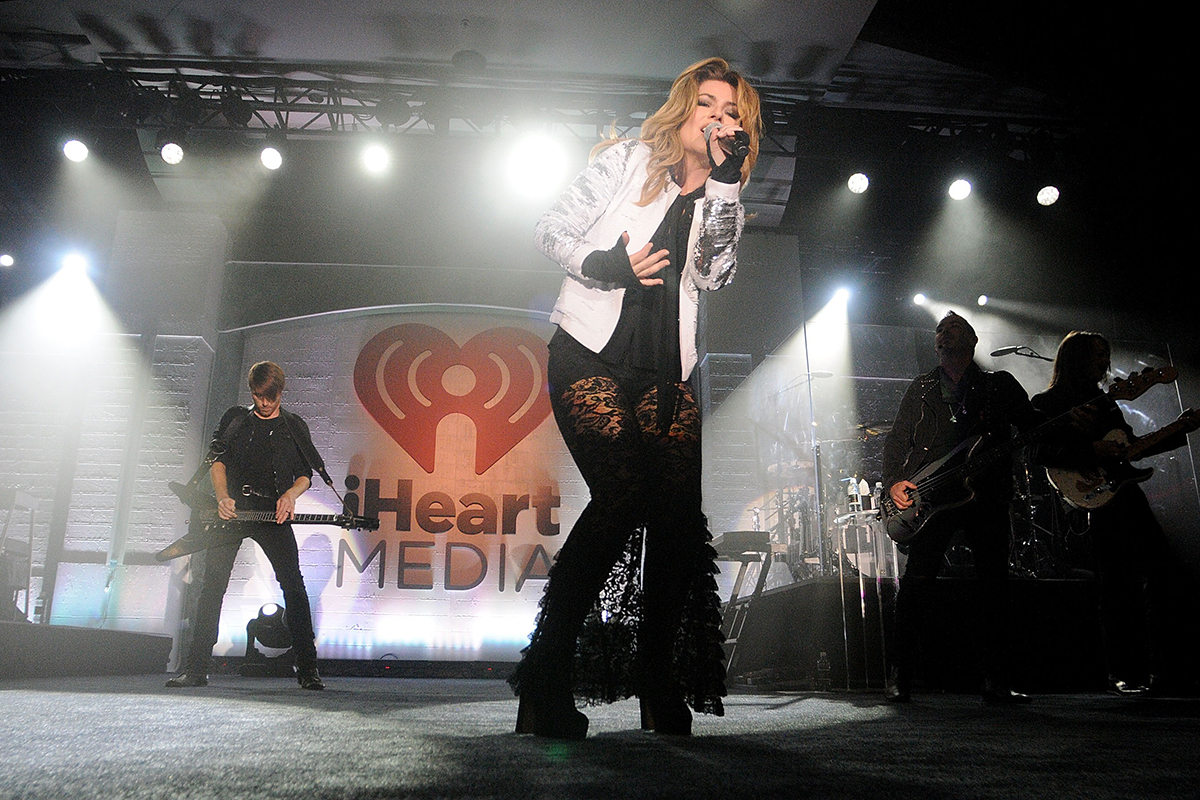 --E.J. Schultz
Photos of the Day