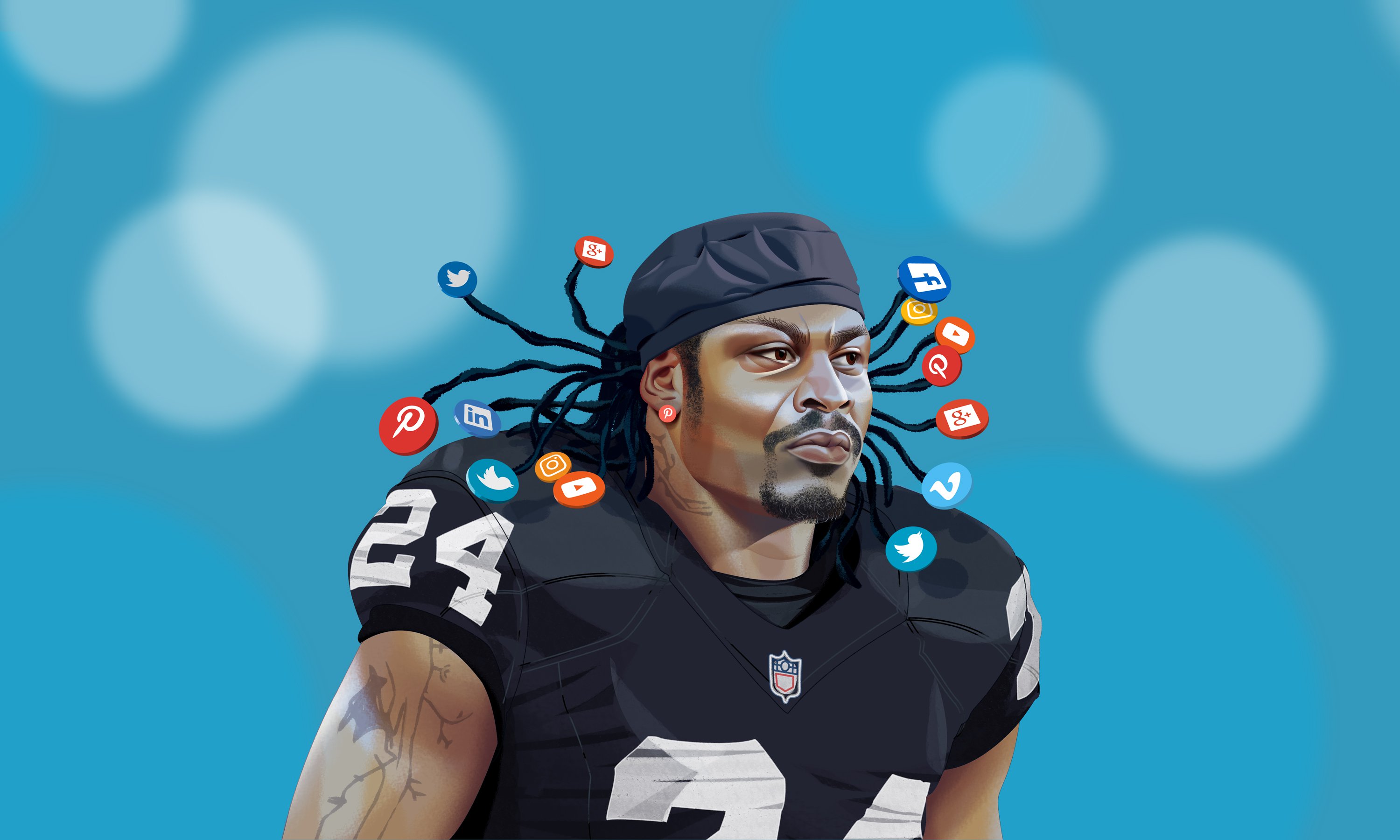 Ad Age Custom Content
What's this?
This content has been created by Ad Age Studio 30, our custom content studio.
Find out more.
Beast Mode's Business Empire
The Oakland Raiders running back is using technology to bypass traditional deals and create his own company—helping fuel an endorsement revolution in the process.
By Ad Age Studio 30. Published on January 24, 2018.
Illustration by Nigel Buchanan.
Last September, Oakland Raiders running back Marshawn Lynch made one of the most surprising plays of his career: a dance move. Competing against the New York Jets before an Oakland crowd of 50,000, Lynch was standing on the sidelines when he heard a song by local rapper E-40 on the stadium speakers. Long renowned for outrageous behavior—he once spent an entire press conference stating single-syllable answers while wearing a plaid hunting cap with earflaps—the 5-foot-11-inch, 215-pound running back makes a side career out of the unexpected. Still, no one was prepared when Lynch, overcome by the music, suddenly removed his helmet and began dancing in a raucous, dreadlock-swinging, full-bodied bounce—sending his teammates, the crowd and, as the footage spread online, the rest of the world into hysteria. For Lynch, the moment was from the heart, spontaneous, the kind of thing that makes him one of the most riveting stars in the NFL, but his company's next move was pure strategy. Within 24 hours, Lynch's online retail business, Beast Mode, had created a commemorative shirt of the dance, posted it online and blasted it out to his fan base, another victory in the growth of his other lifelong passion: business. "He moved the audience, it went viral and we immediately got up a shirt," says Leandrew Robinson, CEO of Hingeto, the online retail company working with Beast Mode. "It did really well because people wanted to connect with that moment, and Marshawn is one of the smartest entrepreneurs I know."
In the past few years, Lynch has grown Beast Mode from a backyard enterprise into a full-blown empire, encompassing everything from apparel to restaurants to online series with Facebook. All of which is helping lead a rising new trend: athletes using technology to bypass traditional sponsorships in favor of creating their own brands. "Athletes aren't just shilling products in the way that they used to," says Todd Fischer, senior vice president with GMR Marketing, a sports consulting business. "Social media is giving them an opportunity to connect with fans like never before. Now they're seeing themselves as businesspeople instead of just athletes."
With Lynch's Beast Mode, Derek Jeter's Players' Tribune media company and Tom Brady's TB12 nutrition system, athletes are increasingly skipping endorsement checks in favor of taking stakes in brands themselves, acting as both investors and salespeople—upending traditional marketing while making a huge impact on business. In 2015, LeBron James turned down $15 million from McDonald's in favor of being a spokesman for Blaze Pizza, a natural-ingredients restaurant in which he invested. Within two years, he had helped expand the small chain to more than 400 stores—the fastest start in the history of the U.S. food-service business, according to industry consulting firm Technomic.
"Social media is giving them an opportunity to connect with fans like never before. Now they're seeing themselves as businesspeople instead of just athletes."
Todd Fischer, senior vice president, GMR Marketing
"LeBron's equity stake blew away anything he would have made from an endorsement deal," Fischer says. "And he helped take the company to new places. A lot of these deals represent players' personal interests or investments, their ability to authentically represent the brand."
Authenticity is key to players connecting to audiences and, in turn, succeeding in business. In 2017, when Seattle Seahawks cornerback Richard Sherman got tired of talking at press conferences, he struck a deal with Samsung, outfitting his car and home with their devices and recording his thoughts on the go, uploading them directly to his fans through the Players Tribune site without filter. "The worst thing Richard could do for Samsung is present a sanitized version of himself," says Jeff Levick, CEO of the Players' Tribune. "That's not what makes him entertaining. And equally for a brand perspective, that's what makes him so attractive. He's dynamic, real and authentic. All this goes to the nature of athletes—their business acumen and brand precision has long been underestimated."
On the face of it, Lynch, 31, is the last person anyone would expect to help spearhead a movement, let alone run his own business. Over his 10-year career, in addition to making Super Bowl-winning plays, the running back has made endless headlines for controversial to just plain weird acts off the field, from refusing to talk to reporters (he didn't respond to interview requests for this story) to giving Oakland fans thousands of packs of his beloved Skittles candy. But less reported are Lynch's other endeavors, such as supporting youth-league football camps and literacy programs and revitalizing his beloved Bay Area neighborhood.
And, with his every move chronicled online, fans are taking note. Amid all the bustle to grab customers' attention, Lynch's voice, for better or for worse, always seems to come from the heart, and that translates to his business. In 2013, when he founded Beast Mode, Lynch did all the legwork himself—filling shirt orders, licking envelopes and signing a Seattle grocery store as his first retail partner. Even his reported $5 million a year in traditional endorsement deals comes from companies he loves. "It doesn't matter how big the check is," says Bryon Sheng, CMO of Beast Mode. "He rides his BMX bike to work every day, so he got a deal with SE Bikes. He only works with stuff he's passionate about."
Lynch has integrity, and that resonates with everyone. In 2017, just four years after signing that first Seattle grocery store deal, he inked a contract to sell his Raiders jerseys with both team and Beast Mode logos on them, a groundbreaking NFL-licensed collaboration that is hugely growing his brand while ensuring it remains true to its core value: Lynch himself. "Marshawn's brand may not always be mainstream, but it's very consistent," Fischer says. "And that's why he breaks through. He's true to his brand."
In this article:
Ad Age Studio 30
Ad Age Studio 30 is a custom content studio that specializes in the creation of branded content that resonates with the Ad Age audience. To inquire how Ad Age Studio 30 can help your brand connect with our audience of influential decision makers, email Jackie Ramsey at
[email protected]
.