9:06 p.m. Cannes time, Jun 23, 2017
The Flight Attendant Said Everyone Looked 'Très Fatigué'
Flight from JFK to Nice: ran out of wine. Flight from Nice to JFK: ran out of seltzer.

— brian braiker (@slarkpope) June 23, 2017
6:19 p.m. Cannes time, Jun 23, 2017
Maurice Levy Interviews IMF's Christine Lagarde at Palais; Doesn't Even Mention Publicis
While his successor Arthur Sadoun was making news all week from the Majestic hotel by pulling Publicis Groupe out of award shows, Maurice Levy, now chairman of the Publicis Supervisory Board, took on a more statesman-like role across the street at the Palais in his interview of an old friend, Christine Lagarde, the first female managing director of the International Monetary Fund and France's former Finance Minister. The topic was creativity, but Lagarde drew heartfelt applause when she talked about gender equality. Earlier in her career, as an expat lawyer at Baker McKenzie in Chicago, she was unanimously elected head of the firm by 600 partners around the world. "It had to do with the fact that the firm was doing very poorly, and I don't think any man wanted the job," she said. Similarly, during the global economic crisis, when Iceland was the first country to massively default, it was "no coincidence" that women took over at both the bank and country level to rebuild the economy. "It sometimes takes a rotten situation for a woman to rise to the top," Lagarde said. "That's a big waste of talent, creativity, and business opportunities.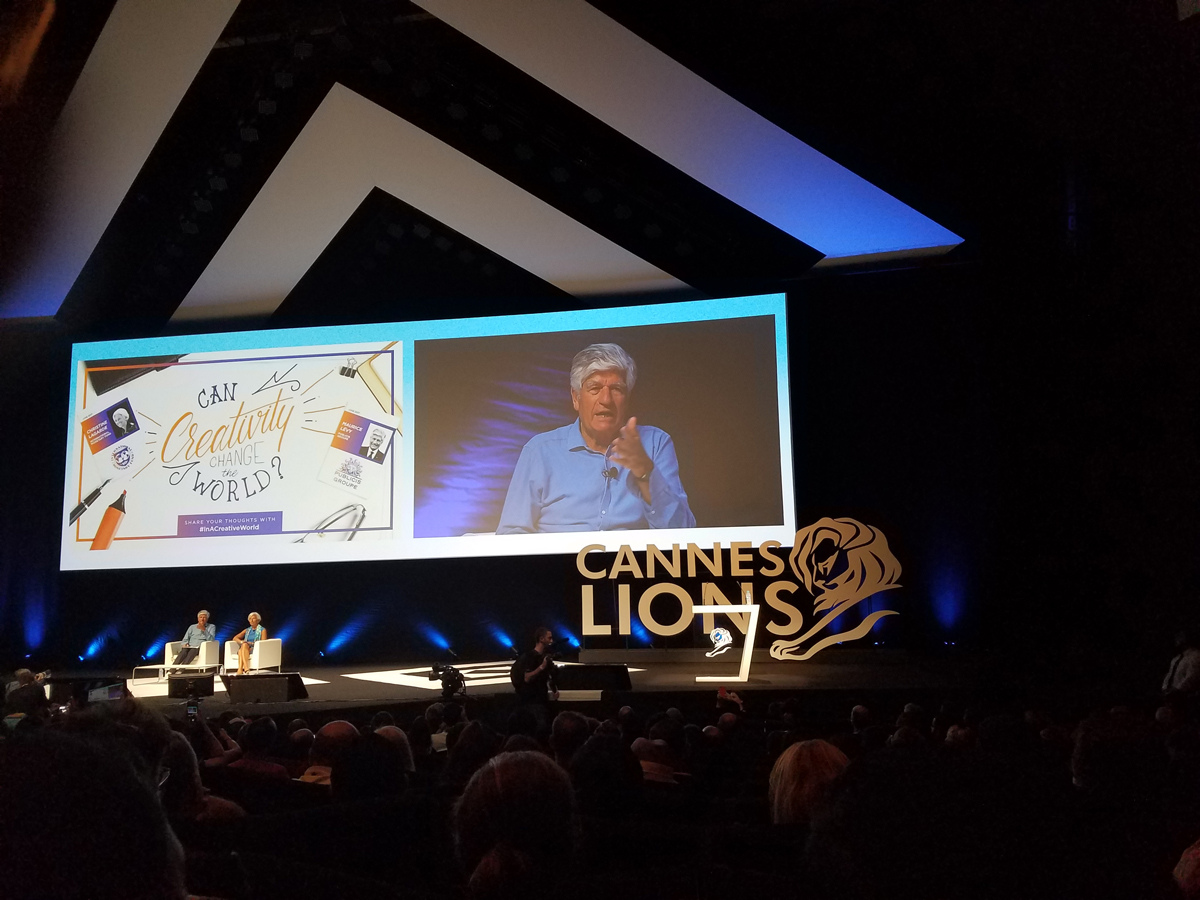 --Laurel Wentz
1:51 p.m. Cannes time, Jun 23, 2017
MediaLink's Michael Kassan: This Year's Cannes Lions Word is 'L'Exit'
MediaLink Founder and CEO Michael Kassan said this year's Cannes Lions buzzword is "l'Exit."
"Last year, in the middle of the week of Cannes, the rupture had everything to do with Brexit. Brexit happened on the Thursday of Cannes last year. This year, the word would be 'l'Exit.' This year's Brexit," said Kassan, referring to Publicis Groupe's decision to pull out of Cannes and other awards shows for a year.
In the U.K. this week, the government is negotiating a "hard" versus "soft" Brexit, in which the soft version means more parties have a say in the final decision. "With all respect to the leadership of Publicis, for whom I have great respect and affection, how I would do it, I would not support hard l'Exit," said Kassan. "You work together to create a scenario that works for all sides. You continue your partnerships, you don't make a hard line in the sand. And I would hope that opportunity still exists on behalf of our entire industry."
While MediaLink was acquired by Cannes Lions parent company Ascential earlier this year, Kassan said he's speaking on behalf of MediaLink, not Cannes or Ascential.
--Lindsay Stein
1:38 p.m. Cannes time, Jun 23, 2017
Festival Reacts to Turmoil at Cannes with New Advisory Committee
Scrambling to react to Publicis Groupe CEO Arthur Sadoun's surprise pullout from award shows for the next year, the Cannes Lions festival said it is creating "an advisory committee to help shape the future of the Festival and ensure it continues to respond to the needs of the industry."
The festival said in a statement that it has already signed up Marc Pritchard, P&G's chief brand officer; Keith Weed, Unilever's chief marketing and communications officer; Fernando Machado, head of brand marketing at Burger King; Fiona Carter, chief brand officer at AT&T; and Jan Derck van Karnebeek, Heineken's chief commercial officer.
Philip Thomas, CEO of Cannes Lions owner Ascential Events, said other partners, including creative leaders and heads of holding companies, will also be consulted: "There have been a lot of discussions this week about the structure of the festival, and we want to create the right Cannes Lions experience for all participants." He said a full list of members will be announced soon, with a first meeting soon after the festival.
In the statement, Pritchard said: "We attend Cannes Lions to focus on creativity to drive growth. It's the right time to step back and take a look at the best way forward for Cannes Lions to provide the best possible platform for creativity in our industry, and P&G is ready and willing to help."
--Laurel Wentz
1:00 p.m. Cannes time, Jun 23, 2017
Ron Howard Hopes Trump Presidency Will Someday be 'Hilarious' Musical
During a talk with WPP CEO Martin Sorrell, Academy Award-winning director, producer and actor Ron Howard said he hopes someday the current presidency will be dramatized into a hilarious Broadway musical named "Trumped."
Robert Kraft, owner the NFL's New England Patriots and Major League Soccer's New England Revolution, was also on the panel, but didn't take a jab at Trump. Instead, Kraft said the president will help bring back the public companies that have moved their businesses outside of the U.S. because of the corporate tax rate. "It could be a great uplift for the U.S. economy," he said.
During the panel, Sorrell had made a few jokes about the advertising industry having "no egos" and no issues around succession planning. Sorrell, who has suggested the Cannes Lions Festival of Creativity might be better off in a different location, said he hopes to host many more of these debates "if at Cannes or elsewhere."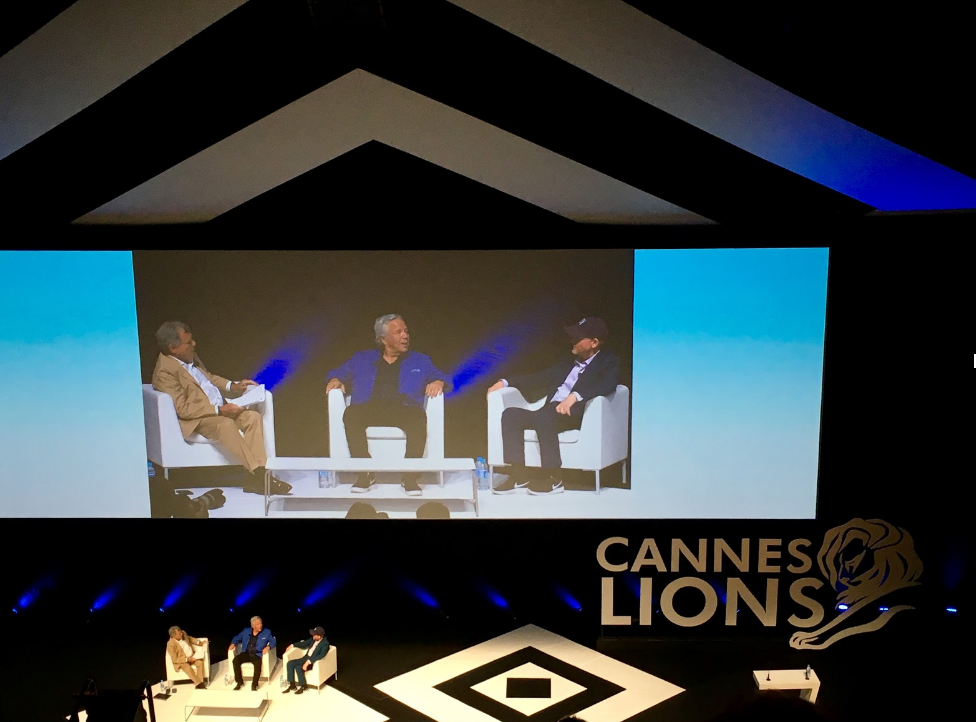 —Lindsay Stein